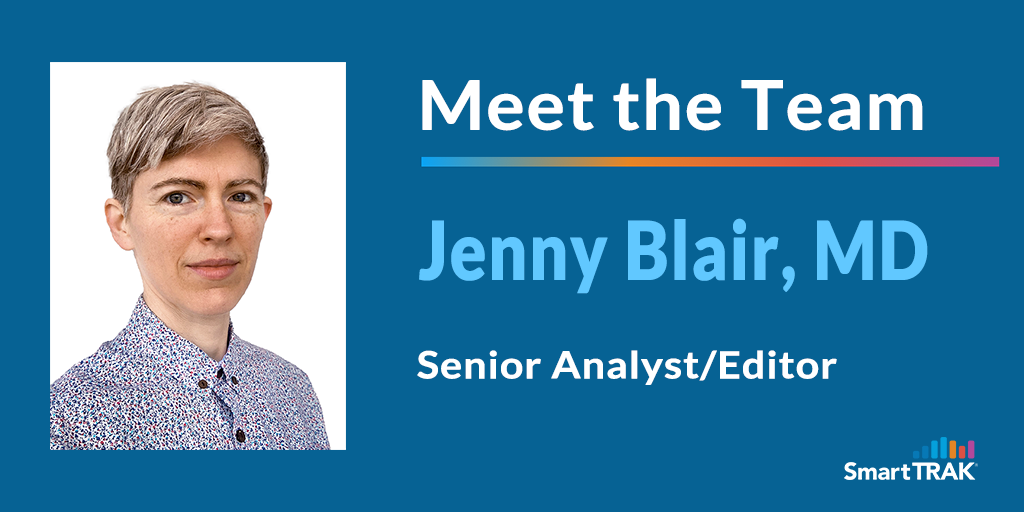 We are pleased to announce that Jenny Blair, MD, has joined the team at SmartTRAK as Senior Analyst/Editor. Jenny has 10+ years' experience as an award-winning journalist and analyst. Formerly a board-certified emergency physician, Jenny has provided coverage of device markets for Medtech Insight and contributed to Univadis, Medscape, MedPage Today and Discover.
Meet Jenny Blair:


What is your role with SmartTRAK? I'm a Senior Analyst/Editor helping to cover Neuro Therapies and Digital/CAS and providing occasional editorial and analyst support across all modules and product lines.
What do you like about SmartTRAK? The interface is clean, inviting, and information-rich.
What is something special or unique that you bring to SmartTRAK subscribers? I'm an unusual creature—a science and medical writer and journalist as well as a former emergency physician. So I'm at home speaking with and synthesizing information from a variety of experts while also knowing firsthand about some of the challenges clinicians face.
What do you think the biggest promise of medical technology in your area is? I'm intrigued by neuromodulation for chronic pain.
How will it change everything? Adequate pain control can transform the lives of chronic-pain patients, many of whom live with years of misery and frustration. Effective implantable or wearable devices could help prevent problems that can arise when patients rely on medication for pain control.
What are your favorite online websites or resources that you check every day? The Times, the Post and the Wall Street Journal. Twitter is full of insight, much of it from Black, indigenous, and people of color in science and medicine. I also skim science, technology, and medical news via RSS feed.
How do you keep your medical device research skills sharp? Interviewing clinicians, researchers, and analysts is always an education! I'm also constantly learning from colleagues at SmartTRAK.

If you could have one super power what would it be? Could I be Carbon Sequestration Woman?
What was the last show you binge-watched? Unorthodox, for the second time.

What is your life like outside of SmartTRAK? My interests include permaculture projects, mutual-aid work and graphic narrative.
---
SmartTRAK is the leading source of competitive intelligence used by the top ten global orthopedic & wound care companies. To see all the new and exciting offerings coming to SmartTRAK in 2021, or to request more info about what SmartTRAK can do for you, just click the button below.