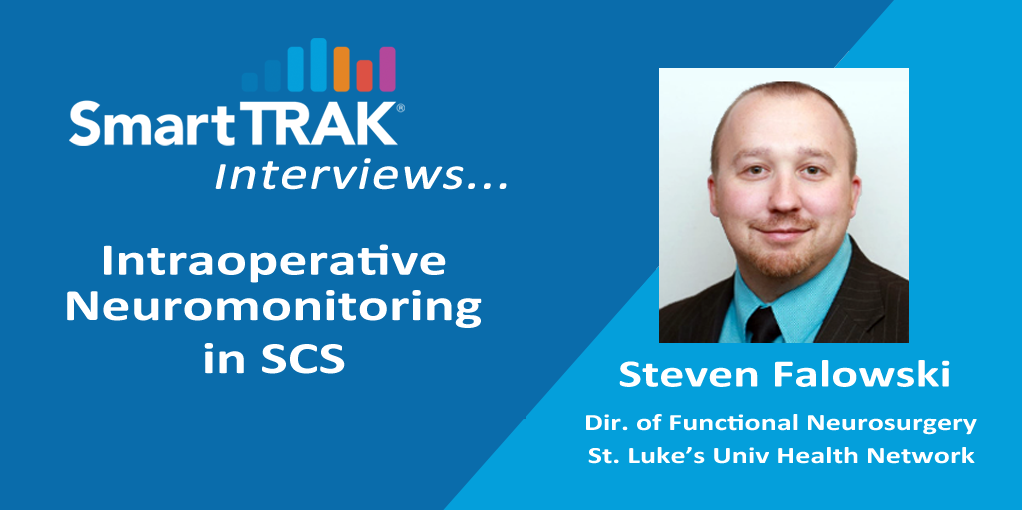 Intraoperative neuromonitoring could be a game changer in the field of SCS by elucidating the MOA for current and emerging SCS waveforms and stimulation patterns. But will it improve outcomes? To find out more, SmartTRAK interviewed Steven Falowski, MD at NANS 2019.
Steven Falowski, MD, Secretary of the Board for the North American Neuromodulation Society (NANS), discusses the latest research on the use of intraoperative neuromonitoring during spinal cord stimulation (SCS) in an interview with SmartTRAK at the NANS 22nd annual meeting held Jan. 17-20, 2019 in Las Vegas.
Historically, pain specialists have always placed spinal cord stimulators in awake patients for safety reasons and to confirm the therapy is adequately covering painful areas. However, Dr. Falowski says there's been a paradigm shift where both pain physicians and surgeons alike are now using intraoperative neuromonitoring to place SCS systems for both percutaneous electrodes and paddle leads in asleep patients to more accurately localize the spinal cord midline and to improve intraoperative electrode placement and pain coverage...