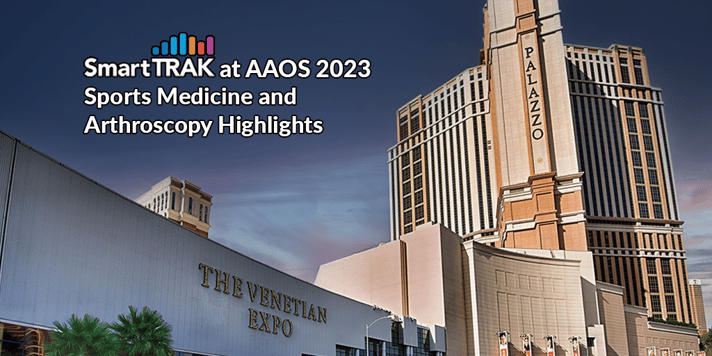 AAOS looked to be near business as usual in Las Vegas as Sports Medicine surgeons strive to achieve pre-COVD normalcy in 2023
The American Academy of Orthopaedic Surgeons (AAOS) 2023 Annual Meeting in Las Vegas finally felt like the Academy meetings before COVID knocked the wind out of the industry over the last couple of years, and SmartTRAK was there. The meeting was well attended, the exhibitor floor was bustling with traffic steadily throughout the entire meeting and the talks were all well attended. After the last few years of uncertainty and low attendance, it was good to see a robust and engaging Academy meeting once again. While some of the larger companies may have scaled down their booth space at AAOS, there were plenty of new, smaller and mid-tier companies that stepped up their presence to take advantage of the rejuvenated crowd. So what was the buzz at the meeting?
In this article, SmartTRAK highlights the key takeaways from AAOS for companies competing in the Sports Medicine Market, including:

The Growing Interest in Biologic-Driven Soft Tissue Fixation

It was clear at AAOS that there is a growing interest among sports medicine companies and physicians in the use of biologic-driven soft tissue fixation. Since

Smith+Nephew set the stage for ...



Small and Mid-Size Players That Aim to Take Share

A number of smaller US and OUS-based soft tissue fixation companies were on display at AAOS showing that the market for soft tissue fixation is a popular one where new competitors see growth potential. Companies such as ...



The New Companies Helping to Drive Innovation in Arthroscopic Video Technology


Arthroscopic video technology was front and center at AAOS 2023 from wireless cameras, disposable cameras and scopes to needle scope technology. While the big boys were showcasing their video technology as always, other companies, including ...
To read the complete "Sports Medicine and Arthroscopy Highlights at AAOS 2023" article by Andy Knapik, SmartTRAK's Senior Analyst, Soft Tissue Fixation and Arthroscopic Enabling Technologies, click the button below.
---
SmartTRAK is the Medtech industry's only global Insights-as-a-Service solution for the Orthopedics, Wound Care, Regenerative Medicine and Neuro Therapy markets. SmartTRAK's propriety methodology turns disparate data from hundreds of sources into powerful insights customers can rely on as the trusted source for strategic decision-making. The SmartTRAK enterprise platform includes rich daily updates, comprehensive market coverage and simple-to-use tools and dashboards for market, product and financial analysis. Customers leveraging the SmartTRAK platform also have direct access to market experts for inquiries and advisory services. If you would like a demo of what SmartTRAK has to offer and see how we can help increase proficiency, improve productivity and reduce costs for your company, just click here

.