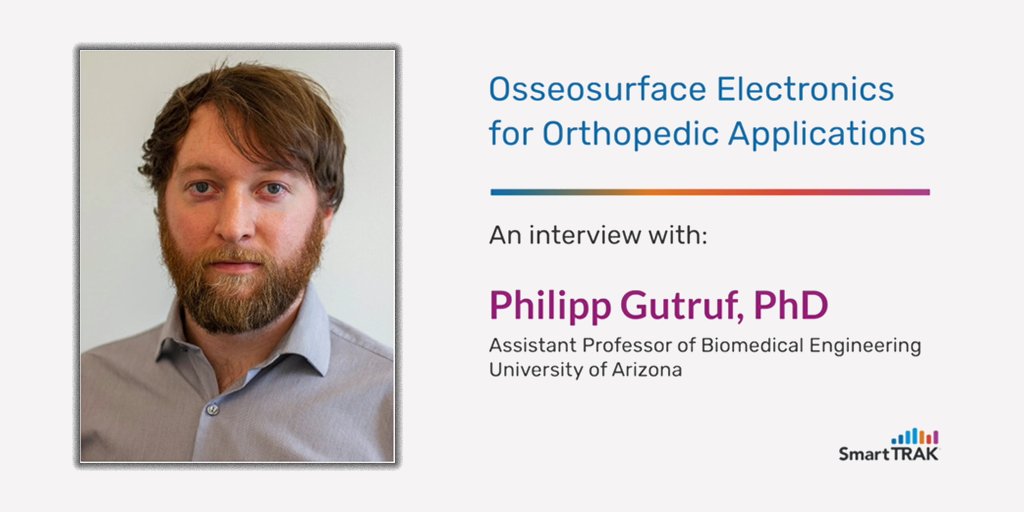 In an interview with SmartTRAK, University of Arizona professor Dr. Philipp Gutruf discusses research on a new class of bioelectronics he calls osseosurface electronics and its application in the orthopedic field. Dr. Gutruf is an Assistant Professor in the Biomedical Engineering Department at the University of Arizona and his research group focuses on creating devices that integrate with biological systems by combining innovations in soft materials, photonics and electronics to create systems with broad impact on health diagnostics, therapeutics and exploratory neuroscience.
To find out more, including the design of this new class of bioelectronics and how Dr. Gutruf believes osseosurface electronics will serve as a diagnostic tool after recovery from surgery, click on the following video to listen to the full interview (11:26 min). A link to the complete transcript of the interview is also provided below.
SmartTRAK: HI, I'm Nick Fitzpatrick with SmartTRAK. Recently I spoke with Dr. Philipp Gutruf about his research with osseosurface electronics and its application in orthopedics. Here is that conversation.
Some are describing osseosurface electronics as a computer "on the bone". Can you describe the technology and exactly how it works?

Philipp Gutruf, PhD: For our technology, we try to solve some of the major problems in obtaining data from the bone directly; in general, bone health. Imagine a scenario. For example, you have osteoporosis, you had a fall, you go into surgery and you'll get that bone fixed, right? But the chances of refracture is pretty high. You get Dexa scans all the time. They're not super reliable. It's hard to figure out when to take the hardware out, how much weight you can put on and when, which negatively impacts your general health. But also the diagnosis is pretty expensive and complicated. So we were approached from folks in the ortho world that really wanted to have a capability to get real-time information from the bone and figure out what kind of health status we have of that particular organ system. And one of the technological hurdles is that we have devices such as pacemakers that have been in human bodies for a long time, but the interface to the bone is particularly tricky.

Typically, you have lots of muscle groups around that have quite a bit of impact on any kind of device that you want to put there. So in my group, we have the capability to cast power into thin pieces of electronics that we can outfit with all kinds of sensor technologies. And we utilize this in this new platform that we call Osseosurface Electronics. So these are electronics that are directly mounted to the bone. You can think of them as a postage stamp that you put onto the bone that then allows us to retrieve real-time, for example, strain information from the bone, as well as millikelvin temperature from the bone itself. This type of technology relies on ...
To download the complete transcript of the "Osseosurface Electronics: Bone Computers that Monitor and Improve Musculoskeletal Health" interview with Philipp Gutruf, just click the button below.

---
SmartTRAK is the leading source of competitive intelligence used by the top ten global orthopedic & wound care companies. If you would like a demo of what SmartTRAK has to offer and see how we can help increase proficiency, improve productivity and reduce costs for your company, just click the button below.