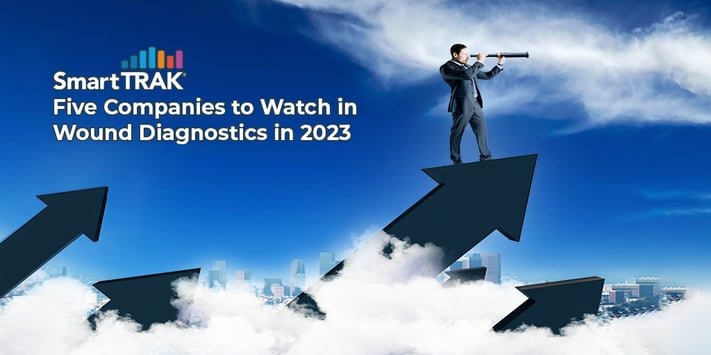 The need for effective wound diagnostics has never been greater. SmartTRAK highlights five companies that may advance the market in 2023
SmartTRAK forecasts the US Diagnostics Aids Market to more than double in size by 2026E. There is a significant need for diagnostic technologies in US wound care, with hard-to-heal wounds anticipated to exceed four million by 2026E and advanced wound care revenues growing at a five-year compound annual growth rate of over 6% according to the SmartTRAK US AWC Market Overview.
In this article, SmartTRAK focuses on five noteworthy companies and the key initiatives they have planned for 2023 and also reveals four organizations that could disrupt the market this year. The five are:

Spectral MD

It is now ten years since Spectral MD was first awarded US Biomedical Advanced Research and Development Authority (BARDA) funding to accelerate the commercialization of its

DeepView technology, a portable imaging system that uses ...



MolecuLight

Since 2015, MolecuLight has been very visible and active with its

MolecuLight

i:X device, a handheld fluorescence imaging device that provides real-time visualization of bacteria in chronic wounds at ...



Podimetrics


Podimetrics is another company that has ridden the challenges of the early 2020s with great success. Revenues have doubled for three years running and Company infrastructure has been ...



Smith+Nephew


SNN has shown a greater desire to establish itself within wound diagnostics than any other major wound care player. In addition to the Company's agreement with MolecuLight, in 2019, SNN also acquired ...



3M

SmartTRAK

estimates that 3M had a 19.5% share of the WW Advanced Wound Care Market in the first nine months of 2022, making them the number one player. Over 80% of the Company's revenue is from

...
The US Diagnostic Aids Market is highly fragmented, with a variety of start-ups, academic institutions and established players attempting to commercialize a range of technologies. As well as the five companies already featured, SmartTRAK believes that the following organizations could disrupt the market in 2023 ...
Just click the button below to download and read the "Five Companies to Watch in Wound Diagnostics in 2023" Market Outlook article by Kris Flinn, SmartTRAK Senior Analyst, Wound.
---
SmartTRAK
is the Medtech industry's only global Insights-as-a-Service solution for the Orthopedics, Wound Care, Regenerative Medicine and Neuro Therapy markets.

SmartTRAK

's propriety methodology turns disparate data from hundreds of sources into powerful insights customers can rely on as the trusted source for strategic decision-making. The

SmartTRAK

enterprise platform includes rich daily updates, comprehensive market coverage and simple-to-use tools and dashboards for market, product and financial analysis. Customers leveraging the SmartTRAK platform also have direct access to market experts for inquiries and advisory services. If you would like a demo of what

SmartTRAK

has to offer and see how we can help increase proficiency, improve productivity and reduce costs for your company, just click
here
.