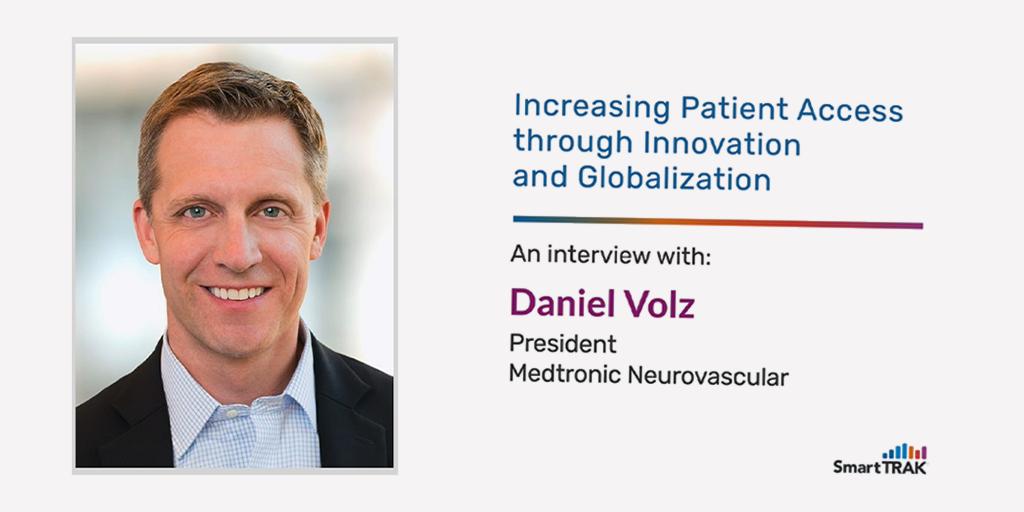 Medtronic Neurovascular President Dan Volz discusses expanding patient access to neurovascular therapies through innovation and globalization in an interview with SmartTRAK.
Medtronic Neurovascular President Dan Volz discusses innovation, globalization and the Company's plans to double the number of neurovascular patients treated annually in three years in an interview with SmartTRAK. Volz said the Company is driving growth in Neurovascular through innovative business models and strategic investments in remote connectivity and the Medtronic Neurovascular Co-Lab Platform, a novel incubator designed to accelerate innovation in stroke care and treatment. To find out more about the Company and its latest innovations, click on the video to listen to the full interview (27:30 min). To download a transcript of the complete interview, just click the button below.
Anne Staylor here with SmartTRAK. Today I have the pleasure of interviewing Dan Volz, president of Medtronic Neurovascular. Dan, thank you for speaking with me today.
Dan Volz: It's my pleasure. It's good to talk to you.

I haven't talked to you for a while and I was hoping to catch up with you at SNIS when it was here in San Diego. Now that we are talking, let's just start broadly and talk from your perspective, what's important for us to know about Medtronic Neurovascular and what are your top priorities for fiscal year 2024?

DV: It's good to see you and I'm sorry that I missed you down in San Diego. That was a pretty quick up and back for me, but for us obviously it's about the patients and we had a pretty important milestone in 2022. In a 12-month period we helped treat 250,000 people, so that was a great celebration for us as a business. But I think even more importantly, it kicked off our strategic planning process to double that number in three years. And so everything that we do is centered on how do we drive toward that number? And there's a lot that goes into that, but it starts with obviously innovation and how are we innovating in our portfolio? What are we doing organically and what are we looking at inorganically to drive toward that number? And you know these statistics as well as anyone, there's 15 million strokes and we only treat five to 600,000 of them a year ...
To download and read the transcript of the complete interview with Dan Volz, president of Medtronic Neurovascular, by SmartTRAK's Anne Staylor, Executive Editor, VP & GM of Neuro Therapies, just click the button below.
---
SmartTRAK

is the Medtech industry's only global Insights-as-a-Service solution for the Orthopedics, Wound Care, Regenerative Medicine and Neuro Therapy markets. SmartTRAK's propriety methodology turns disparate data from hundreds of sources into powerful insights customers can rely on as the trusted source for strategic decision-making. The

SmartTRAK

enterprise platform includes rich daily updates, comprehensive market coverage and simple-to-use tools and dashboards for market, product and financial analysis. Customers leveraging the

SmartTRAK

platform also have direct access to market experts for inquiries and advisory services. If you would like a demo of what

SmartTRAK

has to offer and see how we can help increase proficiency, improve productivity and reduce costs for your company, just click here.