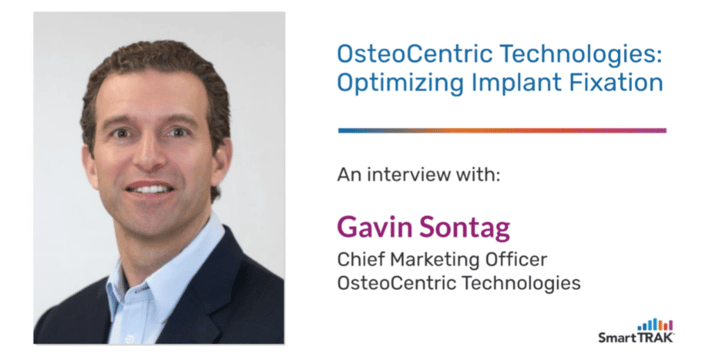 OsteoCentric Technologies' CMO Gavin Sontag discusses the Company and its OssiMI mechanical integration technology in an interview with SmartTRAK.
Gavin Sontag, CMO of OsteoCentric Technologies, discusses OsteoCentric's OssiMI platform technology, company growth rates and plans for expansion in an interview with SmartTRAK. To find out more, including why OsteoCentric acquired an SI-Fusion system, click on the following video. A link to download the complete transcript of the interview is also provided below.
SmartTRAK: Hello. This is Nick Fitzpatrick from SmartTRAK. I'm here with Gavin Sontag from OsteoCentric Technologies. Gavin is the Chief Marketing Officer. Gavin how are you doing today?
Gavin Sontag: I'm doing great Nick. Happy to be here. Thanks for having me.
All right, let's go right into it. Can you give us an overview of OsteoCentric's technology and how it's different from current tech out there?
GS: So we actually look at our core technology as a new method to instantly secure implants to bone in orthopedic and dental surgery. We've named that method mechanical integration and have also branded our technology specifically UnifiMI. Our method is a sharp contrast to current methods for securing implants to bone. And let me explain. Currently, during initial placement, implants utilize radial outward forces to create compression around an implant during placement. So let's call this the compressive method, for lack of a better term. With this method, clinicians are forced to jam, crush and even hammer implants in place in an effort to create enough compression or pushback from the bone to consider the implant secure.
This method is typically very damaging to adjacent bone and also is very much focused on stability in an axial manner as opposed to a multi-directional manner, which is typically the loads that an implant will face when implanted. A second longer-term method for securing implants to bone is osseointegration (OI) or when bone grows into an implant. If the construct interface has enough stability and time to facilitate OI, which can typically take eight to 10 to 12 weeks or even more in certain applications, this method creates optimal load sharing and multiplayer stability at the bone-implant interface.
The downside of OI is that it is delayed in nature and can be extremely hard to remove or adjust once it's taken place. So circling back now to our technology or method, mechanical integration has several advantages to either of these current methods. In comparing it to the compressive method, MI interlocks or integrates with the bone upon placement, similar to the way puzzle pieces fit together. But in thinking about that, think about a 3D puzzle because UnifiMI interlocks with the bone circumferentially so all the way around the implant and also all the way down the length of the implant.
This actually creates a stability and load sharing scenario that mimics the stability of an osseointegrated implant, but ...
To download and read the complete transcript of the "OsteoCentric Technologies: Optimizing Implant Fixation" interview with CMO Gavin Sontag, just click the button below.
---
SmartTRAK is the leading source of competitive intelligence used by the top ten global wound care & orthopedics companies. If you would like a demo of what SmartTRAK has to offer and how we can help increase proficiency, improve productivity and reduce costs for your company, just click here.