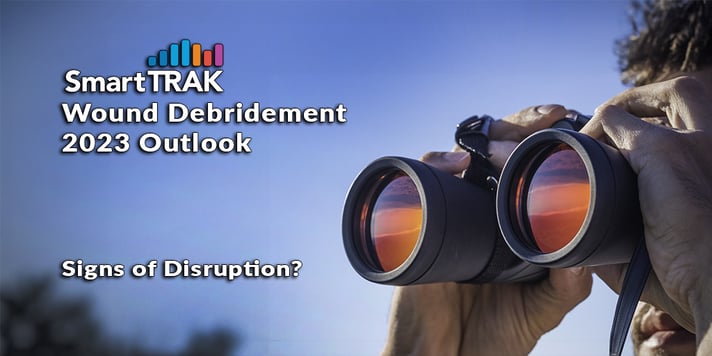 With Smith+Nephew having dominated the wound debridement market for over a decade, SmartTRAK looks at how 2023 could be a year where we see the first signs of disruption.
The WW Wound Debridement Market is forecast to grow at a five-year CAGR of ~5.1%, according to SmartTRAK estimates. Although Smith+Nephew (SNN) has long dominated this market with more than 74% share, SmartTRAK believes 2023 could be a year of disruption in wound debridement as multiple players across a range of segments are poised to see financial returns after years of commercial progress. It is also worth noting that sharp debridement accounts for over half of the debridement procedures in the US, so the route to market growth is clear.
In this 2023 Market Outlook article, Kris Flinn,
SmartTRAK
's
Senior Analyst, Wound, provides an outlook of the WW Wound Debridement Market, including factors that
could disrupt the market over the next several years, and discusses why debridement is the wound
market segment most primed for corporate activity in 2023 and beyond.
Among the many topics covered in the complete article, which can be
downloaded here
, are:
Smaller Players Help Drive Growth in Enzymatic Debridement
Chemical Debridement to Continue Geographic Expansion
Portfolio Gaps to be Addressed
Analysis of the Major Players

3M
Smith+Nephew
Mölnlycke
Convatec
Urgo Medical
The fact that Smith + Nephew owns three-quarters of the WW Wound Debridement Market highlights two issues: firstly, the company has done an excellent job in establishing such a dominant position, and secondly, there is a ...
To download and read the complete "Wound Debridement 2023 Outlook" by Kris Flinn, SmartTRAK's Senior Analyst, Wound, just click the button below.
---
SmartTRAK is the Medtech industry's only global Insights-as-a-Service solution for the Orthopedics, Wound Care, Regenerative Medicine and Neuro Therapy markets. SmartTRAK's propriety methodology turns disparate data from hundreds of sources into powerful insights customers can rely on as the trusted source for strategic decision-making. The SmartTRAK enterprise platform includes rich daily updates, comprehensive market coverage and simple-to-use tools and dashboards for market, product and financial analysis. Customers leveraging the SmartTRAK platform also have direct access to market experts for inquiries and advisory services. If you would like a demo of what SmartTRAK has to offer and see how we can help increase proficiency, improve productivity and reduce costs for your company, just click here.