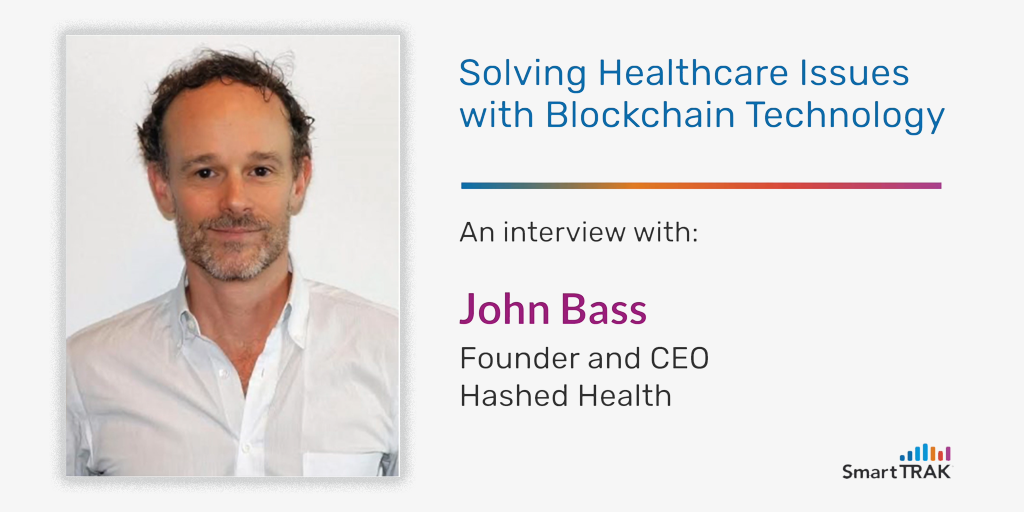 Hashed Health CEO John Bass discusses how Hashed Health is bringing blockchain technology to healthcare in an interview with SmartTRAK
In an interview with SmartTRAK, Hashed Health CEO John Bass discusses the Company and the use case of blockchain and distributed ledger technology in the medical device industry. Hashed Health is a venture product studio that partners with healthcare and life science enterprises to introduce new blockchain-based healthcare solutions to market.
To find out more, including why blockchain technology is important for medical device manufacturers, click on the following video to listen to the full interview (25:42 min). A link to download the complete transcript of the interview is also provided below.

SmartTRAK: Hi, this is Nick Fitzpatrick with SmartTRAK. I'm here with John Bass, CEO of Hashed Health. I'm very excited to hear about blockchain and healthcare. John, can you give us a little background about yourself and how you started in the healthcare industry?

John Bass: I got my start at Vanderbilt Medical Center, and that was right as the dot com boom was happening. And so after working for a little bit of time at Vanderbilt, I joined a startup that was called impacthealth.com. We grew quickly and ended up being acquired by a company called Global Healthcare Exchange, which basically was the major B2B exchange for supply chain data between providers and suppliers in healthcare, and is still around today. It's a fantastic company where I learned a lot about moving data and forming digital relationships in supply chain. And it set the stage for my career.

I left GHX after a bit of time to help start another company called InvivaLink, which some of your listeners may remember. Between 2009 and 2014 or so, we created an MSK registry platform that aimed to connect the workflows of the surgeon in their clinic to the medical device manufacturer to the hospital to the post acute providers, and have that group of people all share workflows and share patient engagement strategies and collect patient report outcomes measures, and study practice patterns and costs and things like that for implants and for orthopedic and spine procedures. And we sold that company to HCA about six years ago now, at which point I started Hashed.

The reason Hashed made sense to me and the reason blockchain made sense to me at that time was because I look back at this history of creating and growing companies with the aim of collaboration, really. How do we all work together to deliver care to these surgical subspecialties? And how do we teach people to use technology to collaborate in more meaningful ways across the supply chain? Where we're really all trying to solve the same problems, right? We're all trying to get a patient back to work or we're trying to get ...
To download and read the complete transcript of the "Solving Healthcare Issues with Blockchain Technology" interview with Hashed Health Founder and CEO John Bass, just click the button below.
---
SmartTRAK

is the leading source of competitive intelligence used by the top ten global wound care & orthopedics companies. If you would like a demo of what SmartTRAK has to offer and how we can help increase proficiency, improve productivity and reduce costs for your company, just click here.