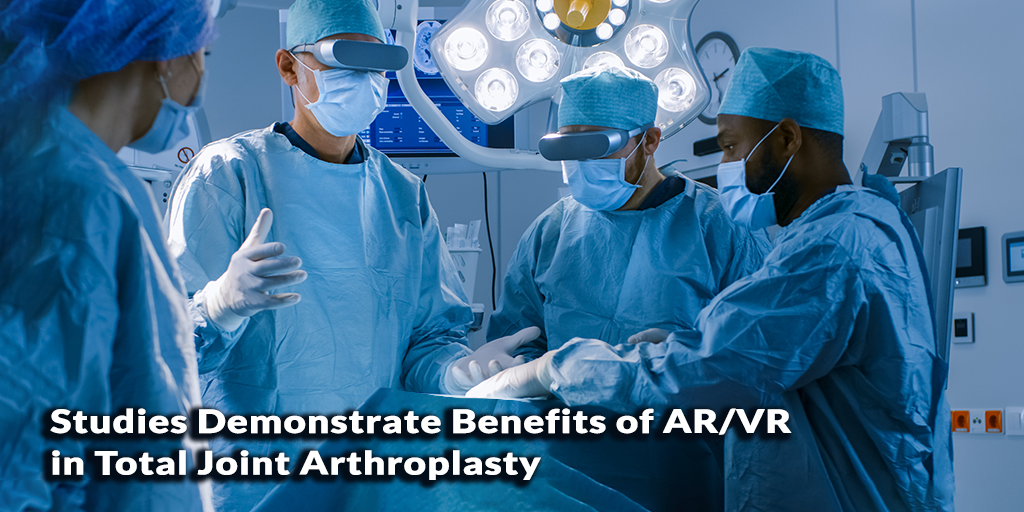 Computer-assisted technologies continue to gain traction in total joint arthroplasty, particularly as research demonstrates improved outcomes when clinicians employ surgical planning, simulation and navigation. SmartTRAK highlights three recent studies illustrating how augmented reality (AR) and virtual reality (VR) are being used in total knee replacement (TKR) surgery to improve accuracy in distal femoral resection, train nurses in complex knee revision arthroplasty procedures, and help surgeons lower long-term revision rates in TKR patients.
Augmented Reality-Assisted Femoral Bone Resection in Total Knee Arthroplasty



SmartTRAK Analyst Summary: A study of 10 resected femoral Sawbones specimens using an AR-based navigation system performed CT scans to measure the resection angle of the distal part of the femur and reported mean absolute value of the error in coronal alignment was significantly smaller in the AR-based navigation group than the intramedullary-guide group. JB JS Open Access. 2021 Jul 23


Conclusion: The study concludes "The AR-based navigation system may enable surgeons to perform distal femoral resection more accurately than with the conventional intramedullary guide during TKA."


Immersive

V

irtual

R

eality

E

nables

T

echnical

S

kill

A

cquisition for

S

crub

N

urses in

C

omplex

R

evision

T

otal

K

nee

A

rthroplasty



SmartTRAK Analyst Summary: A study of 10 scrub nurses undergoing revision total knee arthroplasty surgery training using immersive Virtual Reality reported skill improved from 11% prior to iVR training to 84% correct post-training.

Arch Orthop Trauma Surg. 2021 Jul 28




Conclusion: The study concludes "For scrub nurses, unfamiliarity with complex surgical procedures or equipment is common. Immersive VR training improved their understanding, technical skills and efficiency."



Reduced Risk of Revision with Computer-Guided Versus Non-Computer-Guided THA: An Analysis of Manufacturer-Specific Data from the National Joint Registry of England, Wales, Northern Ireland and the Isle of Man



SmartTRAK Analyst Summary: A study of 41,683 non-computer-guided and 871 computer-guided total hip arthroplasty cases (cementless & hybrid) reported revision rate at 10 years of 3.88% (for the non-computer-guided) and 1.06% (computer guided). JJBJS Open Access: July-September 2021 - Volume 6 - Issue 3


Conclusion: The study concludes "the use of computer-guided surgery was associated with a lower rate of revision at mean follow-up of 5.6 years. This finding was upheld when the sample was restricted to cementless-only THAs. Causality cannot be inferred in view of the observational nature of the study, and additional studies are recommended to validate these findings."
Are you going to AAOS? If you would like to meet with us while in San Diego to find out what SmartTRAK can do for you, just click the button below.
---
SmartTRAK has launched five exciting new modules in 2021, including Arthroscopic Technologies, Pediatric Extremities, Pediatric Trauma, Pediatric Spine and Deep Brain Stimulation. Click here to find out more.