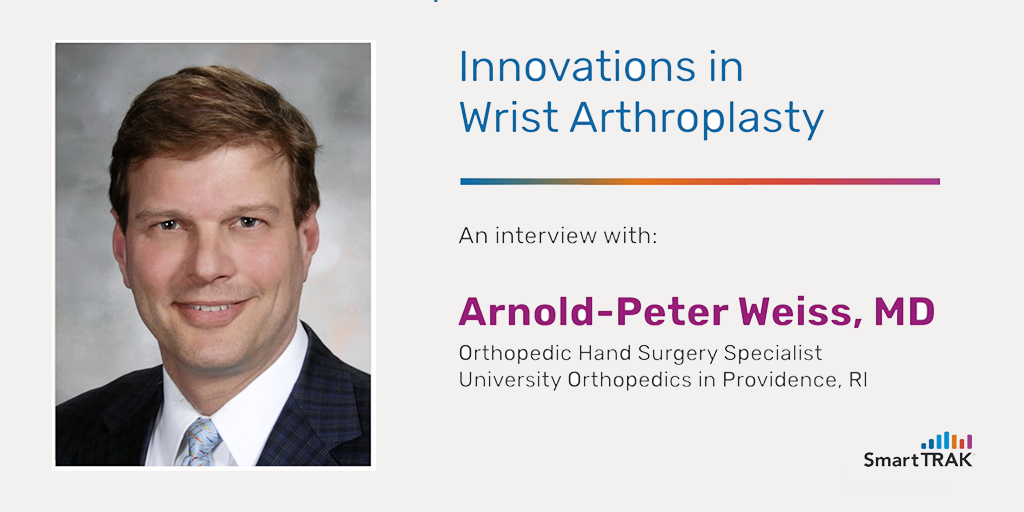 Designing-Surgeon Dr. Arnold-Peter Weiss Discusses New WristMotion System Design, Outcomes and Implications
A new total wrist arthroplasty system, WristMotion*, is being introduced to the US market through Anika's*' subsidiary, Arthrosurface*. WristMotion's design is intended to address concerns of carpal loosening by incorporating a dual curvature design feature in the carpal side combined with a dorsal flange to allow for greater range of motion. In July, Anika announced* the first surgery utilizing the WristMotion Total Wrist Arthroplasty System was performed by designing-surgeon Arnold-Peter C. Weiss, MD, at University Orthopedics, RI.
To find out more, SmartTRAK interviewed Dr. Weiss about his early experience with the WristMotion total wrist and its implications for patients suffering from chronic wrist pain. To listen to the interview, recorded via Zoom, click on the following video (15:58 min). A link to download a transcript of the complete interview is also provided below.
SmartTRAK: Lisa Mahan here with SmartTRAK. Today, I have the pleasure of speaking with Dr. Arnold Peter Weiss, internationally known hand surgeon with University Orthopedics in Providence, Rhode Island, who completed the first surgery with Anika's new WristMotion, total wrist arthroplasty system in June. Dr. Weiss is also Chief of Hand, Upper Extremity, and Microvascular surgery, Vice Chairman and Professor of Orthopedics at the Warren Alpert Medical School, Brown University, and Rhode Island Hospital. Thank you for joining us today, Dr. Weiss.
I understand you were the lead surgeon designer with Anika, for the development of WristMotion. Can you share how this collaboration came about, and what inspired the development of the new system?
Dr. Arnold Peter Weiss: Sure. It's two separate tracks, essentially. I knew of Anika also through the previous company that they purchased − Arthrosurface. I met Arthrosurface a while ago and helped design a thumb joint replacement with Arthrosurface, now Anika. I got to know the development team, and the folks who were leading the company, and I've been out to the plant. And that's done extremely well from a clinical perspective. That was one portion, just getting to know them as a company, and as developers and designers, the engineers. The second component is, I'm one of probably the top two or three largest users in the United States of total wrist replacement surgery. There have been some other designs made a little bit on older technology, probably now about 10 to 15 years old, that worked pretty well, but not perfectly well. And I put in a lot of those, and have had a lot of patients both locally and nationally come for that type of surgery.
We've published a little bit on that. We have had an NIH grant on wrist biomechanics for the past 10 years. We've researched this area. And one of the things that I was trying to accomplish was to make a new type of wrist implant that mimicked the normal range of motion of the wrist, much better than the older implants. The older implants solved some of the problems of loosening, which both total hips and total knees have over time. And they solved also the problems of dislocation to a large degree where the implant actually fails and pops out. But the one thing they didn't solve was getting a lot of motion back. They had very limited range of motion. Patients... That's why they're having the surgery. They want to have pain relief and they want to have motion.
We used the mechanical studies that our lab has come out with, we published a lot of papers on that to design a new implant with Anika and the engineer... I sketched out the basic premises of what we wanted to accomplish. They basically turned that from the roadmap for how to get to the final implant engineering-wise, into a vinyl implant. And we tested that extensively in multiple lab sessions, both biomechanical testing, and also making sure it fit, and it seemed to be stable, and all the parts were in the right spot. X-rays looked good. And then once the FDA approved it, I had one particular patient who was in dire need of this and that person happened to be the first person to get the WristMotion implant to date. And so far is doing tremendously well. He's still in a cast. He's only 10 to 14 days out from the surgery, so it's a little early still, but he'll be in the cast another couple of weeks, and then we'll start him in hand therapy and get him moving.
You talked about the difference in the design of the wrist, to provide more anatomic motion. What about with the instruments for implanting the wrist? Were there any design changes on that side as well?
APW: Yeah, because this wrist implant actually works the opposite of the previous implant. All the implants are made of metal and a special plastic-type material called high-density polyethylene. And normally the polyethylene is on the distal, or finger side of the wrist implant. That's how it's classically been done. Ours is actually flipped around in that the polyethylene is on the proximal, or elbow side of the wrist. And it also pushes the center of rotation further into the mid part of the wrist where it naturally occurs. To accomplish that ...
*These links can only be viewed by SmartTRAK subscribers to this module. For more information on SmartTRAK, including how to receive a demo and subscribe, please click here.
To download the complete transcript of the "Innovations in Wrist Arthroplasty" interview with Arnold-Peter Weiss, designing-surgeon at University Orthopedics, RI, just click the button below.
---
SmartTRAK has recently expanded it's coverage, launching the Pediatric Extremities, Pediatric Spine and Pediatric Trauma modules. Subscribers will now have access to market revenues and shares, procedure volumes and market updates and trends. Click here to see details of this and all the other exciting new modules recently added to SmartTRAK platform.