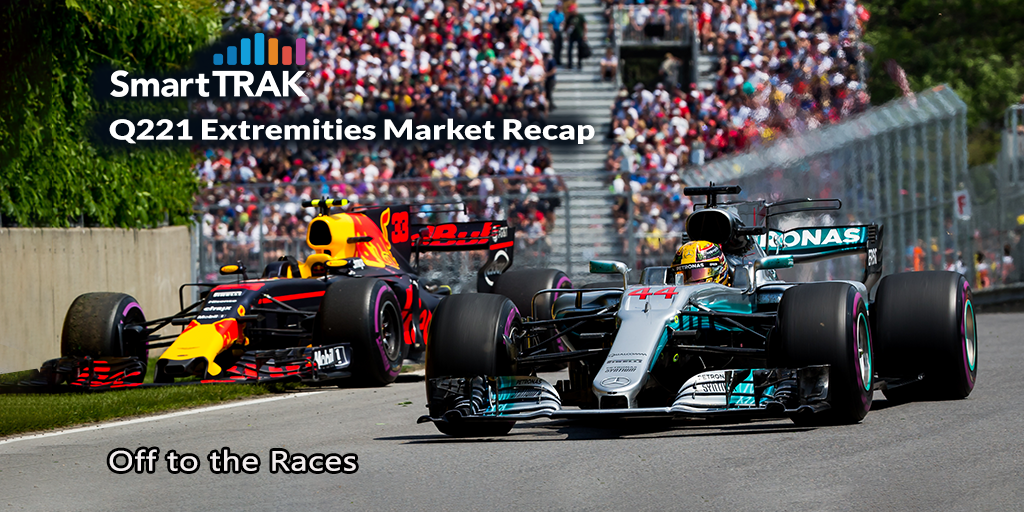 Declining COVID cases, M&A and new products fueled the race to recovery in the Extremities Market
As COVID cases declined in Q221 and patient confidence increased, the Extremities Market was off to the races with a rev-up in deal-making and new product launches. Elective procedure volumes started to make a comeback but were not pedal to the metal and still lagged pre-COVID levels. However, new product launches helped fuel growth in the quarter with the US Extremities Market +43.9% YoY, an increase of +8.2% compared to Q219, reflecting change over pre-COVID market conditions.
Among the many topics covered in detail in our comprehensive Q221 Extremities Market Recap* are:
Complete Q221 Extremities Market Overview and Highlights
SmartTRAK's Expert Analysis and Insights
Extremities News, Revenues, Data, Charts and Shares
M&A Activity Still Hot
Integration is Key to Success Following M&A
Shoulder Replacement
Ankle Replacement
Extremity Fixation
Q221 Regulatory Highlights
For Q321, look for the yellow caution flag to signal a potential slowdown in recovery as COVID cases surge because of the highly contagious Delta variant resulting in additional postponement of elective surgeries in some regions. Postponements have mostly affected hospital-based procedures so extremities procedures taking place in an outpatient setting should not ...


Read the entire Q221 Extremities Market Recap including news, data, charts, company revenues, shares and our expert analysis*
*The entire unedited article and these links can only be viewed by SmartTRAK subscribers to this module. For more information on SmartTRAK, including how to receive a demo and subscribe, please click the button below.
---
SmartTRAK
has recently expanded it's coverage to include five new modules, including Pediatric Extremities and Trauma.
Click
to see details of all the exciting new additions to the
SmartTRAK
platform in 2021.