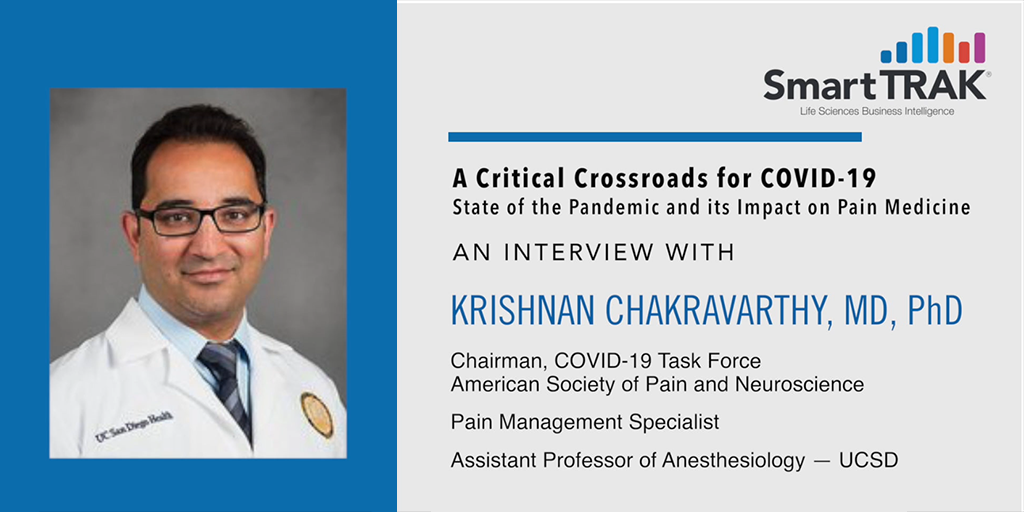 Krishnan Chakravarthy, MD, PhD discusses the state of the pandemic and its impact on pain medicine in an interview with SmartTRAK
Krishnan Chakravarthy, MD, PhD discusses the COVID-19 pandemic, current and evolving methods for containing and treating the virus, how it's changing the practice of pain medicine and its impact on industry in an interview with SmartTRAK. Dr. Chakravarthy is Chairman of the COVID-19 Task Force for the American Society of Pain and Neuroscience (ASPN), a virologist, pain management specialist and assistant professor of anesthesiology at the University of California, San Diego (UCSD).
To find out more, including lessons learned from the 1918 Spanish flu pandemic, click on the following video to listen to the interview conducted by Anne Staylor, SmartTRAK's Managing Editor and Director of Advanced Technologies, recorded live via Uberconference (47:29 minutes). Specific interview topics by time code are also outlined below, as is a link to download the transcript.

Interview Topics by Timecode:
00:09 Current state of the COVID-19 pandemic, including why we're at a tipping point for either flattening the curve and preserving resources or moving toward herd immunity.
07:08 Testing to impact patient outcomes vs testing for strict quarantine. How a treatment will change the testing paradigm and the impact of treating everyone as if they have COVID-19.
12:07 Lessons learned from the 1918 Spanish flu pandemic. How the 2020 pandemic is different. The impact of secondary pneumonia and antibiotics on mortality.
16:02 Understanding the immune response and secondary injury that predisposes patients to Adult Respiratory Distress Syndrome (ARDS). Potential treatments to target the immune response, decrease mortality and reduce lung injury. The importance of drug validation and a potential timeframe for realistically having a treatment available.

24:24 The effect of the pandemic on pain management practices. Elective vs urgent cases. Triaging patients. Treating patients amid inconsistent evidence and a shifting environment. Challenges in providing care to patients amid social isolation, the impact on business and how physicians are adapting their practices.
32:01 Pain procedures most affected. Decision-making on trials. Rescheduling procedures and uncertainty regarding impact on Q3-Q4 procedure volumes. Two potential scenarios for getting back to "normal" and adapting amid a changing public health environment.
36:51 How COVID-19 will affect industry and the market for spinal cord stimulation (SCS) devices. Challenges for industry. Expecting a precipitous drop in cases. Triage and tier treatment according to guidelines and patient needs. Working toward agreement in performing interventional procedures. Importance of companies adapting during the dip and being nimble.
39:40 COVID-19 and FDA guidance regarding clinical trials. How COVID-19 is affecting research in the pain field, patient safety first, incorporating screening, effect of quarantining and recommendations for working with institutional review boards. With a better understanding of disease trajectory, it will be clearer how to move forward.
41:42 The ASPN COVID-19 task force. Goals of the task force. Upcoming webinars on COVID-19.
---
The interview:
SmartTRAK: Anne Staylor here with BioMedGPS. Today I'm talking with Krishnan Chakravarthy, MD PhD. Dr. Chakravarthy is an anesthesiologist and pain specialist at UCSD here in San Diego. He has a PhD in virology and is also the chairman of the American Society of Pain and Neuroscience's recently-formed task force on COVID-19. Dr. Chakravarthy, thank you for talking with me today.
Krishnan Chakravarthy, MD, Phd: Thank you, Anne, for having me today. I'm really looking forward to talking to you about the current state of COVID-19.

I realize the situation with COVID-19 is changing on a daily basis, but from your perspective, where are we right now in terms of this pandemic?

KC: You know, it's interesting. I came across a panel that was recently put out by UCSF, and one of the statistics that they had mentioned was, in the absence of any intervention, they predicted about 50 to 70% of the US population would have some form of infection with COVID-19. And really, the concept of herd immunity, which is this idea that eventually, if enough folks within a population get the infection, they'd build a natural immunity to that strain.

Now, we are probably at a critical crossroads in terms of the decisions that we make as a nation, as a society, as individuals, as family members where we are. In my mind, I see this pandemic really splitting in two separate camps. The one camp, which still believe that aggressive social distancing can flatten the curve in terms of the peak incidences of cases, and therefore limitation of number of resources, and us moving in the direction of the model that was quite well done in China.

To the other part where there's definitely a sense of if this crisis is really overblown in terms of the magnitude and the decisions that we're making that are impacting the economics of daily practices, small businesses. When are we beyond a point of making an impact where we are moving towards what I had suggested where maybe this will become an endemic in the sense that it will transition to a seasonal strain of virus where we almost have to look at it as another strain that we're prepping for in three to five years with vaccinations every year, just like we do with a seasonal flu infection.

So, that tipping point I think has created a lot of critical questions, both culturally, I think, from a perspective of clinician-to-patient relationships, our own dynamics in our families, our relationships with loved ones. What are the expectations of really understanding and introspecting on, "How does an individual decision impact a larger public health perspective?" ...
To download the complete transcript of SmartTRAK's interview with Dr. Krishnan Chakravarthy, please click the button below.
---
SmartTRAK is the leading source of competitive intelligence used by the top 10 global orthopedic & top 15 wound care companies. If you would like a demo of all SmartTRAK has to offer and how we can help increase proficiency, improve productivity and reduce costs for your company, just click the button below.