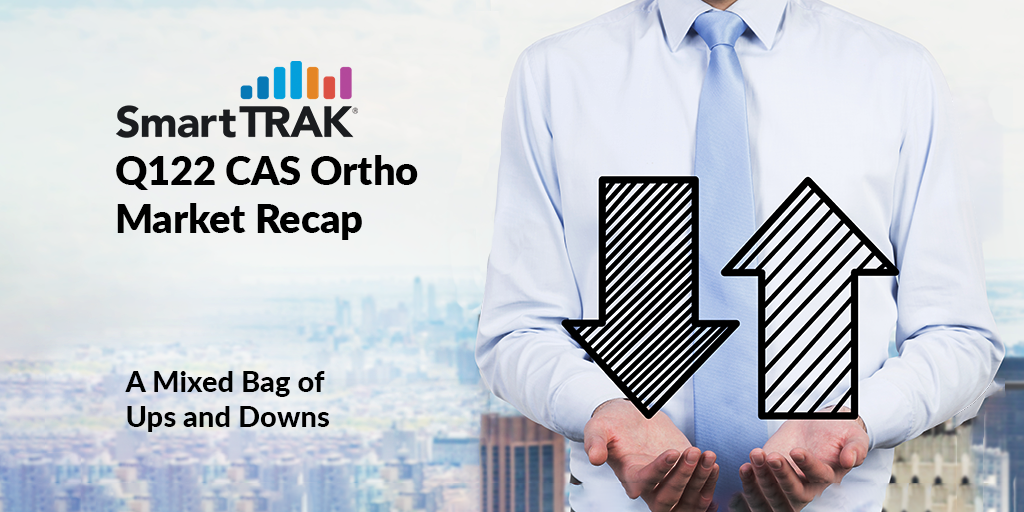 Q122 proved to be a mixed-bag of ups and downs with supply chain issues and Covid surges having varying impacts on market leaders' performance amidst a strong wave of enabling tech product launches.
The Q122 WW CAS Ortho Market was down according to SmartTRAK Financial Dashboard. Stryker* remained the market leader, followed by Zimmer Biomet* and Smith & Nephew*. For detailed Q122 revenues and shares by company in the US, EU and ROW, see the SmartTRAK CAS Ortho Financial Dashboard.
Among the many topics covered in detail in our comprehensive Q122 CAS Ortho Market Recap* are:
Complete Q122 CAS Ortho Market Overview and Highlights
SmartTRAK's Expert Analysis and Insights
All Company News, Revenues, Data, Charts and Shares
Top Players' Results
A Tough First Quarter for Robotics in 2022
Q122 Enabling Tech Launches
Regulatory Clearances
Q122 Acquisitions & Collaborations
What's on the Horizon?
In it's Q122 Earnings Call, DePuy Synthes* reported more than 2,000 cases have been performed with the VELYS* system and touted the March acquisition of CUPTIMIZE* and its Hip-Spine Analysis to address abnormal pelvic tilt as a new addition to the VELYS digital surgery platform for THA procedures. In January, Orthofix* and nView* medical announced ...
Read the entire Q122 CAS Ortho Market Recap, including SmartTRAK's expert analysis, news, data, charts, company revenues and shares*
*The entire unedited article and these links can only be viewed by SmartTRAK subscribers to this module. For more information on SmartTRAK, including how to receive a demo and subscribe, please click the button below.
---
SmartTRAK
is a comprehensive, easy-to-use, business intelligence solution for the Life Sciences Industry that provides breaking updates on pertinent company news, potential treatments and guidance, international survey results, statistical analysis by country, studies, trial results, financial impact and more. All subscribers receive a Daily Updates email containing the latest need-to-know news curated by our expert analysts. It's the perfect way to start your day! If you would like to learn more about SmartTRAK, just click
here
.