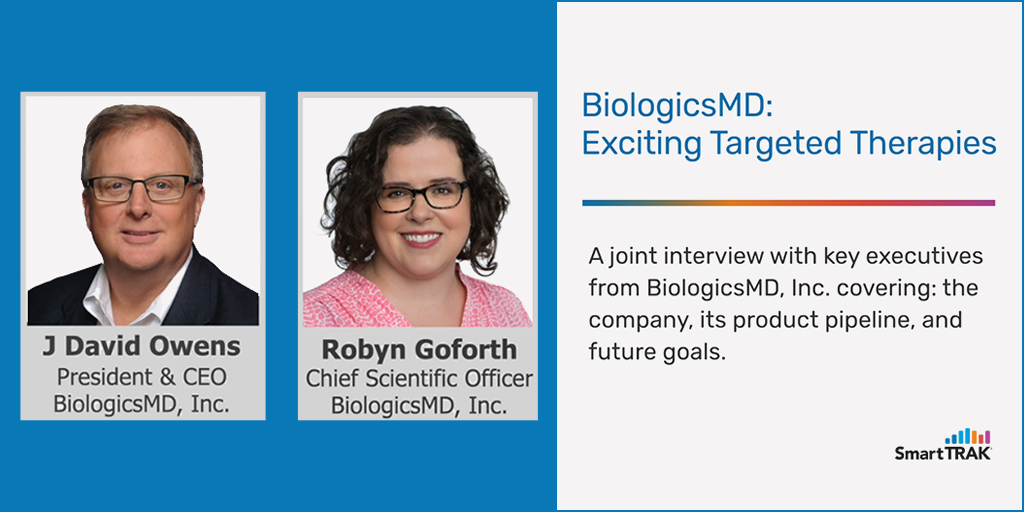 Mr J. David Owens, President & CEO of BiologicsMD, and Chief Scientific Officer, Dr. Robyn Goforth, discuss the Company's highly-targeted therapies, a series of recombinant fusion proteins designed to treat hair loss and severe bone disorders, in an interview with SmartTRAK.
In an interview with SmartTRAK, BiologicsMD President & CEO J. David Owens and CSO Dr. Robyn Goforth discuss BiologicsMD's innovative highly-targeted treatments for severe bone disorders and hair loss diseases.
To find out more about this early-stage company, the science behind highly-targeted therapies, and two of its lead compounds, click on the following video to listen to the full interview (29:10 min). A link to download a complete transcript of the interview is also provided below.
SmartTRAK: Hi. Freddy Buntoum here with BioMedGPS. In this interview with David Owens, president and CEO of BiologicsMD, and Dr. Robyn Goforth, chief scientific officer, we discuss the company, its product pipeline, and its future goal. David, can you tell us who is David Owens and what was your professional journey prior to BiologicsMD?
David Owens: Well, I don't want to make this about me, but I think that maybe because you're familiar both with OrthogenRX, where I was previously a board member and co-CEO, and now BiologicsMD, a little bit background into what I've been doing for the last 13 years. I spent my career in the biotech and pharmaceutical business. I was actually one of the first commercial people at Genentech back in the early eighties so I had a taste of entrepreneurial companies from the very beginning. But then went back into big pharma and big biotech.
But in the 2009 timeframe, I decided to semi-retire, or I should say maybe do a second act of my career, and I went into investing as an individual. So as a private investor, an angel investor, along with other retired or semi-retired life science executives in the Greater Philadelphia area, we have a network of people from New York City to pretty much down to Washington, DC of individuals who worked in the space. And we banded together to try and help emerging companies with the skill sets that we had and also the capital that we were able to put together.
So I've been doing this since 2009. I have had a number of very good successes. I had one company we sold to JNJ for $600 million. We recently sold OrthogenRx as you know, and I have a number of other companies that I'm part of. Have been involved with BiologicsMD since 2013, both as the president, CEO, and also a major investor in the company. And what I try to do is I try to get involved not only just to provide money, but to provide, as I mentioned before, expertise that could be as either in a consultancy basis or a board member. And in a couple of cases, I've been part-time part of the management team, such as BiologicsMD and OrthogenRx and actually another one or two of them.
But my focus has been early-stage technology or a business approach because OrthogenRx wasn't early-stage technology, but it was a business approach that I felt could significantly change the landscape where either the technology or the business approach would be such that it would make a significant difference in the market that the companies are currently in. That's what I've been doing. I'm going to continue doing it for a number of more years, I hope. But it's a lot of fun and I get to meet some really great people and scientists, so that's why I've been doing this.
Very interesting background. I appreciate you sharing that with us, David. And now I'm going to jump to Robyn, and let's find out about Robyn Goforth.
Robyn Goforth: I'm Chief Scientific Officer of BiologicsMD. I was one of the original people at the company, and my background largely is in the development of biologic therapeutics with a focus on manufacturing and outsourced research. I've been with the company since the very first days and have continued to be excited and thrilled and see a lot of potential to meet the significant unmet medical needs of patients. I'm pleased with the progress we're making and excited about the next steps.
Going back to David, when and why was BiologicsMD established?
DO: The company was formed initially to commercialize a series of technologies that were developed by some academic investigators. It was a group out of the University of Kagawa in Japan, the Ochsner Clinic Foundation in New Orleans, and then also the University of Arkansas in Fayetteville. And these three scientists and collaborators got together and were looking for a way of targeting proteins, and I should say, predominantly hormones towards unique receptors in the body. Their particular focus was on ...
To download the complete transcript of BiologicsMD's J. David Owens and Robyn Goforth's interview "BiologicsMD: Targeted Treatments for Bone Disorders and Hair Loss" just click the button below.
---
SmartTRAK is a comprehensive, easy-to-use, business intelligence solution for the Life Sciences Industry that provides breaking updates on pertinent company news, potential treatments and guidance, international survey results, statistical analysis by country, studies, trial results, financial impact and more. All subscribers receive a Daily Updates email containing the latest need-to-know news curated by our expert analysts. It's the perfect way to start your day! If you would like to learn more about SmartTRAK, just click here.