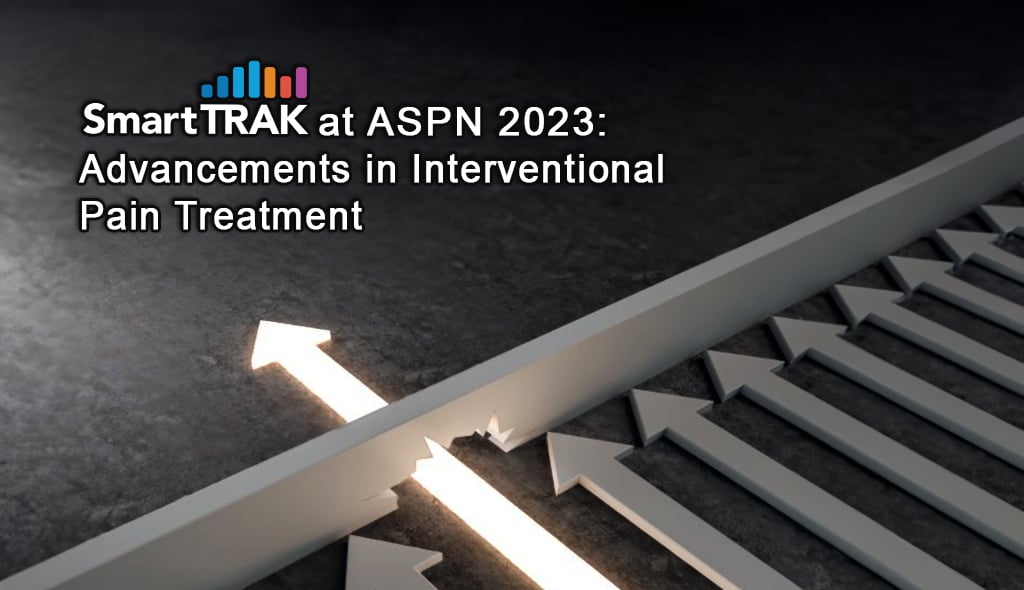 SmartTRAK was on-site at ASPN 2023 covering industry-sponsored RCT updates and data reveals, as well as new players and trends in the interventional pain space.
As the number of patients suffering from chronic pain increases, the interventional pain market continues to grow. Physicians and device developers are rising to the challenge by offering more personalized pain treatment options for an expanding list of indications. As a result, new differentiators for spinal cord stimulation (SCS) players have emerged, as well as newcomers in the peripheral nerve stimulation (PNS) market. Beyond neuromodulation, minimally-invasive surgical (MIS) spine procedures, sacroiliac (SI) joint fusion and regenerative medicine products also provide innovative solutions for chronic pain management. In this interesting article, SmartTRAK highlights the newest data, innovation and market developments at the American Society of Pain and Neuroscience (ASPN) 2023 Annual Meeting held in Miami, FL.
Among the many topics discussed in comprehensive detail in this article, which can be downloaded here, are:
SCS Sees Cutthroat Competition

MRI Compatibility and Closed-Loop SCS
Painful Diabetic Neuropathy (PDN)
Artificial Intelligence, Programming Solutions and Remote Monitoring

Expanding Horizons in PNS

Types of Peripheral Nerve Stimulation
Outcomes, Comfort and Wearability for Externally-powered Devices
Injectrode Technology

What's New in MIS Spine and SI Joint Fusion

Leveraging Enabling Technology for Pain Procedures
Innovations in MIS Spine and SI Joint Instrumentation

Scientific Focus on Biologics and Regenerative Medicine
To identify current and future trends in interventional pain management and PNS, SmartTRAK recently surveyed 30 interventional pain physicians, including 18 who perform PNS, to get an inside view of procedure trends, what treatments and devices they use and who they see as future winners in the chronic pain space. To purchase the results of this comprehensive survey, see SmartTRAK's Trends in Interventional Pain Management and PNS.
To download a complimentary copy of the complete "ASPN 2023: Advancements in Interventional Pain Treatment" article, just click the button below.
---
SmartTRAK is the Medtech industry's only global Insights-as-a-Service solution for the Orthopedics, Wound Care, Regenerative Medicine and Neuro Therapy markets. SmartTRAK's propriety methodology turns disparate data from hundreds of sources into powerful insights customers can rely on as the trusted source for strategic decision-making. The SmartTRAK enterprise platform includes rich daily updates, comprehensive market coverage and simple-to-use tools and dashboards for market, product and financial analysis. Customers leveraging the SmartTRAK platform also have direct access to market experts for inquiries and advisory services. If you would like a demo of what SmartTRAK has to offer and see how we can help increase proficiency, improve productivity and reduce costs for your company, just click here.