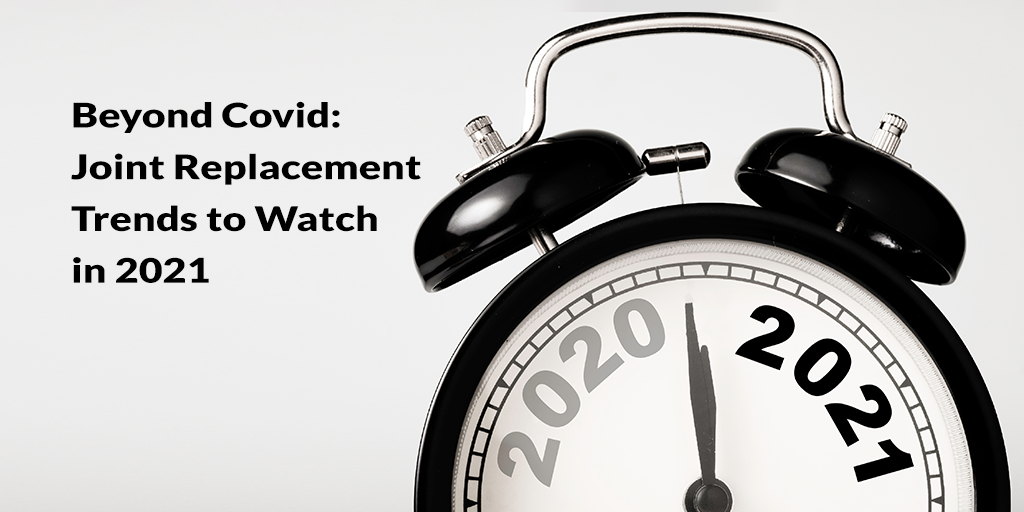 From the global pandemic, shifts in site of care and technologies of interest, to the shift of procedures, these are some of the trends to watch in 2021
In 2020, monitoring the effects that COVID-19 had on joint replacement market quickly dominated the collective consciousness. And as we enter 2021, it is sure to remain top of mind but other trends are worth watching as well. From the shift in site-of-care to technologies of interest, SmartTRAK outlines some of the developments in the joint replacement market.
Among the many things to watch for in 2021 that are included in detail in this Market Outlook analysis article, written by Lisa Mahan, SmartTRAK's VP of Orthopedics, are:
Expect Early Market Stops and Starts, Ups and Downs - After the initial wave of COVID-19 in March 2020, elective surgical procedures returned in Q2 and Q320 along with market recovery. However, a rising wave of COVID cases leading into the new year precipitated another round of shutdowns in different regions across the US ...


Accelerated Shift in Site of Care - Several factors are accelerating the shift in joint replacement procedures to ASCs including the pandemic and the Centers for Medicaid and Medicare Services (CMS) reimbursement policy. While the shift to ASCs started long before the pandemic, the ...


Increasing Penetration of Advanced Digital Technologies - In her Q320 CAS Ortho Market Recap article, SmartTRAK Senior Analyst Elise Wolf notes that while orthopedic robotics is still in the early stages of adoption (less than 25% of US hospitals have an orthopedic robot), the market may have reached an inflection point. Despite the pandemic, robotic placements in the US increased ...


Renewed Interest in Not So New Technologies - In 2020, physicians and manufacturers appeared to have a renewed interest in surface treating implants and other technologies that are not necessarily new to the joint replacement market. Alternative bearing surfaces, more specifically surface treated implants, appear to be ...


Continued Growth in Dual Mobility Cups -

Penetration of dual mobility cups (DMC) continues to climb due in part to their potential to reduce hip implant dislocations. According to American Joint Replacement Registry data, DMCs are now used in ...



To download the complete article and learn about everything from the shifts in site of care and technologies of interest, to the shift of procedures, and the Joint Replacement trends to watch in 2021, just click the button below.