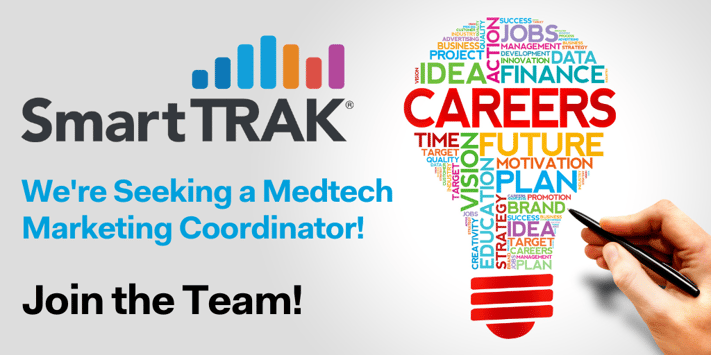 Do you love working with a dynamic, experienced team of marketing and sales professionals? Are you looking for a position that leverages your industry knowledge and marketing skills in new ways? Do you thrive in a start-up like atmosphere with plans for exponential growth? If you are a current or former marketing professional who has worked within the Life Sciences (especially medical device) industry, we would love to talk with you.
SmartTRAK is the leading strategic advisory and healthcare analytics provider in the orthopedic, wound care, neuro therapies and regenerative medicine markets. Our customers — which include most of the largest global orthopedic and wound care companies -- rely on our "insights-as-a-service" platform for their market research and business intelligence. We are expanding our team by seeking an experienced marketing associate to drive a variety of key marketing initiatives. This person will be responsible for coordinating with the Marketing, Sales and Customer Success teams to increase awareness of SmartTRAK, including through social media, email, website, paid advertising and events.
We're looking for a conscientious, team-player, who can thrive in a fast-paced entrepreneurial/small business environment. Our candidate is comfortable working remotely and is both collaborative and self-driven. They must have excellent written and verbal communication skills and be able to utilize a variety of marketing tools. Click the button below to learn more and apply.
Responsibilities:
Primary responsibilities include:
Work with the Growth team to create and execute comprehensive marketing campaigns, including emails, social, website content and paid advertising
Coordinate all logistics for events and conference appearances
Manage and create social media content, focused primarily on LinkedIn
Maintain marketing contacts in the HubSpot database
Use ZoomInfo to identify targets for marketing campaigns
Update and periodically review competitive analyses and customer personas
Report on metrics related to marketing activities, including on marketing qualified leads for the sales team
Stay up to date on marketing trends and new marketing innovations
Professional communication and presence internally/externally
Skills and Qualifications:
3 years of experience in Marketing, preferably within the life sciences industry
Bachelor's degree in Marketing or related field
Experience with HubSpot (or similar) and other marketing platforms
Light graphic design skills using tools like Canva
Communicates well both verbally and in writing
Attentive to detail and accuracy, committed to excellence, continuously looks for improvements, can effectively manage across multiple projects and assignments
Meets deadlines, works independently and accepts accountability
Proficient in Microsoft Excel, Word, PowerPoint or other equivalents (such as Google Workspace)
Ability to work full-time in a remote environment.
Denver, Southern California, Connecticut/Boston or Central Florida preferred
---
SmartTRAK is the Medtech industry's only global Insights-as-a-Service solution for the Orthopedics, Wound Care, Regenerative Medicine and Neuro Therapy markets. SmartTRAK's propriety methodology turns disparate data from hundreds of sources into powerful insights customers can rely on as the trusted source for strategic decision-making. The SmartTRAK enterprise platform includes rich daily updates, comprehensive market coverage and simple-to-use tools and dashboards for market, product and financial analysis. Customers leveraging the SmartTRAK platform also have direct access to market experts for inquiries and advisory services.