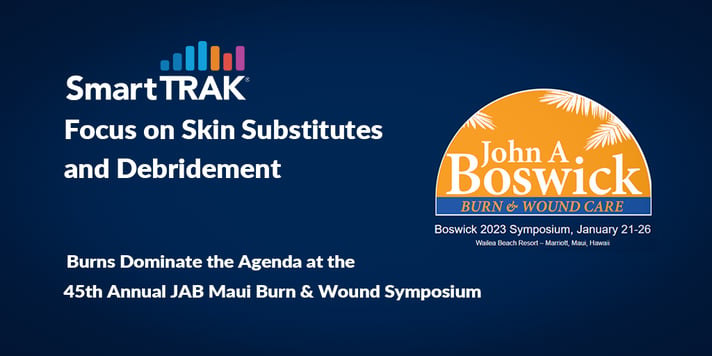 New products from Kerecis, Vericel, Epien, PixaMed and the role of debridement take center stage.

The 45th

Annual JAB Maui Burn & Wound Symposium met on January 21-26 with a significant focus on the use of skin substitutes and proper wound bed debridement. Though some clinical presentations focused on chronic, surgical and other trauma wounds, burns dominated the agenda. Compared to diabetic foot ulcers (DFUs), pressure injuries and other chronic wounds, there are fewer burns, but their unique treatment requirements and impact on patients increase the importance of targeted therapies. In the US,

SmartTRAK estimates there were approximately 496,530 burns requiring treatment in 2021 with 40,870 burns requiring hospitalization. SmartTRAK estimates the burn market will reach 513,550 cases requiring treatment by 2026 with hospitalization for 42,270 cases (+0.7% 5-year CAGR).



Treating burns with skin substitutes dominated the clinical presentations and discussions on the exhibit hall floor. A close second discussion point was the role of proper wound bed preparation or debridement. This article highlights new products from Kerecis*, Vericel*, Epien Medical, PixaMed and the role of debridement in wound healing.

Among the many topics covered in detail in the complete article, which is available as a download, are:
Kerecis Formally Launches GraftGuide Mano and GraftGuide Micro
Vericel Introduces NexoBrid
Epien Introduces "Regenerative Debridement Technology"
PixaMed Presents Burn-specific Digital Tool.
Debridement, Proper Wound Bed Prep Key to Success of Skin Substitutes
*These links can only be viewed by SmartTRAK subscribers to this module. For more information on SmartTRAK, including how to receive a demo and subscribe, please click the button below.
To download and read the complete article "Focus on Skin Substitutes and Debridement" just click the button below.
---
SmartTRAK
is the Medtech industry's only global Insights-as-a-Service solution for the Orthopedics, Wound Care, Regenerative Medicine and Neuro Therapy markets. SmartTRAK's propriety methodology turns disparate data from hundreds of sources into powerful insights customers can rely on as the trusted source for strategic decision-making. The SmartTRAK enterprise platform includes rich daily updates, comprehensive market coverage and simple-to-use tools and dashboards for market, product and financial analysis. Customers leveraging the SmartTRAK platform also have direct access to market experts for inquiries and advisory services.
If you would like a demo of what
SmartTRAK
has to offer and see how we can help increase proficiency, improve productivity and reduce costs for your company, just click
here
.