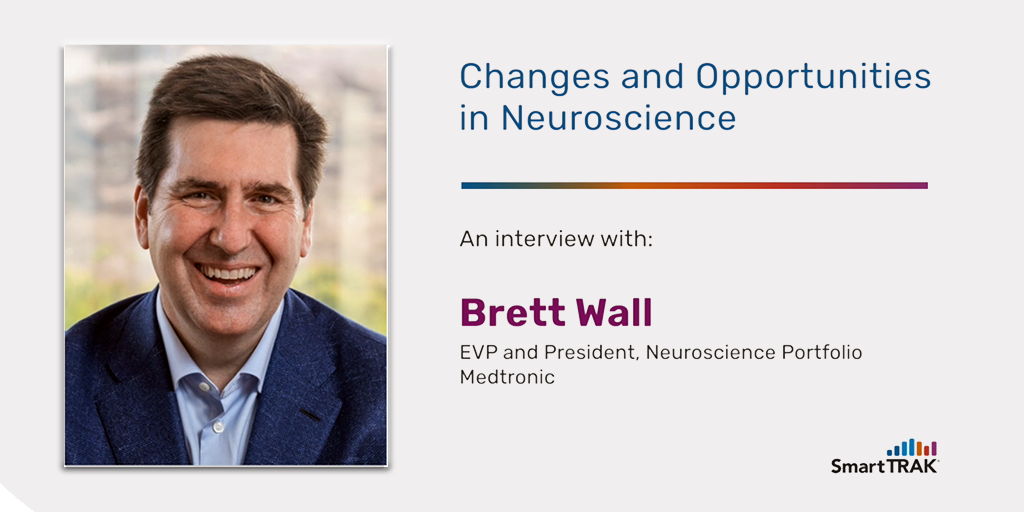 Brett Wall, EVP and President of Medtronic's Neuroscience Portfolio, discusses changes and opportunities in the Neuroscience business in an interview with SmartTRAK.
Brett Wall, EVP and President of Medtronic's Neuroscience Portfolio, discusses how things are changing at Medtronic, his plans for the Neuroscience business and opportunities for growth in an interview with SmartTRAK. To find out more, including Wall's vision for spine, neuromodulation and neurovascular, click on the following video. (25:58 min). A link to download a complete transcript of the interview is also provided below.
SmartTRAK: Anne Staylor here with BioMedGPS. Today I'm at the Society of Neurointerventional Surgery in Colorado Springs. And I get to talk to Brett Wall, who is the executive vice president and president of Medtronic's Neuroscience Portfolio. Brett, thank you for talking with me today.
Brett Wall: It's my pleasure Anne, good to see you again.

Well, I haven't talked to you for a while. If you remember right I interviewed you about six years ago when you were still the president of Covidien Neurovascular, and then you became the president of RTG in 2019, and now it's known as the Neuroscience Portfolio. So congratulations.
BW: Thank you.

I haven't been able to tell you that, but you have been are moving up in the world. But one of the things I've noticed about Medtronic, they tend to reorganize every couple of years. And, I've never worked at Medtronic. I know a lot of people who have, and so I'm saying, "Wow, it seems different. Things seem to be different now." Geoff Martha came in, you're a change maker, you came in, but people are like, "Well, Medtronic is the largest medical device company in the world. They're very respected, but they've always been slow-moving and then they reorganize," and so they're skeptical of change. The Company has never been known to be very fast-moving, let's just put it that way. But from what I know about you from talking to other people and just interacting with you, that's not how you work, right? You're a make-it-happen kind of guy. And so let's start by having you just talk to me, from the inside, how are things changing at Medtronic? And what kind of change are you bringing to the Neuroscience business?
BW: Sure. Well look, a couple of things. When I took the role, there are two pieces of advice that I received. The first was from Omar Ishrak, our former CEO and chairman of the board and the executive chair before he retired. And what Omar told me is "Just remember, you're not any smarter today than you were yesterday." So I thought that was terrific advice because sometimes you got to believe the president, he said, "Oh, you've taken this new job." So, that was a good humility maker, just keep you thinking about that. And then the second piece of advice was from Geoff Martha, our current CEO chairman, and Geoff said, "Don't forget what you didn't like about corporate when you were running a business inside corporate." And those two pieces of advice, I think have really been helpful as I've taken on this new role.
And sure, look, we're a giant company, we can't change that. We're very, very large. At the same time if I go back to the history of the company and I think about Earl Bakken and Palmer Hermundslie, the guys who started the Company, they were radicals in a way. Because they were doing things that hadn't been done before, they figured things out, they had to probably make a lot of difficult choices. And some of those people will remember that we're the original startup in med device in a garage at Fridley, Minnesota, and their first month, they invoiced $8.

That was probably big bucks back then too.
BW: It might've been, it might've been 40 today or something, or maybe a hundred, but the point being is we do have that DNA in our roots and as to who we are. And I think the thing you have to always guard against as you become a larger and larger company, is ...
To download the complete transcript of the "Changes and Opportunities in Neuroscience" interview with Medtronic's Bret Wall, just click the button below.
---
SmartTRAK has recently added some exciting new modules to the platform, including Deep Brain Stimulation. To learn more, just click here.