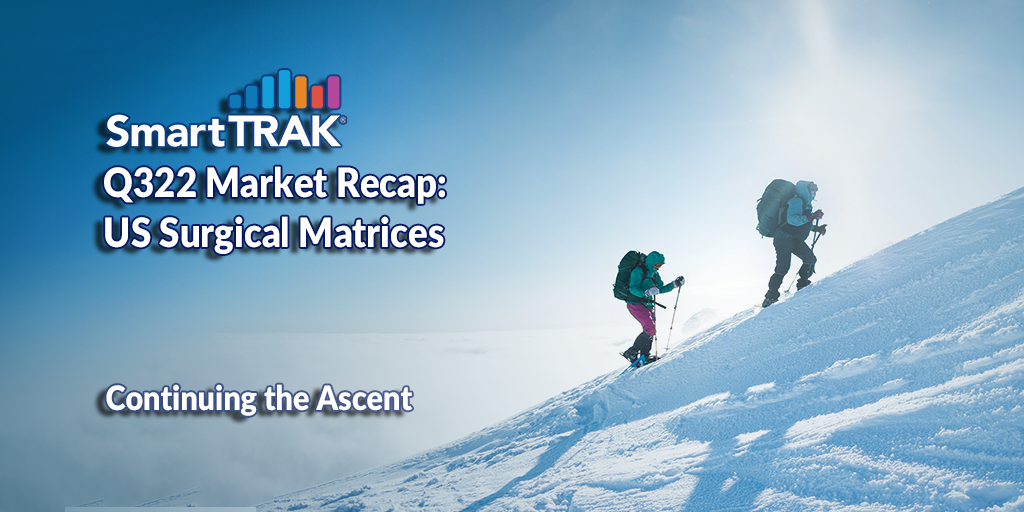 Biosynthetic hernia matrices continue their ascent and Xenograft hernia matrices grow, thanks to TELA Bio.
As elective surgical procedures settle into pre-pandemic levels, the US Surgical Matrices Market resumed trends that had begun prior to Q322, gaining +2.4% YoY according to SmartTRAK Financial Dashboard. AbbVie* and Becton Dickinson* (BD) have been trading share positions in the last few quarters and now once again AbbVie has first place in the Q322 Surgical Matrices market despite of a -5.4% YoY decline, with BD In second place.
Among the many topics covered in detail in our comprehensive Q322 US Surgical Matrices Market Recap* are:
Complete Q322 US Surgical Matrices Market Overview and Highlights
SmartTRAK's Expert Market Analysis and Insights
All Company News, Revenues, Data, Charts and Shares
US Surgical Matrices Market Shuffles Leadership
US Breast Matrices: Taking Advantage Of AbbVie's Declines
US Hernia Repair Matrices Market: A Solid Quarter
Important Q322 US Surgical Matrices Events
The Q322 US Surgical Matrices Market grew, with more strength in the Hernia Matrices segment due to the continued growth of biosynthetic matrices Medtronic's* ProGrip* and TELA Bio's* OviTex* as physicians use them for more indications. In Q322, Breast Matrices' revenue decreased as the market struggled to work around ...

Read the entire Q322 US Surgical Matrices Market Recap, including SmartTRAK's expert analysis, news, data, charts, company revenues and shares*
*These links and the complete unedited article can only be viewed by SmartTRAK subscribers to this module. For more information on SmartTRAK, including how to receive a demo and subscribe, please click the button below.
---
SmartTRAK is a comprehensive, easy-to-use, business intelligence solution for the Life Sciences Industry that provides breaking updates on pertinent company news, potential treatments and guidance, international survey results, statistical analysis by country, studies, trial results, financial impact and more. All subscribers receive a Daily Updates email containing the latest need-to-know news curated by our expert analysts. It's the perfect way to start your day! If you would like to learn more about SmartTRAK, just click here.