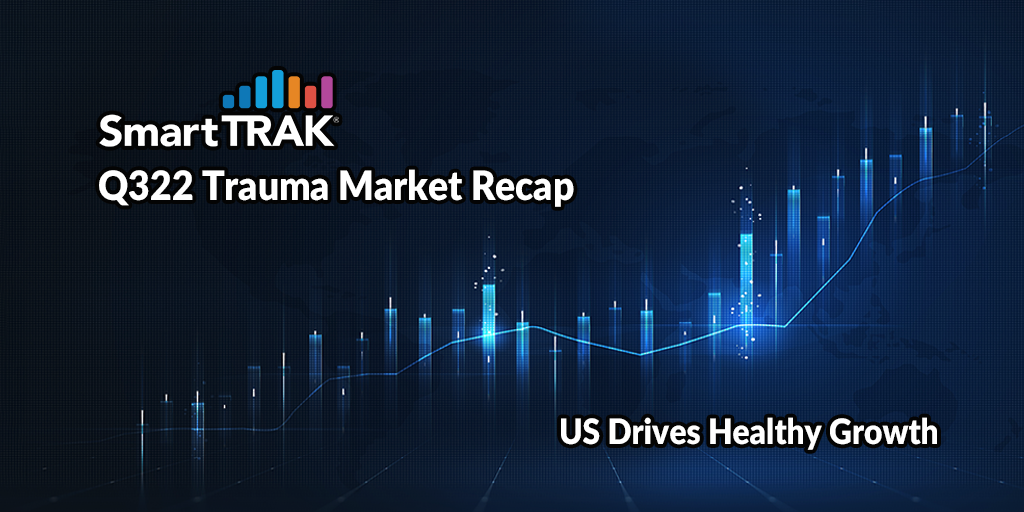 Despite declining OUS results, the US Trauma Market experienced healthy growth attributed to adoption of new products.

While OUS results declined in Q322 due to foreign currency headwinds and China's value-based pricing, the US drove the overall market through product penetration and easier comps due to the Q321 COVID waves that impacted procedural volumes last year. Companies posted healthy US growth, attributing new products for driving growth, with plans for additional launches in Q4 and 2023.



Among the many topics covered in detail in our comprehensive Q322 Trauma Market Recap* are:
Complete Q322 Trauma Market Overview and Highlights
SmartTRAK's Expert Market Analysis and Insights
All Company News, Revenues, Data, Charts and Shares
Foreign Currency Headwinds
International Market Dynamics
US Finishes the Quarter with Healthy Gains
Q322 Trauma Regulatory Highlights
While procedural volumes continued to strengthen, so did foreign currency headwinds in Q322. The mounting headwinds negatively impacted reported revenue growth for most companies in markets outside the US, while Global companies with a strong international presence were ...
Read the entire Q322 Trauma Recap, including SmartTRAK's expert analysis, news, data, charts, company revenues and shares*
*These links and the complete unedited article can only be viewed by SmartTRAK subscribers to this module. For more information on SmartTRAK, including how to receive a demo and subscribe, please click the button below.
---
SmartTRAK is a comprehensive, easy-to-use, business intelligence solution for the Life Sciences Industry that provides breaking updates on pertinent company news, potential treatments and guidance, international survey results, statistical analysis by country, studies, trial results, financial impact and more. All subscribers receive a Daily Updates email containing the latest need-to-know news curated by our expert analysts. It's the perfect way to start your day! If you would like to learn more about SmartTRAK, just click here.