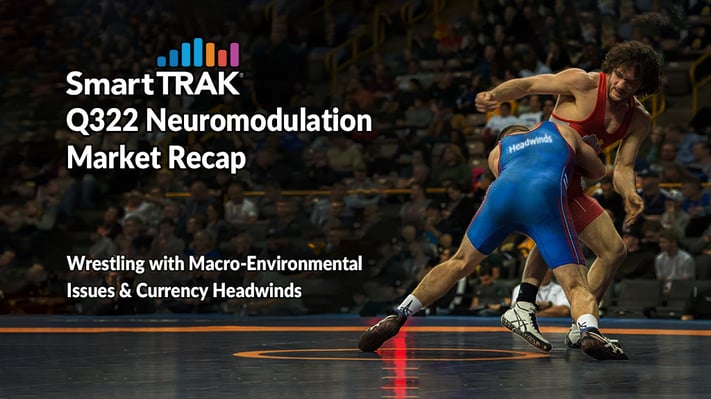 Growth in the SCS and DBS segments remained soft in Q322 as companies continue to wrestle with macro-environmental issues and currency headwinds
Neuromodulation continued to face a challenging macro environment in Q322 related to stubborn inflationary pressures, currency exchange headwinds and unpredictable surges in COVID affecting supply chains and healthcare staffing in certain geographies. However, some competitors reported seeing steady signs of improvement in the quarter and are looking to expanded indications and new technologies to help drive growth.
Among the many topics covered in detail in our comprehensive Q322 Neuromodulation Market Recap* are:
Complete Q322 Neuromodulation Market Overview and Highlights
SmartTRAK's Expert Analysis and Insights
All Company News, Revenues, Data, Charts and Shares
Spinal Cord Stimulation: Market Softness Continues
US Prior Auth Pressures, Denials Affecting Some Competitors
Focus on New Products, Indications
Market Recovery on the Horizon
DBS Market: Replacement Headwinds Offset New Technology Gains
Q322 Regulatory Highlights
Although all the competitors in the US SCS market saw positive YoY revenue growth in Q322, the WW market was flat YoY and the overall market remains soft as companies struggle to reach pre-pandemic revenue levels. The US SCS market reached revenues of ...
Read the entire Q322 Neuromodulation Market Recap, including SmartTRAK's expert analysis, news, data, charts, company revenues and shares*

*The complete unedited article can only be viewed by SmartTRAK subscribers to this module. For more information on SmartTRAK, including how to receive a demo and subscribe, please click the button below.
---
SmartTRAKis a comprehensive, easy-to-use, business intelligence solution for the Life Sciences Industry that provides breaking updates on pertinent company news, potential treatments and guidance, international survey results, statistical analysis by country, studies, trial results, financial impact and more. All subscribers receive a Daily Updates email containing the latest need-to-know news curated by our expert analysts. It's the perfect way to start your day! If you would like to learn more about SmartTRAK, just click here.