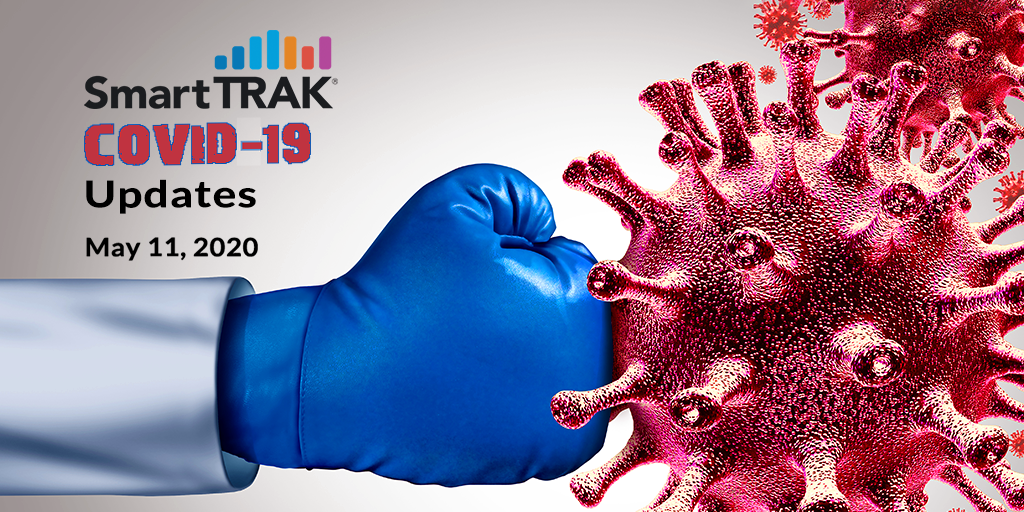 While some countries are slowly emerging from their lockdowns, the MedTech industry continues to face unprecedented challenges as it adapts to the changing landscape. SmartTRAK's analysts are constantly monitoring the effect COVID-19 is having on the Life Sciences industry, sifting through the noise to present the most relevant news to its subscribers. Our analysts continue to publish real-time updates throughout the day, detailing what you need to know about the impact the international healthcare crisis is having on the industry at large.
Following is a selection of the COVID-19 updates from the past week as compiled by the analysts at SmartTRAK:
COVID-19: Advamed Issues New Code of Ethics Guidance
Advamed announced the availability of its new "Code of Ethics Compliance Guidance Related to the COVID-19 Response" to help its members and other MedTech companies develop and implement processes supporting rapid decision making and mitigate any related compliance risks.
MedTech Europe

MedTech Europe, the European trade association representing the medical technology industries, issued a statement around COVID-19 calling attention to the supply situation of medical devices. They also highlighted that some contracts need to be revised and analyzed.
COVID-19: FDA Removes Respirators Manufactured in China
In a letter to healthcare providers, the FDA announced it removed a number of EAU disposable filtering facepiece respirators manufactured in China. The products pulled failed to demonstrate a minimum particulate filtration efficiency of 95% in testing conducted at NIOSH. fda.gov
COVID-19: EU Economy Contracting 7.4% in 2020
The European Commission estimates the economy will contract 7.4% in 2020 due to the effects of the COVID-19 pandemic, the worst economic shock since the Great Depression. Economies are reopening gradually, which will impact overall business activity for months to come. CNBC.com
Study Evaluating ElectroCore VNS in COVID-19
A 60-pt, prosp RCT is evaluating ElectroCore's gammaCore Sapphire (nVNS) + SOC vs SOC alone in reducing mechanical ventilation/reducing cytokine storm in pts w/ COVID-19 respiratory symptoms. Study start date is 5/8/2020 and completion is slated for 12/2020. clinicaltrials.gov
Impact of COVID-19 on The Orthopedics and Sports Medicine Community
To find out how COVID-19 is impacting the Orthopedics and Sports Medicine community, see SmartTRAK's recent interview with Steven Sampson, DO, Founder of The Orthobiologic Institute (TOBI). Weathering the COVID-19 Storm in Orthobiologics: An Interview with Steven Sampson, DO
FDA Allows Emergency Use of Potential COVID-19 Treatment
The FDA issued emergency use authorization for Remdesivir, an investigation ant-viral drug, for the treatment of suspected or lab-confirmed COVID-19 in adults and children hospitalized for severe conditions. FDA.gov
COVID-19: Laid Off Workers Optimistic, Economists Less So
A majority of laid-off or furloughed workers in the US (77%) expect to be rehired by their previous employer once stay-at-home orders are lifted according to a recent poll. Economists are less optimistic w/ current unemployment rate estimates of 20%. Washington Post
COVID-19: April Job Losses in Healthcare
Bureau of Labor Statistics data from April shows that the healthcare industry lost 1.4MM jobs w/ 135K of those being positions w/in hospitals. Modern Healthcare
COVID-19: Bank of England Predicts Worst UK Economy Decline in 300 Yrs
A new forecast from the Bank of England (BoE) estimates the British economy could shrink by 14% this yr, the worst crash in > 300 yrs, because of the COVID-19 pandemic. The BoE reported GDP contracted 3% in Q120 and would fall 25% in Q220 w/ unemployment expected to increase by 9%.
COVID-19: Elective Procedures Taking Longer
As elective procedures return, capacity may be an issue in the near term according to SmartTRAK conversations w/ healthcare professionals. Cases normally taking 30-60 mins are now running 2-3 hrs as new protocols are being worked out including social distancing w/in facilities.
COVID-19: Recovery May Take Years Not Months
A recent Morgan Stanley Research presentation shows that MedTech organic revenue growth prior to the great recession was in the 6-8% range, dropping to 2-3% for 3 yrs, taking until 2018 to return to pre-recession levels. This could signal a more gradual recovery from COVID-19.
---
SmartTRAK is a comprehensive, easy-to-use, business intelligence solution for the Life Sciences Industry that provides breaking updates on pertinent company news, potential treatments and guidance, international survey results, statistical analysis and impact by country, studies, trial results, financial impact and more. All subscribers receive a Daily Updates email containing the latest need-to-know news curated by our expert analysts. It's the perfect way to start your day! If you would like a demo of all SmartTRAK has to offer, just click the button below.