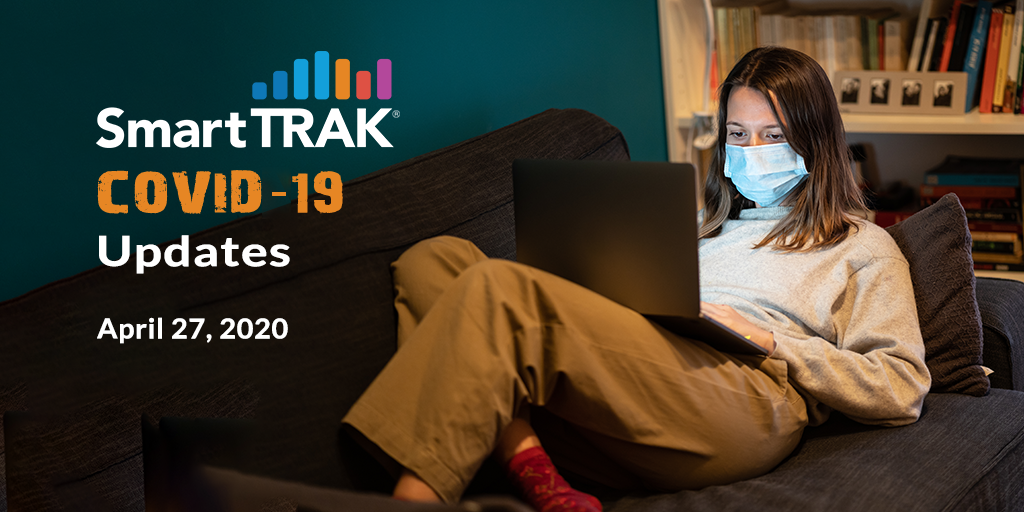 The Covid-19 crisis continues to impact the world-wide medical community. As some parts of the world take steps toward reopening, a more complete picture is forming of the effects on the global Life Sciences industry. SmartTRAK's analysts are constantly monitoring data and sifting through the noise to present the most relevant news to its subscribers in real-time updates throughout the day.
Following is a small sampling of the hundreds of COVID-19 updates from the past week that were compiled, reviewed and posted by our analysts on SmartTRAK:
Mesoblast MSC Product Initially Proves Successful in COVID-19 Related ARDS
Mesoblast announced 83% survival in ventilator-dependent COVID-19 pts w/ moderate/severe acute respiratory distress syndrome (ARDS) treated w/ two IV infusions of remestemcel-L (allogenic MSCs) w/in the first five days.
Impact of COVID-19 on CAS in the US
SmartTRAK took a preliminary look at the impact of the COVID-19 pandemic on procedure volumes & capital equipment placement of orthopedic and spine enabling technologies, with projected recovery into 2021. Impact of COVID-19 on US Orthopedic and Spine Computer-Assisted Surgery
Impact of COVID-19 on Advanced Wound Care
SmartTRAK assessed the impact of COVID-19 on the NPWT Market. Single-use volumes are expected to drop during the first three quarters of 2020 due primarily to the drop in elective surgical procedures but will rebound in Q420. Impact of COVID-19 on US Advanced Wound Care

COVID-19: Physician Practice Changes
A survey of 842 US physicians showed 48% are using telemedicine to treat pts, up from 18% in 2018. In response to the COVID-19 pandemic, 32% indicated they would change practice settings, opt out of pt care roles or temporarily close their practice or retire.
The survey also showed of those not currently txing COVID-19 pts, 60% are willing to and 34% have more time due to due to the pandemic-related decline in office visits. Thirty percent who are txing COVID-19 pts are feeling great stress but will continue to see pts.
COVID-19: WFS Survey Shows ~86% Decline in Europe
European ortho surgeons participating in a Wells Fargo survey (n=49) that the mean number of hip and knee procedures they perform each week dropped from 11.6 and 10.5 pre-COVID-19 to 1.7 and 1.3 in the last seven days, respectively – a decline of -86% overall.
COVID-19: WFS Survey Shows Surgical Consults Down -79% in Europe
WFS's survey of European surgeons reported mean weekly no. of surgical consults dropped from 26.1 for hip replacement and 24.4 for knee replacement to 5.4 and 5.1 in the last 7 days, respectively, – a decrease of -79% overall due to the COVID-19 pandemic.
COVID-19: CA & KY Allow Return of Elective Procedures
CA Gov. Gavin Newsome loosened the state's stay-at-home order permitting scheduled surgeries to resume. KY Gov. Andy Beshear also announced phase one reopening of the state including non-urgent/emergent procedures and other healthcare services. FOX News/Fox19
COVID-19: EEOC Guidance Includes Employee Testing
The US Equal Employment Opportunity Commission has updated its guidance related to COVID-19 including allowing testing of employees for the virus. EEOC.gov
COVID-19 Deaths in US Nursing, Long-Term Care Facilities Top 10,000
WSJ survey found ≥10.7K COVID-related deaths at long-term care facilities in > 35 states. This is ~¼ of all US deaths, w/ the virus hitting ~5K US facilities. Even w/ visit restrictions, limited testing & asymptomatic cases, the infection may have been brought inside by staffers.
Advanced Wound Care Market Impact in France
In France, due to the advanced telemedicine practice as well as to the dominance of home care driven wound treatments, the impact of COVID-19 pandemic on the advanced wound care market is anticipated to be limited. Impact of COVID-19 on Advanced Wound Care in Europe
---
SmartTRAK
is a comprehensive, easy-to-use, business intelligence solution for the Life Sciences Industry that provides breaking updates on pertinent company news, potential treatments and guidance, international survey results, statistical analysis and impact by country, studies, trial results, financial impact and more. All subscribers receive a Daily Updates email containing the latest need-to-know news curated by our expert analysts. It's the perfect way to start your day! If you would like a demo of all
SmartTRAK
has to offer, just
click
the button below.