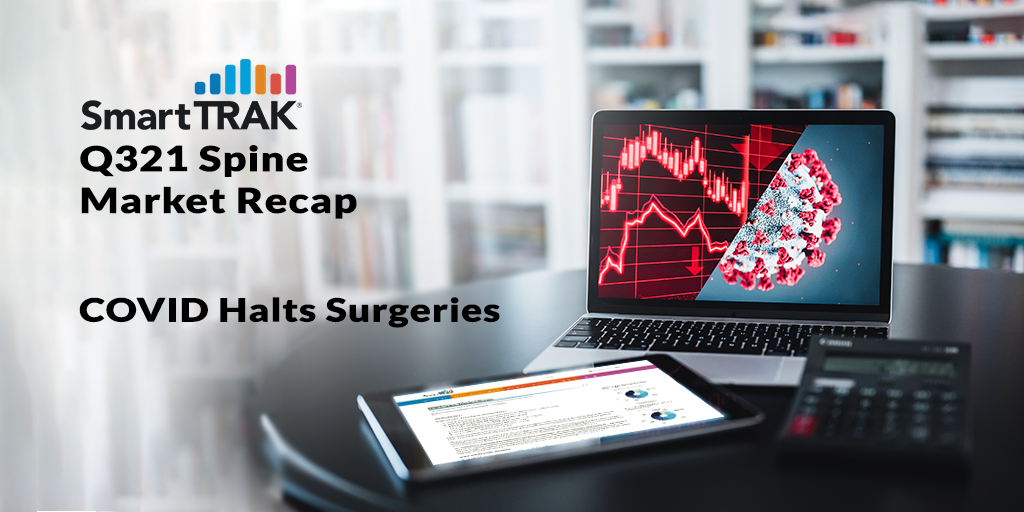 The Spine Market was down in every category as Covid halted elective spine cases globally.
Spine market performance in Q321 was mired by the resurgence of the Covid-19 Delta Variant, both in the US and OUS. All markets were down sequentially YoY, with dynamic devices taking more than a double digit hit globally.
Globus' potential takeover of Nuvasive was the biggest storyline of Q3, as they search to gain market share through acquisitions. Market participants are certainly taking note of Globus, as Medtronic CEO Geoffrey Martha stated they are trying to attract Globus users with the launch of their Catalyft Expandable Interbody System.
Among the many topics covered in detail in our comprehensive Q321 Spine Market Recap* are:
Complete Q321 Spine Market Overview
SmartTRAK's Expert Analysis and Insights
All Market News including Revenues, Data, Charts and Shares
Major Market Player Highlights
Deals & Financing
Clinical Highlights
Product Development Highlights
As Medtronic is launching their expandable interbody technology, Life Spine is trying to protect theirs. Globus filed a lawsuit in October alleging Life Spine infringed on 7 of Globus' intervertebral expandable interbody patents. The lawsuit alleges Life Spine's Prolift implants share similarities to Globus' patents, specifically stating ...
Read the entire Q321 Spine Market Recap and expert analysis, including news, data, charts, company revenues and shares*
---
SmartTRAK
,
the leading provider of market data, analysis and advisory services for the orthopedic, wound, regenerative medicine and neuro therapies markets,
has recently expanded it's comprehensive industry coverage. Click
here
to see details of all the new modules recently added to the SmartTRAK platform.