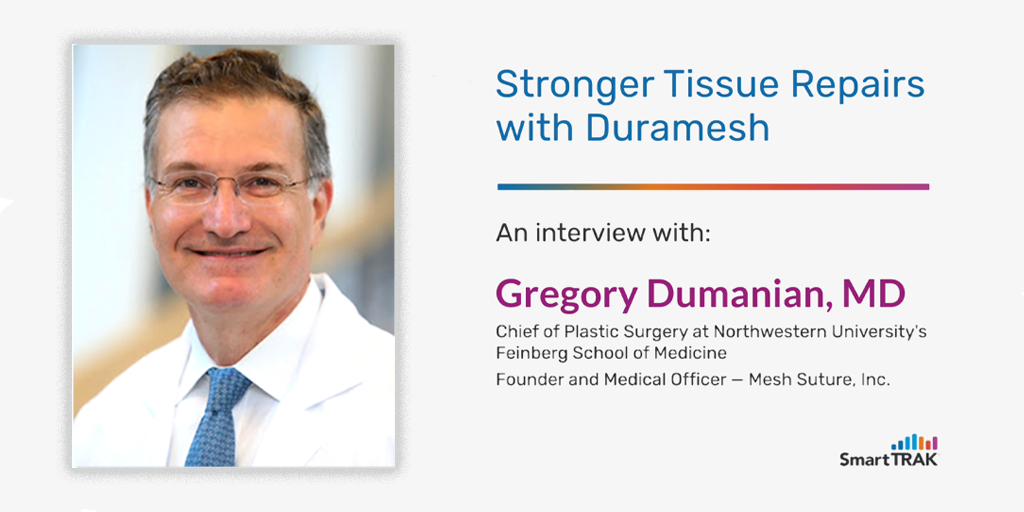 In an interview with SmartTRAK, Mesh Suture, Inc. (MSI) Founder Gregory Dumanian MD, discusses the Company and its novel suturable mesh that has the potential to change how hernias and other conditions are treated.
MSI is commercializing a novel suturable mesh that combines a mesh's ability to distribute forces and support tissue with the precise placement and minimal foreign body presence of a suture. In a time when patients and physicians are rethinking how mesh is used in hernia treatment, MSI's Duramesh offers the potential of retaining the durability of mesh repair with less foreign body presence. Today, the Company is running clinical trials and building evidence to support regulatory clearance in the United States. To find out more about the Company and its operation, SmartTRAK talked with Gregory Dumanian, MD, Chief of Plastic Surgery at Northwestern University's Feinberg School of Medicine, Founder & Medical Officer of MSI and the inventor of the new technology.
Click on the following video to listen to SmartTRAK Senior Analyst Doug Devens' interview with Dr. Dumanian, which was recorded via Zoom audio (24: 35 min). A link to download a complete transcript of the interview is also provided below.
SmartTRAK: Dr. Dumanian, welcome. Can you briefly describe the inspiration and history of MSI?
Gregory Dumanian MD: I think the easiest thing is to start with adding color that it all started during my days as a general surgery resident at Mass General in Boston. There was a very famous surgeon and he used to do this thing called the Superman Closure. His name was Dr. Ron Malt and the Superman Closure used a number five nylon suture that you would sew in a certain way, and no matter what the tension, you were going to get that abdomen closed. The residents all knew that when you did a Superman Closure, you had to triple glove. We would put three layers of gloves on because that suture, under all that tension, would cut through an intact glove and cut our finger, called your posting finger. In fact, even to this day, whenever I see a surgeon with a cut on their index finger, their posting finger from tying knots under too much tension, I take a picture. I have a collection of surgeons with cut fingers.
And it always bothered me that, if that suture's cutting our finger, what's happening to the tissues that are being encircled by that suture loop? It was 2002 and we had a visiting professor at Northwestern in plastic surgery and I was trying to convince the residents to investigate this issue of suture cutting. And they thought it was a stupid idea, so we didn't proceed. I went from general surgery to plastic surgery and hand surgery. And hand surgery has all of these intricate suturing techniques for finger tendons. Why? The collagen of the finger tendons is very linear and so the stitches would cut through the finger tendons. And so you do these fancy suturing patterns to prevent the problem of suture pull-through or the sutures cutting.
So in general surgery, I know sutures cut. In hand surgery, we have all this fancy stitching so that the stitches don't pull through. I became a hernia surgeon over time, and we use meshes and the meshes distribute forces to prevent suture pull-through or sutures cutting. And then one day I was driving my daughter to horseback riding and it just flashed--a suture with mesh-like characteristics to limit the problem of suture pull-through.
And since that time, that was about 2010, we submitted our patents in 2011 and it's been a full 10-year journey to bring this product to market. It's exciting because sutures have been around for 3000 years, they have mummies who were closed with sutures in ancient Egypt. Braided sutures came about 40 years ago, barbed sutures to avoid the problems of knots, little hooks on the suture, that was 30 years ago. And then, this is the first new design of a suture since barbed sutures 30 years ago. So that's the inspiration and the history of Mesh Suture.
That's fascinating. That's a great story. I like how you tie everything together. Let's talk a little bit more about your product. Some of the problem is the cut-through. Can you go more into what will differentiate it from meshes and maybe talk a little bit more about why Duramesh instead of meshes that they've been using for decades now?
GD: Yeah. Since the 60s. So just think about hanging a heavy picture on a wall. Do you use a nail that unfortunately can pull through the drywall, or do you use a molly? A molly, that's what we call them in Chicago, those pieces of plastic. You put a drill hole- that expands out.
GD: So you want something bigger to distribute forces. The problem is when you use something bigger, the knots become unacceptably large and then you have problems with the knots. So you need ...
To download the complete transcript of the "Stronger TIssue Repairs with Duramesh" interview with Gregory Dumanian , please click the button below.
---
SmartTRAK
is a comprehensive, easy-to-use, business intelligence solution for the Life Sciences Industry that provides breaking updates on pertinent company news, potential treatments and guidance, international survey results, statistical analysis by country, studies, trial results, financial impact and more. All subscribers receive a Daily Updates email containing the latest need-to-know news curated by our expert analysts. It's the perfect way to start your day! If you would like to learn more about
SmartTRAK
, just click here.