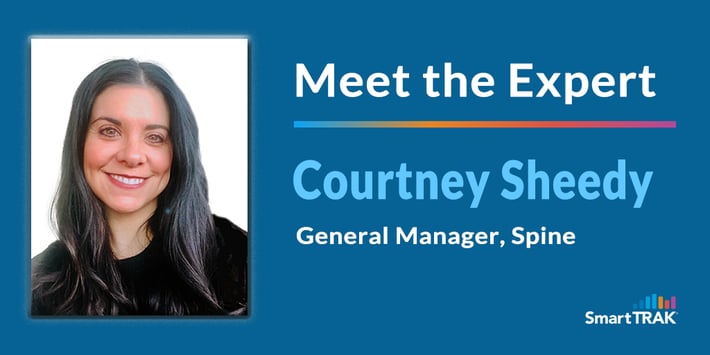 We are pleased to announce that Courtney Sheedy has joined the team at SmartTRAK as our new General Manager, Spine. Courtney has 15+ years of Global Marketing and Product Development experience dedicated to the spinal medical device market serving in leadership roles for companies like Zimmer Biomet, Alphatec, Corelink and joimax.
Meet Courtney Sheedy:
What is your role with SmartTRAK? General Manager, Spine
What do you like about SmartTRAK? I'm fortunate to have been a user of SmartTRAK for many years prior to joining the ranks as a GM. I love how dynamic the SmartTRAK platform is. For Marketing and Business Development teams to be able to access real-time market information to guide their pipeline planning and day-to-day marketing strategies is one of the most unique and beneficial attributes. I also love how user-friendly the platform is. As a former marketer, I loved the ability to export data files for direct use.
What is something special or unique that you bring to SmartTRAK subscribers? Having worked on many different marketing teams, large and small, that subscribed to SmartTRAK, I understand the customer's perspective in a unique way.
What do you think the biggest promise of medical technology is? I am really excited to see how the spine industry adopts the use of augmented reality. Additionally, I can't wait to see how data sharing is used to power the development of Artificial Intelligence technology.
How will it change everything? AR - I see AR being so efficiently utilized for sharing and training of new techniques and procedures. It certainly seems timely for adoption too, given the need for remote-based and distanced learning opportunities. Data & AI – Over the last 10 years the sharing of outcome-based data has become increasingly popular and more demanded. The more data that becomes available, the more predicable surgical success can become. Additionally, as data becomes more widely available and widely used, the evolution and growth of Artificial Intelligence in these areas will follow in parallel path.
What are your favorite online websites or resources that you check every day? OrthoSpineNews.com and https://www.med-technews.com/
How do you keep your medical device research skills sharp? I am currently running a prospective multi-center pilot study on a new pediatric scoliosis treatment. Working with these institution's research teams keep my skills (and often intel) current.
What was the last presentation you gave and to who, about what? The two most recent were to Leadership teams at 2 different orthopedics/med device companies – I presented the commercial strategy for a new medical device technology.
If you could have one super power what would it be? Recovering from Covid, I'll take super-human immunity 😊
What was the last show you binge-watched? Yellowstone and Emily in Paris
What is your life like outside of SmartTRAK? I live in St. Louis with my husband, Jason and 2 daughters, Logan (4 YO) and Monroe (7 Mos.). My husband is an Independent Distributor Agent focused on selling spinal hardware and other medical devices. We met and bonded many years ago over our common infatuation with spinal technology (super nerdy). We love spending time traveling (especially to Mexico), golfing, and hanging poolside during the warm months. I also act as my neighborhood's coordinator of group outings – events usually involve a party bus, often to local wineries.
---
SmartTRAK is the leading source of competitive intelligence used by the top ten global orthopedic & wound care companies. If you would like a demo of what SmartTRAK has to offer and see how we can help increase proficiency, improve productivity and reduce costs for your company, just click the button below.