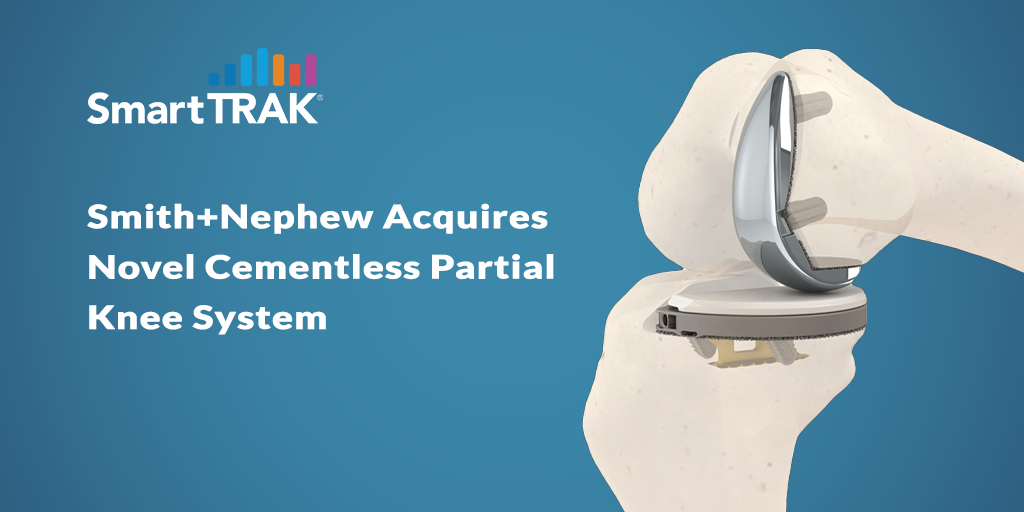 SmartTRAK was cited as a source in a press release from Smith+Nephew* entitled "Smith+Nephew acquires novel cementless partial knee system."
Smith+Nephew, in the release, announced that it has acquired Engage Surgical, owner of the only cementless unicompartmental (partial) knee system commercially available in the US. The article cited SmartTRAK's reporting that "the partial knee market is currently worth approximately $300 million in the US".
The press release goes on to say that "This acquisition strongly supports Smith+Nephew's strategy for growth by transforming its business through innovation and acquisition, while also providing differentiation for its customers. The Engage Surgical Partial Knee System is a novel, modern cementless knee implant to serve a resurgent segment driven by the potential for better long-term fixation through biologic integration, shorter operating times, and the shift to Ambulatory Surgery Centers (ASCs)."
Randy Kilburn, Exec VP & GM, Reconstruction, Robotics and Digital, added:
"Smith+Nephew is now the only medical device company offering both cemented and cementless partial knee implants in the US, as well as robotics-assistance through the CORI Surgical System that is well-suited for the precise alignment needed .... The acquisition will drive Smith+Nephew's Robotics and Real Intelligence strategy. Partial knee procedures are well-matched for robotics due to the need for precise alignment and Smith+Nephew's CORI Surgical System already supports the cemented JOURNEY II◊ unicompartmental knee. The Engage Surgical Partial Knee System is optimised for robotics and will have an application with CORI in the future. Engage Surgical's Partial Knee System also complements Smith+Nephew's focus on serving the growing outpatient market, with an increasing proportion of knee procedures performed in ASCs."
---
Used by the leading orthopedic and wound care companies, SmartTRAK is the premier provider of competitive intelligence, including market data, analysis and advisory services for the orthopedic, wound, regenerative medicine and neuro therapies markets. If you would like a demo of what SmartTRAK has to offer and how we can help increase proficiency, improve productivity and reduce costs for your company, just click the button below.
*This link can only be viewed by SmartTRAK subscribers.