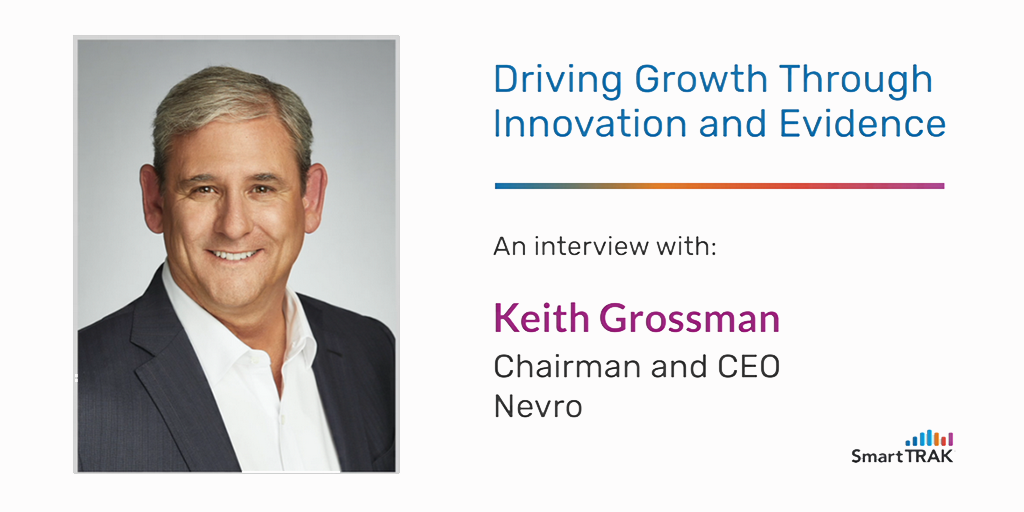 D. Keith Grossman, chairman, CEO and president of Nevro Corporation, discusses the Company, expanding indications and driving growth through innovation and evidence in an interview with SmartTRAK
Nevro's Keith Grossman expects randomized controlled trials and recent FDA approvals for expanded indications--painful diabetic neuropathy (PDN) and non-surgical refractory back pain (NSRBP)--to provide a competitive edge and help drive growth in the market for spinal cord stimulation (SCS). To find out more, including Grossman's take on Medtronic's recent FDA approval for the diabetic peripheral neuropathy (DPN) indication, click on the following video recorded live* via Google Meet (40:20 min). Specific interview topics by time code are also outlined below. If you would like to download a complete transcript of the interview, please click here.
*Note: This interview was recorded at two different times and combined into one recording to include Nevro's responses after Medtronic announced FDA approval for the Intellis and Vanta neurostimulators for treatment of chronic pain associated with DPN. See Nevro's formal response to Medtronic's announcement here. Since the interview, Nevro announced that 12-month data from the SENZA-NSRBP randomized controlled trial was published in the Journal of Neurosurgery: Spine.
Interview Topics by Timecode:
00:21 Growing competition in the market for SCS. How do physicians choose a spinal cord stimulator amid improving outcomes across all SCS devices?
03:41 Grossman's take on Medtronic's announcement of FDA approval for the DPN indication for Intellis and Vanta neurostimulators, including the potential impact on Nevro, its strategies and growth in 2022. How the expanded indications for PDN will affect the SCS market itself and approvals for other indications.
14:09 Nevro's recent FDA approval for the NSRBP indication. What it means for Nevro and payors. The market potential for NSRBP, the Company's strategies for growing that business and how the NSRBP approval will impact the SCS market. Nevro's plan for using cost utilization studies related to NSRBP.
26:11 What is the potential for expanded indications to offset revenue affected by the slow-down in procedures due to the pandemic. The PDN indication, total addressable market in 2022 and analyst's projected revenue contribution for Nevro from PDN in 2022. Other potential indications in the pipeline and Nevro's plans for clinical and product R&D spend in 2022.
29:44 Trends in battery innovation and Nervo's plans for pulse dosing. Nevro's use of big data and potential digital applications. Early areas of research in using patient-reported pain and other predictive factors to adjust therapy.
37:39 Challenges in predicting when the pandemic will wind down and Grossman's optimism about 2022. What's next for Nevro?
---
SmartTRAK is a comprehensive, easy-to-use, business intelligence solution for the Life Sciences Industry that provides breaking updates on pertinent company news, potential treatments and guidance, international survey results, statistical analysis by country, studies, trial results, financial impact and more. All subscribers receive a Daily Updates email containing the latest need-to-know news curated by our expert analysts. It's the perfect way to start your day! If you would like to learn more about SmartTRAK, just click here.