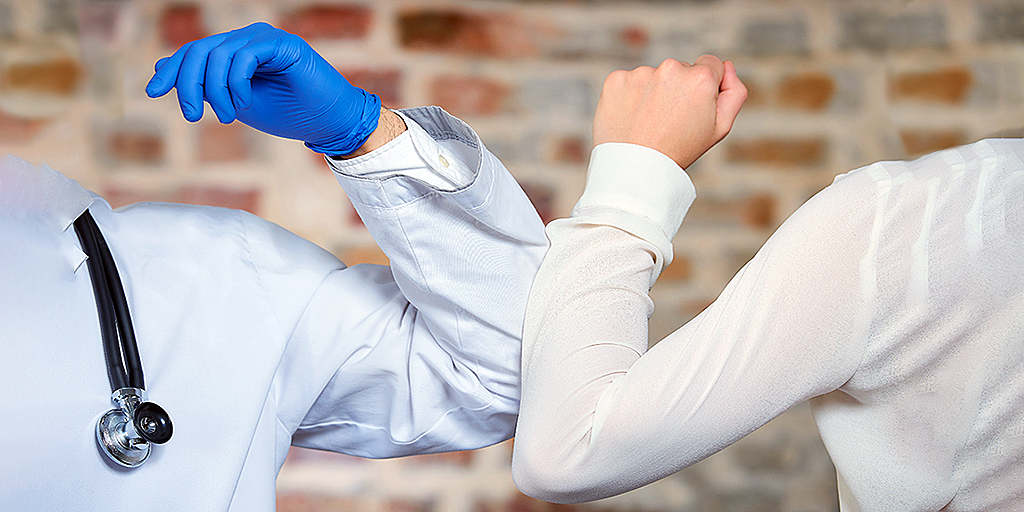 SmartTRAK examines the Top 5 countries in Europe during the time of COVID-19 and estimates how the Advanced Wound Dressing Market will be impacted in 2020 and 2021.
Using an elbow bump instead of a handshake or hug is not the only new routine people have learned during the pandemic. As winter arrives with an expected surge in COVID-19, healthcare systems and services in Europe are building on lessons learned from the spring outbreak to help shape the way health services will be delivered in the coming months.
Amid this pandemic, several factors are affecting growth in the European Advanced Dressings Market, which is projected to reach ~$2.07B (€1.85B) by 2024 according to SmartTRAK estimates. In this article, SmartTRAK reviews how the COVID-19 pandemic has evolved in Europe and how it is impacting the market for Advanced Dressings in France, Germany, the UK, Spain and Italy.
COVID-19 in Europe
After the first wave of the pandemic, most European countries saw some weeks of relief in the summer after mitigation efforts helped tamp down the rate of infection. Some governments loosened travel restrictions for several weeks, but then started to categorize foreign travel for different countries based on COVID-19 infection rates. Lots of companies implemented hybrid working models throughout the summer and autumn, and office staff is still mainly working from home.
The winter months and a resurgence in COVID-19 are setting off the alarm again as health care systems and governments in many countries are now facing record caseloads, rising hospitalizations and are implementing new restrictions. While there is a significant rise in confirmed cases, testing has also increased substantially compared to the first wave. These two facts should be considered closely. Slovakia is the first country to announce that it will test the whole population.
Country leaders are beginning to introduce different restriction measures; however, all seem to agree that national lockdown should be avoided in order to save the national economies. While hospitals continue to work through waiting lists and restart elective procedures, clearly the impact of the pandemic will be with the healthcare sector for several years.
In the spring, healthcare systems had to shift resources and redirect services from prevention to treating pandemic patients. In many places, this is still happening today. However, foregoing preventative measures for a long period could affect patient outcomes and quality of life.
Due to the reorganization of services, some chronic wounds are not being adequately treated and will require more community and hospital services, attributed to delayed healing, increased exudate and infection.
Impact on the European Wound Care Market
Wound care companies have mostly seen a recovery throughout Q220 with June levels only showing a limited YoY decline in revenue. This has continued into Q320 and SmartTRAK estimates approximately 92% of all chronic wounds in the top European countries are being treated compared to a normal year.
Important to note is that the level of treated wounds is not the same as revenue growth. SmartTRAK estimates that the total European Advanced Wound Dressings market in Q220 declined -12%. The pre-Covid growth in the European market was around +2-3%. In Q120, there was a significant stock-build, which impacted Q220 sales negatively.
With most of the leading companies now having reported their Q320 numbers, we are seeing a mixed performance of companies growing (Mölnlycke*), being flat (ConvaTec*, Coloplast*) and declining (S&N*). Several companies commented that the US performed better than Europe and SmartTRAK estimates that overall, the European market was at 94% of a normal quarter in Q320.
In Q420, SmartTRAK expects a trend shift and we will see another drop in the number of treated wounds as confirmed cases are rising, national restrictions are coming into force and hospital admissions are steadily increasing (See Figure 1).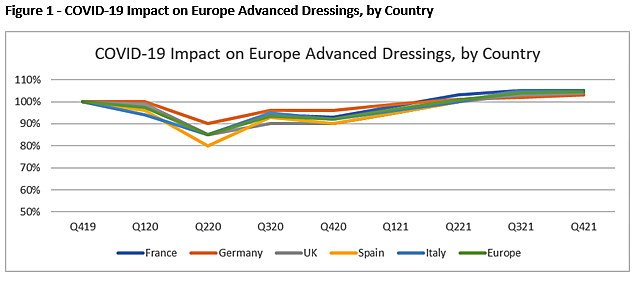 France
After the first peak and mitigation efforts, the number of COVID-19 cases in France steadily declined until the beginning of August. Since then, the outbreak has been skyrocketing and today France is probably seeing the worst wave in Europe. In mid-October, the French government declared a public health state of emergency and in late October they announced people will only be allowed to leave home for essential work or medical reasons. President Macron admitted that intensive care wards are under unsustainable pressure.
In France, approximately 66% of wounds are treated in the homecare setting and hospitals play a limited role, which is favorable for the wound care market given the current situation.
In the most impacted areas, "hospital white plans" are being reactivated that allow health systems to free up beds if needed, to transfer non-urgent patients to other services and to postpone or reschedule non-urgent operations.
At the beginning of October, Covid-19 patients had already taken up 40% of ICU beds in the Paris region and the numbers are expected to worsen significantly since then.
Germany
When it comes to the pressure on healthcare systems, Germany was one of the least impacted countries in Europe in the spring. Out of the analyzed five countries, Germany is still the best performing in terms of controlling the spread of the virus; however, there are warning signs that the virus is surging there as well. Some regions are imposing temporary lockdowns, schools, nurseries and restaurants will be closed and people will have to stay at home unless they have a compelling reason to leave.
By the end of June, the number of inpatient admissions had almost reached pre-pandemic levels. While ordinary visits to healthcare settings are still under 2019 levels, telemedicine usage is estimated to grow 10-20% in 2020 vs 2019.
At the end of September, hospitals reserved fewer ICU beds for COVID-19 patients compared to the spring peak. According to the German Medical Association, 10% would be a reasonable number to reserve for COVID-19 patients. In the spring, some hospitals had 35% of those beds kept for COVID-19 patients.
Due to the pandemic, 56% of German Medtech companies expect sales to decline in 2020, with approximately 33% expecting a double-digit decline. The weighted average YoY sales drop is -2.1% (unweighted value is -4.9%) according to the German Medical Device Association.
United Kingdom
The main focus in the UK is the National Health Service (NHS) and its ability to cope during the pandemic. Hospital admission rates are monitored closely and the NHS is reporting significant growth in hospital admissions in recent weeks. The NHS aims to react differently to the autumn peak, especially in terms of non-COVID-19 cases. In March, people died because they could not receive sufficient care in hospitals and treatments were seriously delayed for some patients who did not receive timely diagnostic checks. This scenario should be avoided in the second wave according to NHS leaders and they are working to find a way to keep routine services going while tackling COVID-19 cases as well.
Doubts are there though, as NHS healthcare workers, nurses and doctors are exhausted. The UK was hit hard and long in the spring and from the beginning of October cases are rapidly exploding again. There are already some hospitals where non-urgent interventions have been delayed. In September, hospitals were still performing only half the number of routine operations than they normally would. According to the NHS managers, hospitals will reach their tipping point at different times as the situation varies among regions.
The NHS Chief Executive Trusts received an ambitious goal to meet 90% of elective surgery and outpatient procedures by end of October. With long waiting lists and extra safety measures being introduced, this goal is likely out of reach as some hospital trusts are still 30% below their pre-crisis capacity, according to the NHS Confederation.
Prime Minister Boris Johnson has announced a second four-week lockdown starting on November 5th. Schools, nurseries, colleges and universities will remain open. Pubs and restaurants are closed. Non-essential shops, leisure and entertainment venues are closed.
Spain
Spain was seriously hit in the spring and the country could not calmly prepare for the second wave as cases have been rising again since mid-July.
However, compared to the spring Spain is better prepared for the second wave and has a good supply of protective equipment. In the frontline, primary care providers are under extreme pressure though, which is a concern for Spain's leaders. The origin of the infection seems to be also different this time. In March and April, the main source of infection was due to travel across regions and countries while the increase in cases in the summer and autumn was related more to irresponsible behaviors and social events where people were not as careful about wearing masks and maintaining social distancing.
To avoid overload and relieve some pandemic pressure on hospitals, healthcare delivery has increasingly shifted to health centers in Spain and to telephone visits and consultations. According to an Accessibility Plan in Primary Care, the goal is to reach 70% teleconsultation.
On October 25, Spain began its nationwide curfew after the government declared a new state of emergency. People in all regions, with the exception of the Canary Islands, have to stay at home between 11pm and 6am.
The Circle of Health, an association connected to the health sector, published a statement asking the government to decrease the VAT on medical products necessary in the fight against COVID-19.
Italy
Italy was the European nation hardest hit at the start of the pandemic and through autumn the country had managed to retain control of the spread. Citizens were strictly adhering to measures introduced to mitigate the spread of the virus as the shocking experience in the spring was still very vivid. In addition, Italy did not promote the reactivation of tourism.
In October, the number of cases started to sharply increase again. Regional spread is slightly different, as the south part of the country is experiencing bigger pressure during this wave compared to the spring.
Italy's Prime Minister gave rights to the regional chief officers to introduce local restrictions with the intention to avoid a new lockdown. Government strengthened the hospital network and Italy maintained the Covid-19 hospitals (13 all over Italy). The investment in the healthcare sector was over 81 million euros.
COVID-19 Impact in Europe on Advanced Dressings
COVID-19's impact on the Advanced Dressings market in Europe has varied by country, rate of infection and type of wound (See Figure 1 and Figure 2).
The pandemic led to a situation when different wound types were impacted differently and this has left a stamp on the Advanced Dressing Market in Europe. In Q320, companies have been reporting different impacts and it is clear the market dynamic is not back to normal yet. In Q420, SmartTRAK expects to see a smaller step-back in terms of the number of treated wounds as the second wave starts to kick in.
In terms of wound types, the majority of chronic wounds are being treated, although some wounds are falling out of the reach of healthcare services and not receiving treatments. COVID-19 has fueled intensive PPE use among healthcare providers and there is a higher number of dressings used to prevent and treat pressure injuries in COVID-19 positive patients who are often placed in a prone position.
Prevention and treatment of chronic wounds continue to be addressed to a high degree, through different channels, and SmartTRAK expects that market to be less impacted than those more exposed to elective surgeries.
During lockdowns and due to fewer activities, there has been a decreasing trend in the number of trauma wounds. However, according to healthcare reports the number of severe burn wounds treated in hospitals or outpatient clinics has remained rather stable.
The use of antimicrobial dressings does not appear to have decreased as much throughout the pandemic since they are potentially used to prevent infection in high-risk wounds during the time of slowed down services.
Surgical wounds have been impacted more than any wound type as elective surgeries were among the first things to be postponed during the spring outbreak. Since summer, hospitals in all countries have been working hard to address the backlog of cases. However, it will take months to work through the backlog as autumn brought new pressures and extra safety measures that have limited the capacities for elective surgery.
SmartTRAK estimates that in September surgical procedures were performed at 80-90% of a normal month, recovering from much lower levels, but will likely be negatively impacted as elective surgeries are again put to a halt. As a direct consequence, post-op dressings are the most impacted dressing category. In this category, SmartTRAK saw the deepest decline and slowest recovery of all dressing types.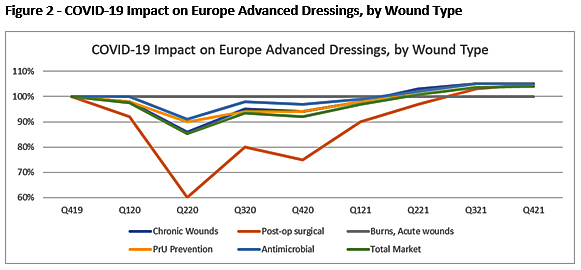 The top five European countries are being impacted at different levels. For example, Germany, nearly reached the pre-pandemic level of procedures by September. In contrast, the NHS in the UK is struggling to meet the declared goals when it comes to completing surgical procedures. With the winter surge and extra risk, hospitals must continue to manage social distancing, PPE requirements and the need to separate COVID and non-COVID patients. SmartTRAK expects Q420 will bring another slowdown in Europe and recovery will take place step by step towards the end of 2021.
*These links can only be viewed by SmartTRAK subscribers to this module.
To see see all the exciting things coming to SmartTRAK in 2021, or to request more info about what SmartTRAK can do for you, just click the button below.
---
SmartTRAK is a comprehensive, easy-to-use, business intelligence solution that networks an entire organization with real-time market data and analysis. Used by the 15 top Advanced Wound Care companies and 8 of the 10 top Orthopedic companies, SmartTRAK transforms the delivery of healthcare business information into a cost-effective solution for life science corporations to increase proficiency, improve productivity and reduce cost.