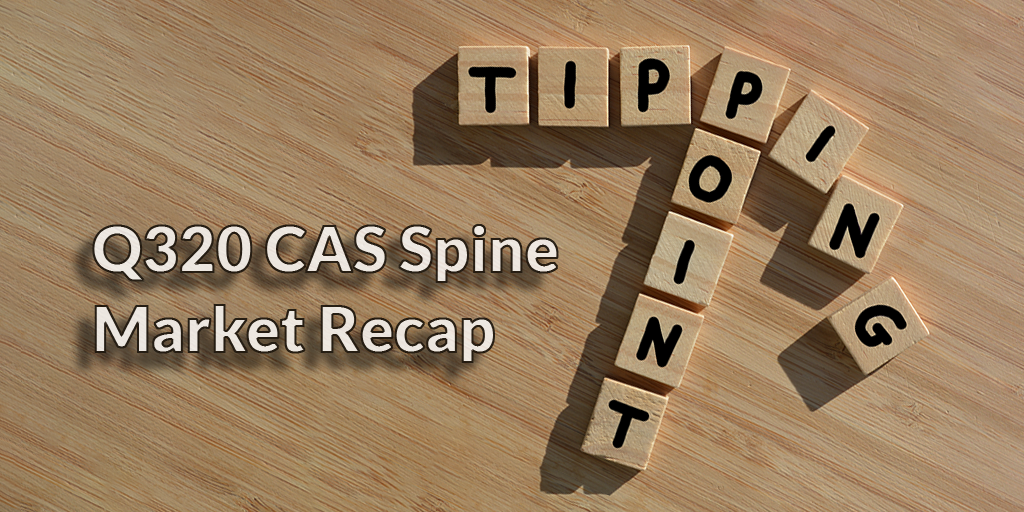 Continuing robotic implant pull-through and achievement of enabling technology milestones reflect increasing importance of CAS Spine technology in Q320.
Similar to market dynamics in recon robotics, spine robotics are beginning to reach a tipping point in market acceptance. In its Q320 earnings call, CEO Dave Demski noted that Globus Medical* is seeing increasing interest in its Excelsius GPS* robot and that the Company is in a different part of the robotic adoption curve, with surgeons well beyond their initial skepticism as robots have become more mainstream. Globus and Medtronic* have the strongest positions in enabling technology and robotics in spine. However, competition will be heating up over the next several years.
Among the many topics, including company revenues, shares, charts and expert analysis, covered in the comprehensive Q320 CAS Spine Market Recap* are:
Complete Q320 CAS Spine Market Highlights
Market Leaders Expanding Enabling Technology Capabilities
Other Market Entrants Getting Closer
7D Surgical Navigation Expanding International Footprint
Surgalign Entering the CAS Spine Space with Augmented Reality and Artificial Intelligence
Imaging Analytics, PSI and Digital Health Highlights
Q320 Regulatory Highlights
While traditional product development and commercial execution are currently key to taking spine market share in the near- and medium-term, enabling technology in spine is likely to be a part of every manufacturer's mid/long-term plans. Market leader Medtronic's enabling technology is positioned to help drive growth for the Company going forward and implant pull-through from Mazor X* may help offset spine market weakness resulting from COVID-19. In its Q2FY21 earnings call, Medtronic noted that despite large capital equipment purchasing pressure, the Company estimates it sold ...

Read the entire Q320 CAS Spine Market Recap including news, data, charts, company revenues, shares and analysis*
*The entire article, including revenue, shares and links can only be viewed by SmartTRAK subscribers to this module. For more information on how to receive a demo and subscribe, please click the button below.
---
SmartTRAK is a comprehensive, easy-to-use, business intelligence solution that networks an entire organization with real-time market data and analysis. Used by the 15 top Advanced Wound Care companies and 8 of the 10 top Orthopedic companies, SmartTRAK transforms the delivery of healthcare business information into a cost-effective solution for life science corporations to increase proficiency, improve productivity and reduce cost.