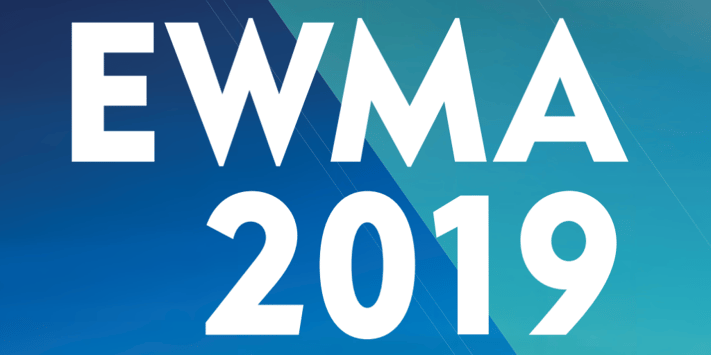 SmartTRAK analysts Susan Paquette and Lennart Stadler on European market trends and emerging products and technologies showcased at EWMA 2019.
In many ways, the European Wound Management Association (EWMA) annual meeting is a microcosm of the latest wound care trends in Europe and provides a glimpse of what's on the horizon in the worldwide (WW) market for Advanced Wound Care (AWC).
The EWMA conference also offers a unique perspective because the European wound care market is very different than in the US. In Europe, 78% of the market is Advanced Dressings versus 27% in the US, while Biologics comprises just 6% of the market versus 38% in the US. Despite these differences, EWMA brings together stakeholders from around the world and showcases current and emerging products from a variety of companies looking for a broader distribution that are not yet introduced to the US market.
SmartTRAK highlights the latest insights and innovation in the AWC market from EWMA 2019, held in Gothenburg, Sweden in June, including advances by leading manufacturers, current and emerging Swedish technologies, novel biologic-based products outside the US, and new digital technologies that leverage artificial intelligence (AI) to improve wound management. SmartTRAK also reports on insights from EWMA's Executive Industry Forum, in which key executives discuss how to unlock commercial potential in the US and APAC (Asia-Pacific) and share their view of the different markets.
Market Leaders
At EWMA 2019, market leaders prominently featured their portfolio of products, showcased products not yet introduced to the US market and sponsored industry symposia on a variety of subjects. ConvaTec and Hartmann, both European-based companies, did not exhibit at this year's EWMA, which was a first for ConvaTec, but not for Hartmann, as the Company tends to focus more on regional conferences.
Mölnlycke took full advantage of EWMA taking place in its hometown in Sweden, the Company held the most industrial symposia (see Table 1) of any of its competitors. Mölnlycke highlighted its new Mepilex Border Flex (Comfort in the UK) and its ability to achieve undisturbed wound care as the dressing only needs to be changed once per week. Clinicians are using the product on a variety of chronic wounds with an additional focus on the post-acute setting such as home care and skilled nursing facilities to help reduce costs associated with dressing changes. The Company also featured products from the acquisition of SastoMed, Granulox, and Granudacyn. Their symposia on the products discussed the importance of oxygen in wound healing and clinical evidence supporting accelerated healing rates. Although Gralulox and Granudacyn are not yet approved by the US FDA, Mölnlycke's strong market presence is helping to drive adoption of this product globally. Mölnlycke CEO Richard Twomey told SmartTRAK that the Company will also be launching a new, single-use Negative Pressure Wound Therapy device within the next six months. The Company is also moving into the Digital Wound Care Market and recently announced that they have acquired an invention, built on smart technology, that will help in detecting wound infections. They also introduced "Healthcare Intelligence", a concept combining products, data, technology, and insights.
Smith & Nephew (S&N) launched PICO 14 at the meeting, a single-use Negative Pressure Wound Therapy (NPWT) device that has a 14-day life with an enhanced pump designed for the treatment of chronic wounds, including those up to seven centimeters deep. The S&N symposium on PICO 14 highlighted a recently published clinical study in which PICO was compared to traditional NPWT and found the percentage wound area reduction at 12 weeks to be significantly more with PICO in both the intent to treat and per-protocol groups. Presenters highlighted the mode of action with undisturbed wound care as one of the benefits of using PICO. These study results could be a big boost for single-use NPWT devices in the treatment of chronic wounds, as there has been limited clinical data to date and adoption has been lower than expected.
Urgo Medical does not have a big presence in the Nordic market but was well represented at EWMA. The Company presented key research and new products at the meeting. The Company featured UrgoStart by highlighting its EXPLORER clinical study, which resulted in UK NICE publishing evidence-based recommendations on UrgoStart for treating diabetic foot ulcers and leg ulcers. The Company also featured its new app, Healico, for documentation of wound healing performance that includes patient management features and treatment decisions. Urgo Medical CEO Laurent Faugere talked with SmartTRAK about his view of the company and the importance of UrgoStart, especially in the evidence-driven European market.
Acelity/KCI did not exhibit any new products at EWMA, but Company reps told SmartTRAK they are planning a launch towards the end of the year but were unable to share further details. Acelity showcased its NPWT and Dressings ranges, but had only one industry-sponsored symposium, on DFU treatment. Overall, the Company's messaging was around "Moving Healing Forward," although the recent acquisition by 3M prevented the exhibitors from sharing details on what's next for the Company. Surprisingly, little was mentioned on Dermatac Drape, the first-ever silicone-acrylic hybrid drape strong enough to maintain a seal for Negative Pressure Wound Therapy (NPWT), which was launched at SAWC Spring, a few weeks earlier.
Coloplast displayed Biatain Contact, a wound contact layer with silicone on one side (similar to Mölnlycke's Mepitel One). The product is still pending CE Mark but Coloplast told SmartTRAK it should be a matter of weeks until it is approved. The Company also showcased the skincare product Interdry, which is now available in Europe after receiving CE Mark in January. Interdry has been Coloplast's main skincare product on the US market for years.
Essity was promoting DebriClean, a new debriding cloth which was approved in March this year. It is currently being launched in Europe.
Lohmann & Rauscher were well represented, with its advanced dressings, NPWT and compression ranges. The Company did not launch any new products but shared with SmartTRAK they are about to launch "something completely new" without providing further details.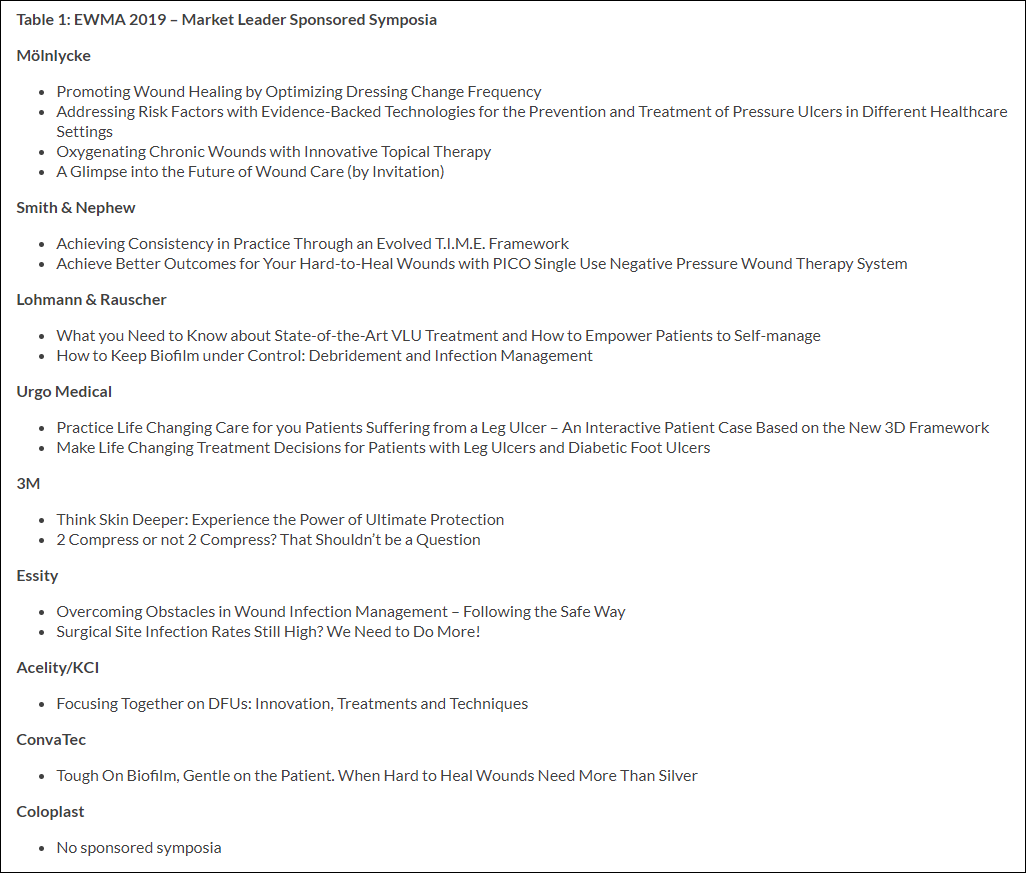 Spotlight on Swedish Companies
With EWMA being held in Sweden this year, numerous Swedish companies exhibited bringing visibility to their local presence and also providing them global visibility. For the size of the country, it is surprising the numerous advanced wound care companies emerging from Sweden, perhaps originating from the strong base Mölnlycke has created in the Swedish market, as well as a strong pharma presence in the region, with Astra Zeneca having a large R&D facility just outside Gothenburg. Swedish companies at EWMA included Abigo Medical, S2 Medical, RLS Global, PressCise, Absorbest, Gnosco, ViTri Medical, OneMed, EvoLan Pharma and CleerPlus:
Abigo Medical, which is based just outside Gothenburg, owns the distribution rights for its Sorbact technology in the Nordics. They presented recent clinical evidence in a sponsored symposium supporting Sorbact for use after pilonidal sinus excision and for the treatment of pressure ulcers in a pediatric population. Abigo is also the distributor of Advancis Medical's dressing range in Sweden.
S2 Medical made a big splash with the largest exhibit in the shape of a Viking ship, and key executives dressed up as Vikings to kick off the exhibit. The Company was publicly listed earlier in 2019 and is now launching a range of products throughout Europe, with a focus on the Epiprotect range. Interestingly, they have their own wound care center in Linköping, Sweden and are also the distributors of Silverlon dressings in the Nordics.
RLS Global, also based just outside Gothenburg, was a first-time exhibitor at EWMA. The Company's ChloraSolv, which was CE Marked in April. The Company told

SmartTRAK

they are looking for a global partner to gain market traction and are also establishing a small direct sales force to start generating some sales.
PressCise presented its compression products, based on the Lundatex technology. The Company also held a presentation on mathematical modeling around compression therapy and is currently looking for partners.
Absorbest promoted its superabsorbent Drymax range.
Gnosco exhibited together with RiksSår, a Swedish wound care association. Gnosco offers a telemedicine platform.
ViTri Medical, a company that imports dressings and competes on price, presented its wide range of dressings.
OneMed is a major distributor in Sweden selling many of the leading brands in the Nordics and North Europe. At EWMA, the Company previewed its smartphone-based, AI solution for wound management (For a description, see the discussion below on digital wound care products).
EvoLan Pharma offers a small wound care portfolio including Zipzoc, Viscopaste, and Ichthopaste.
CleerPlus is a small company offering solutions for basic wounds. CleerPlus is a transparent gel for the treatment of smaller wounds.
Biologic Companies Looking to Expand
Europe is not known for its use of Biologic products, especially skin substitutes (CTPs). However, the EU is gradually recovering from reimbursement pressures and Biologics has been one of the faster-growing wound care segments, particularly Collagen/Active dressings. At EWMA, several companies showcased biologic-based products marketed on a local country basis and many are looking for distributors to expand their market presence, including Histocell, CollPlant, Contipro, RedDress, and ROKIT Healthcare.
Histocell, a regenerative medicine company from Spain, exhibited for the first time at EWMA, presented its novel wound matrix, Reoxcare. The product has been studied and available in the Spanish market and in select countries in Latin America for a few years, but the Company is now looking to expand. Reoxcare is composed of natural ingredients: an absorbent matrix made from locust bean gum and an antioxidant solution made from curcumin and acetylcysteine, which are combined prior to wound application and used with a secondary dressing. Reoxcare is known for its antioxidant properties, including the ability to neutralize the excess reactive oxygen species in wound exudate, aid in debridement and biofilm control, and allow the wound to advance toward healing.
CollPlant, based in Israel, was also a first-time exhibitor at EWMA. The Company featured its Vergenix Flowable Gel(FG), a recombinant type 1 human collagen derived from bioengineered tobacco plants. The matrix strongly resembles that of native human collagen and provides a scaffold for cellular proliferation and capillary growth in wound healing. A post-marketing surveillance study, presented in their Vergenix FG brochure, of 75 hard-to-heal wounds found patients treated with Vergenix FD had 69% wound closure versus 24% in the control group at 12 weeks. CollPlant currently markets this product in Italy and plans to soon expand into Spain.
Contripro, a Czech Rebublic company, was at EWMA looking for additional distributors for Sorelex, a wound dressing that combines octenidine and hyaluronan to both cleanse and accelerate the wound healing process. The product is made of three layers, a bottom active layer which includes the octenidine and hyaluronic acid, a middle desloughing layer and a top transmission layer to absorb and transfer exudate to a secondary dressing. In a multi-center two-arm study, presented in a Sorelex brochure, of 87 patients comparing Sorelex to a hydrofiber dressing with silver found a significantly higher wound area reduction at three weeks with Sorelex. The product received CE Mark 1.5 years ago and is currently marketed in the Czech Republic, Austria, Switzerland, and Italy.
The most interesting new biologic platform comes from ROKIT Healthcare, a regenerative medicine biotech company specializing in research and medical technology based on 3D bioprinting and autologous cell therapy. The Korean Company has an organ regeneration platform and is developing applications for orthopedics, hair regeneration, retina, heart, and skin. ROKIT has developed a machine, INVIVO, for its skin regeneration platform, utilizing autologous adipose tissue that ultimately produces a custom-shaped, tissue-engineered dermis. The reality of the system is not years away. In fact, clinical trials are ongoing in Korea, US, Turkey, Slovakia, Italy and India for scar revision, burn treatment and diabetic foot ulcer indications.
Digital Wound Care Products
The Digital Wound Care Market is building momentum as several companies are leveraging smart technology and AI to develop new products designed to document, track and improve wound management and healing. Companies with current and emerging digital wound care technologies include Mölnlycke, KCI, Urgo Medical, Essity, S&N, Swift, Tissue Analytics, Wound Zoom, ekare and Healthy.io.
At EWMA, two companies provided a preview of new smartphone apps that leverage AI to improve wound management. The apps do not yet provide the ultimate attribute of predicting wound healing but offer some features helpful to the nursing community.
OneMed previewed its new app OneWound, which utilizes image recognition and machine learning to help reduce antibiotic use in the treatment of hard-to-heal wounds. The goal of OneWound is to help nurses make a correct decision as to whether or not a wound is infected, to limit the use of antibiotics in non-infected wounds and to reduce the cost of wound treatment by decreasing the number of unnecessary prescriptions. The Company expects to launch One Wound in August of this year, which will be available at no cost for nurses to download on their smartphone.
Healthy.io showcased its SPOT platform, a mobile app developed for improved wound care management. SPOT is easy to use and utilizes the smartphone camera to digitize and document wound assessment. Users take a short video with the colored reference disk, answer a few questions and upload the data to a secure portal to compare images and access wound over time. In a study comparing 107 wound images from the SPOT platform to a 3D image, up to 90% of SPOT system images corresponded to the 3D image vs 67% for the paper ruler. Researchers concluded that the SPOT platform could provide a lower-cost alternative to the expensive 3D cameras used for wound imaging today.
Executive Industry Forum
Top wound care executives provided market insight in EWMA's Executive Industry Forum entitled "Unlocking the Commercial Potential of the US and APAC." The panel discussion featured seasoned board member and former KCI Vice Chairman, Chris Fashek, Urgo Medical CEO Laurent Faugère, Acelity SVP, and CTO John Harper, Mölnlycke EVP Barry McBride and ConvaTec Head of Wound Paul Murphy. Moderated by Rafael Mazuz, Diligence WCG, these executives shared their view of the different markets, challenges they are facing, ways to succeed and the future market outlook.
Regarding the US market, executives on the panel said the US reimbursement system is unsustainable, especially for amniotics and that US-based companies tend to develop products for the US market, which may not necessarily fit markets outside the US. The panel believes clinical evidence is key to success, and manufacturers need to demonstrate that products provide both better outcomes and lower prices in order to win.
The APAC market is complex, and panel executives highlighted how wound care can vary considerably between each country. In China, very few patients are treated with advanced wound care products, and most wounds are still treated with gauze and tape. It is a government-driven market, where changes are implemented very fast. The Chinese government is quickly rolling out a two-invoice system and may penalize providers for hospital-acquired conditions, which will drive growth in wound care products designed to prevent infection and pressure ulcers. In Japan, a conservative market, product approvals take too long. And although India's population is huge, the panel noted that the wound care market is very small and very regionalized.
---
To find out more about SmartTRAK's analysis and coverage of the wound care industry, please click the button below.