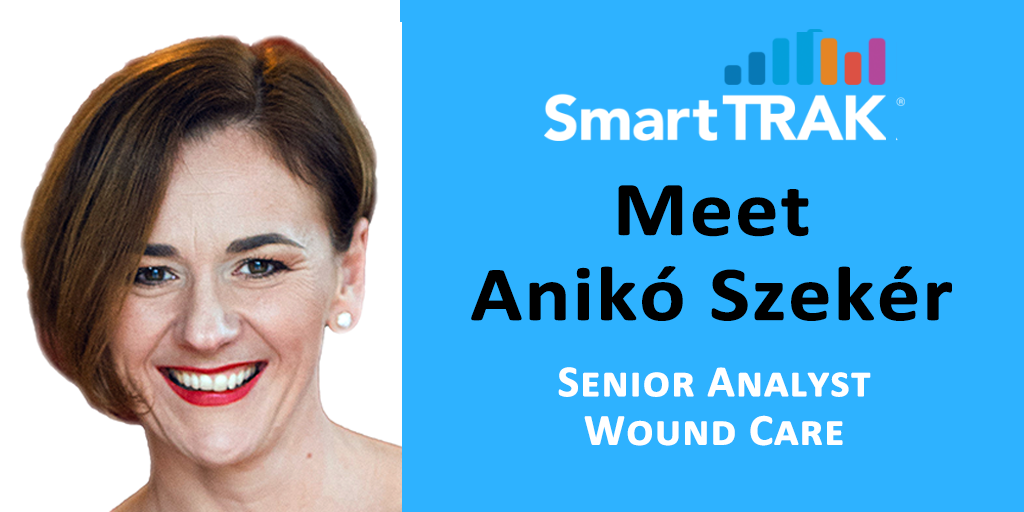 SmartTRAK is pleased to welcome Anikó Szekér, the newest addition to our Wound Care team. Anikó has 10+ years of medical device experience in Wound Care and Surgical single use products. Before joining SmartTRAK, Anikó was Marketing Manager, Eastern Europe Wound Care and Surgical at Mölnlycke Health Care.
Meet Anikó Szekér:
What is your role with SmartTRAK? As a Senior Analyst for Wound Care for Europe, my role is to support and develop the Europe Advanced Dressing modules.
What are you most looking forward to about working for SmartTRAK? Being able to take part in providing the kind of business support I did so much need when I was working in my previous commercial roles and I had so much difficulty to find. I can truly see and understand the real value of SmartTRAK.
What is something special or unique that you bring to SmartTRAK?
I have 10+ years of marketing experience in the medical device arena where I had various roles from local to regional as well as global positions. With this background I believe I bring insights into our SmartTRAK customers' needs. After working several years with Eastern European countries with wound care dressings as well as with single use surgical products, I have solid understanding of these countries, their health care systems and market conditions.
What do you think is the biggest promise of medical technology? I think the biggest promises in my area of advanced dressings are the decreasing number of infected wounds, the reduced treatment time and the painless healing thanks to the performance of these modern dressings.
The advanced dressings market is complex, with different regulatory and reimbursement systems throughout Europe. It takes time and resources for innovative products to gain traction. Better ways to diagnose the status of a wound and project the healing trajectory is one area. Risk free infection prevention is another. Digital is also an interesting area, where we will see innovative solutions come and probably also be replaced over the coming years.
How will it change everything? It will make it possible to treat more patients in a better way, with restricted resources. This will improve the quality of life for more patients. The market growth is all built on clinical evidence and cost-effective wound treatment protocols.
What are your favorite online websites or resources that you check every day? SmartTRAK news feeds, company news alerts
How do you keep your medical device research skills sharp? I am reading articles and other analyst reports. I am also in favor of interviews with medical experts where I can learn from good questions to see and evaluate situations, market actions from different perspectives. I like discussions with my former colleagues and professional contacts on various industry related topics to keep my eyes and ears open.
What was the last presentation you gave and to who, about what? During the annual conference in Eastern Europe at Mölnlycke Health Care, as Marketing Manager East Europe, Wound and Surgical, I had the privilege to give a presentation to distributors from 16 countries about our product strategies, market positions and new product launches.
What was the last show you binge-watched? Chernobyl
What is your life like outside of SmartTRAK? Recently I have decided to do some volunteering work in an orphanage with 20 children in Romania. I am directly supporting 7 girls from the age of 8 to 16. This is more challenging than I expected but also gives me amazing experiences and learnings. In addition, here I can also practice my favorite activity which is running. Running is my therapist and life balance keeper.
---
SmartTRAK is the leading source of competitive intelligence used by the top ten global orthopedic & wound care companies. If you would like a demo of what SmartTRAK has to offer and how we can help increase proficiency, improve productivity and reduce costs for your company, just click the button below.