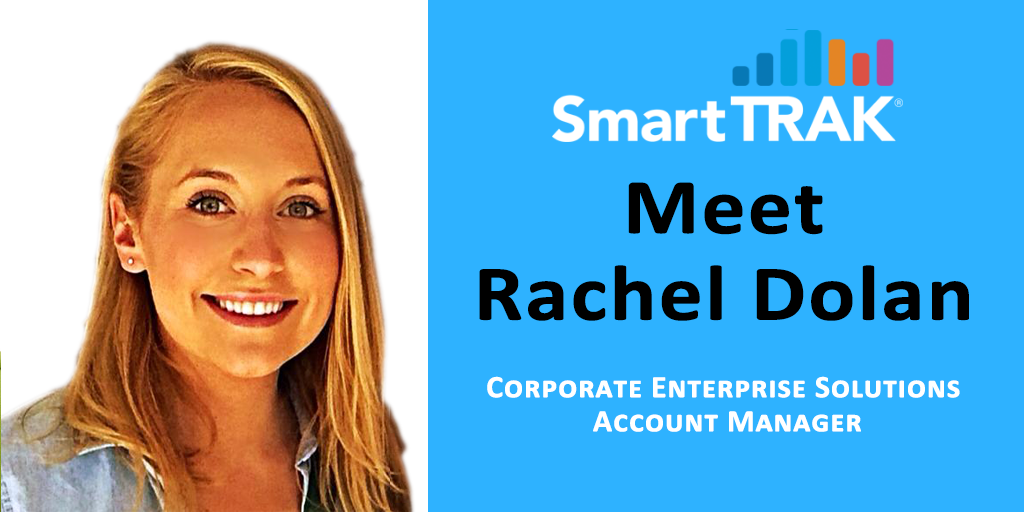 Rachel Dolan is SmartTRAK's new Corporate Enterprise Solutions Manager. Rachel has 5+ years in the sports medicine and medical device industries, most recently serving as Account Manager for Stryker Medical working with all organizational levels of hospital customers.
Meet Rachel Dolan:
What is your role with SmartTRAK? I am the Corporate Enterprise Solutions Account Manager. I'm responsible for managing and developing client accounts to initiate and maintain favorable relationship with clients.


What do you like about SmartTRAK? The platform is a wealth of knowledge that so many different groups within an organization could find useful. I'm constantly amazed at all of the information and data this platform provides along with the expertise of our analysts.


What is something special or unique that you bring to SmartTRAK subscribers? I am very passionate about customer service and believe this should be at the forefront of what I do. My aim is to have this enhance SmartTRAK subscribers experience.


How/why did you get into the life sciences industry? I have always been passionate about the life sciences industry. My love of sports lead me to study athletic training in college and my first job out of college was as an athletic trainer at a children's hospital. From there I switched gears and went into medical device sales where I went from selling orthopedic durable medical equipment to selling capital equipment to healthcare systems.


What are your favorite online websites or resources that you check every day? I am a huge fan of SmartTRAK's daily updates and I read them every morning along with Daily Rundown on LinkedIn.


How do you stay current on what's going on in the industry? I utilize SmartTRAK's daily updates. I also love to read the market outlooks written by our analysts. It gives me an easily digestible summary of what is going on in each market.


If you could have one super power what would it be? I would have to say time travel.


What was the last show you binge-watched? The last show I binge-watched was season three of Stranger Things on Netflix.


What is your life like outside of SmartTRAK? (family, kids, pets? What can we find you doing when you're not working?) I live in beautiful Charlottesville, Virginia with my fiancé. We have a cat named Penny Lane and a pug named Eleanor Rigby. (You may have guessed that we like the Beatles) You can normally find us hiking, paddle boarding and exploring the many vineyards and breweries near us.


What are you the most excited about for your upcoming year at SmartTRAK? I am most excited about being able to work with such brilliant, experienced and talented people on our analyst and commercial teams.
_____________________________________________

SmartTRAK is the leading source of competitive intelligence used by the top ten global orthopedic & wound care companies. If you would like a demo of what SmartTRAK has to offer and how we can help increase proficiency, improve productivity and reduce costs for your company, just click the button below.