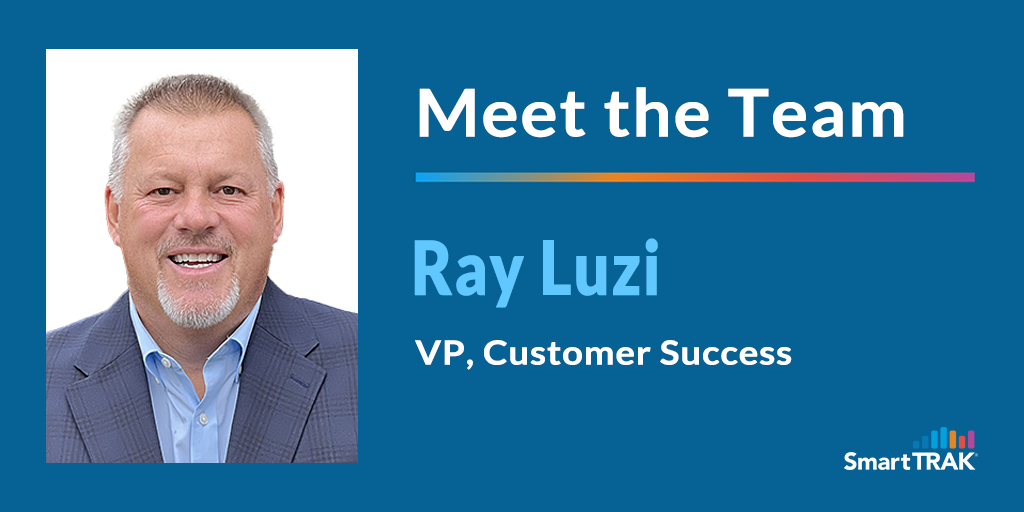 We are pleased to announce that Ray Luzi has joined the team at SmartTRAK as Vice President of Customer Success. Ray has 25+ years' experience in guiding customer engagement and success with leadership roles at Broadridge as Senior Director of Client Relations and DST OUTPUT Limited.


Meet Ray Luzi:

What is your role with SmartTRAK? I will be joining the team as Vice of President of Customer Success.

What is something special or unique that you bring to SmartTRAK subscribers? My background has been in account management in customer communications. I have built strong relationships with my customers based on transparency and the ability to deliver solutions. I have been extremely fortunate to work with talented individuals who are passionate about servicing our customers. I look to continue to foster that approach with SmartTRAK.


What are your favorite online websites or resources that you check every day? I really like the news. I have my morning coffee checking various cable news networks websites. I also have a passion for my sports teams and keep up to date using ESPN website daily.

How do you stay current on what's going on in the industry? SmartTRAK and LinkedIn

What was the last show you binge-watched? The last show was Ted Lasso. I started this in October and binge-watch to catch up. The character of Ted is upbeat, positive and quick whited. Ted has a great energy that really resonates with me.


What is your life like outside of SmartTRAK? (family, kids, pets? What can we find you doing when you're not working?) I married my college sweetheart Julia. We met at Boston University and have been best friends since the day we met. Julia and I have two children, a daughter Kit who lives in Deerfield Beach, FL and a son Will who is in his last year of college. I have a mini goldendoodle named Milly who sits by my side every day since the beginning of pandemic.

I love to boat and fish in Long Island Sound. I love to take my family and friends on long boats rides to Watch Hill, RI or Greenport, NY for a day of beach and sun.

I have a large extended Italian family consisting of over 50 relatives. Holidays and gatherings are lots of fun with great food, drink, and conversation.

What are you the most excited about for your upcoming year at SmartTRAK? Diving into a new company to work with the SmartTRAK team and building a new account management team.
---
SmartTRAK is the leading source of competitive intelligence used by the top ten global orthopedic & wound care companies. If you would like a demo of what SmartTRAK has to offer and see how we can help increase proficiency, improve productivity and reduce costs for your company, just click the button below.