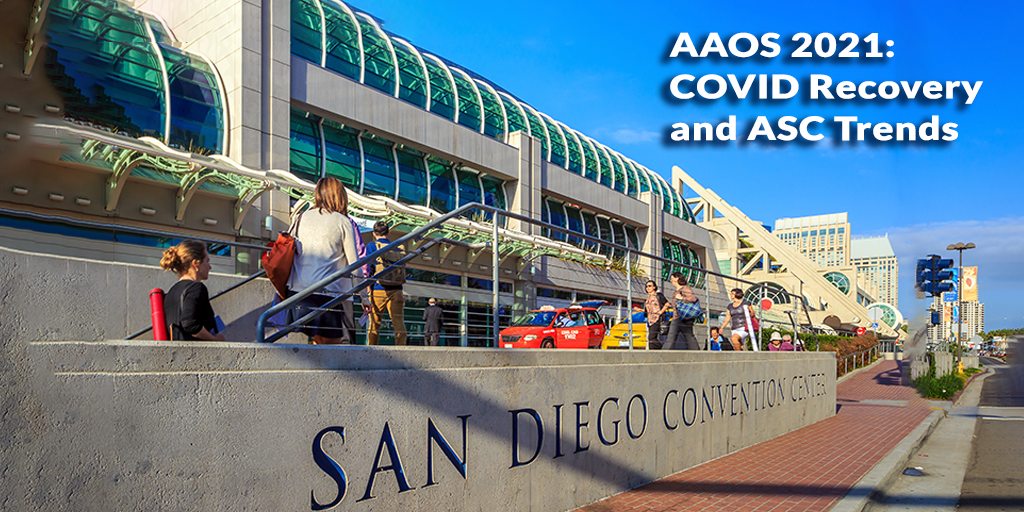 What seems to be on everyone's mind – COVID-19 recovery and ASC trends
The COVID-19 pandemic reduced the attendance at the 2021 American Academy of Orthopedic Surgeon (AAOS) annual meeting to an estimated 1/5 th of its usual number. Many international surgeons found themselves under travel restrictions while some US surgeons were asked by their institutions to forego the meeting. The pandemic also impacted the conversations taking place on the convention floor with two topics seeming to be top of mind – the recovery from COVID-19 and the ongoing move of joint replacement procedures to the outpatient setting.
At AAOS 2021, SmartTRAK spoke with clinicians and industry executives to obtain their view regarding the pandemic and recovery from COVID-19. Although speculation varied depending on individual circumstances, some companies and healthcare institutions shared that supply chain issues are holding back the increase in business while others are facing regional shutdowns of elective procedures due to the surge of the Delta variant.
Despite the immediate challenges, research presented at the meeting suggests patient interest in procedures seems to be resilient. AAOS 2021 Paper 552 "Trends in Orthopaedic Related Google Search Volumes during the COVID-19 Pandemic in the United States" presented by Cesar David Lopez, et al. showed patient demand rebounded as elective procedures resumed after shutdowns. Following AAOS, a study published in Arthroplasty Today found that over 71% of participants disagreed that the pandemic would negatively affect the outcome of their surgery. Study subjects shared that the most reassuring factors for proceeding to surgery were pre-operative COVID-19 testing, personal protective equipment usage by hospital staff and support from their surgeon.
So just when will the recovery take place? SmartTRAK expects to see ...
To download and read the complete AAOS 2021: COVID Recovery and ASC Trends article, just click the button below.

---
SmartTRAK is the leading source of competitive intelligence used by the top ten global orthopedic & wound care companies. If you would like a demo of what SmartTRAK has to offer and see how we can help increase proficiency, improve productivity and reduce costs for your company, just click the button below.