SmartTRAK Analysis Article
In 2017 companies are showcasing new initiatives and products designed to round out their portfolios and help them gain market share by becoming a one stop shop for providers. Read three big trends from SmartTRAK.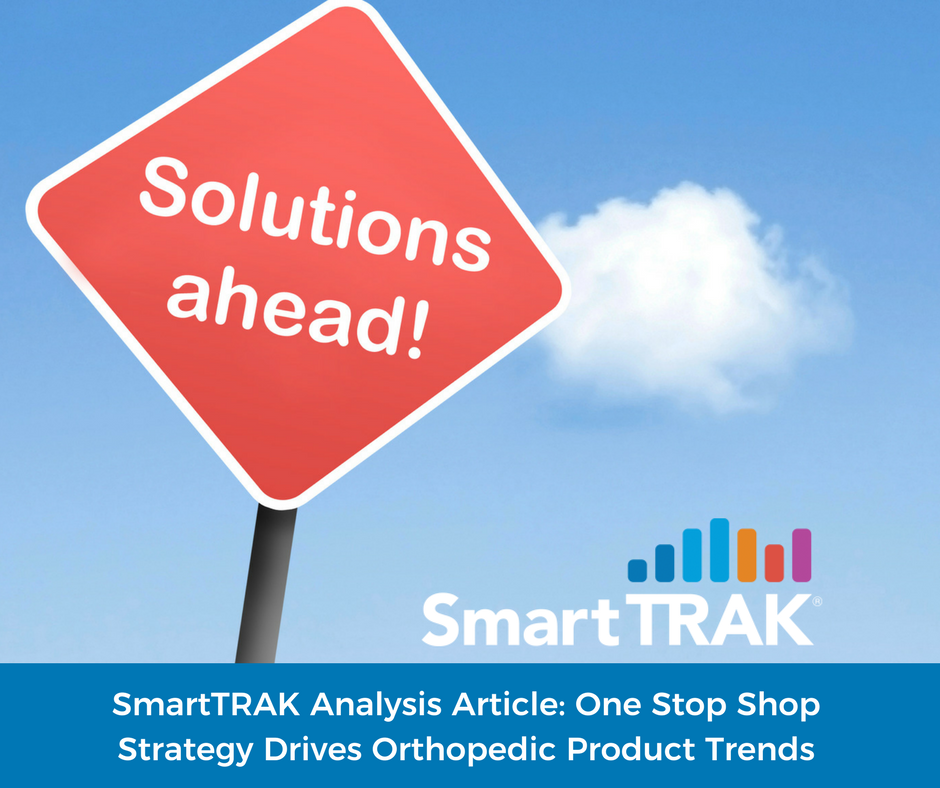 With a focus on bundled payments and value-based care, orthopedic manufacturers are expanding their product portfolios and looking to new strategies to capture market share in the $1.6B US Soft Tissue Fixation market. BioMedGPS SmartTRAK has identified several industry trends, including consolidation within the soft tissue market and a shift to evolutionary products designed to round out a company's product portfolio rather than those that would revolutionize the soft tissue fixation market.
Trend #1: Bundled Payments and Value-Based Care
Initiatives
Companies like Arthrex and Stryker are helping surgeons to capture patient reported outcomes with new software programs that can be used to leverage increased bundled payment rates. Hospitals are also leveraging patient reported outcomes and maximizing reimbursement by switching to sole-source vendors in an effort to achieve optimal pricing. This means in order to stay competitive, companies now require a solution to every surgical need in addition to top quality products.

Trend #2: M&As To Round Out Portfolios
To match the breadth of products offered by Arthrex and other private companies, large publicly-traded companies are looking to mergers, acquisitions and evolutionary product launches to help fill gaps in their portfolios. Since early 2014, we have seen M&As and distribution agreements from nearly every major player in the sports medicine market.
The S&N $1.7B acquisition of Arthrocare brought with it an expanded shoulder portfolio and the industry standard for radiofrequency wands. The Pivot Medical acquisition by Stryker Sports Medicine helped Stryker become a formidable player in the hip arthroscopy market. More recently, Stryker then went on to purchase Ivy Sports Medicine. During this same time period, KFx also entered into a licensing agreements with both S&N andDePuy Synthes (Mitek) allowing them the right to promote KFx's knotless double row rotator cuff technologies.
By 2015, DePuy Synthes (Mitek) acquired Olive Medical, allowing them to play in the arthroscopy video space, where they were previously unable to compete. Finally, the ZBH merger brought the company in to the Sports Medicine market, but the more recent acquisition of Cayenne Medical has rounded out the ZBH bag quite significantly in the shoulder and knee specialties.
Trend #3: Filling the Gaps to Gain an Edge
How have 2016-2017 product launches filled in the gaps? From Depuy Synthes (Mitek) to S&N to Stryker, we now see adjustable loop fixation products in nearly every bag. Their ease of use and, although not universally agreed upon, their strength of fixation have fueled their growth in the market. In the shoulder market, CONMED Linvatec launched their CrossFT Knotless to compete in the knotless and/or double row RC repair space. Most notably, they launched a biocomposite version of the anchor which will be the only other knotless biocomposite anchor to compete with Arthrex's Biocomposite SwiveLock .
Several companies, including DePuy Synthes and Stryker, highlighted their expansion in to the meniscal repair market with the launches of TRUESPAN and SharpShooter, respectively. Companies are trying to "own" a surgical case from patient positioning to closure in an attempt to box out other companies. It's a value add from a hospital perspective, as bidding wars drive down prices and there is an ease of coordination and communication by dealing with one or two vendors.
What's Next? Sole-Source Vendor Winners and Losers
It's too early to see who the winners and losers could be in this new sports medicine landscape. However, unless there is a balance in decision-making between surgeons and CFOs, surgeons could potentially lose out in the trend toward sole-source vendorship. Patients could also lose if decisions made at the corporate levels based on bundling and sole-source vendors affect clinical outcomes in the long run. In addition, because competition helps drive innovation, sole-source vendorship may ultimately limit growth in the market if it slows down the rate of innovation. In that case, manufacturers could also lose.
What does the future hold in store? We are watching closely to see if offering hospitals, surgery centers and surgeons a one stop shop will ultimately shift market shares as companies now have the potential to win, and win big in certain markets, or lose a deal and lose a significant percent of the market share.
Meet with Kristina at AANA this Nov-2017!