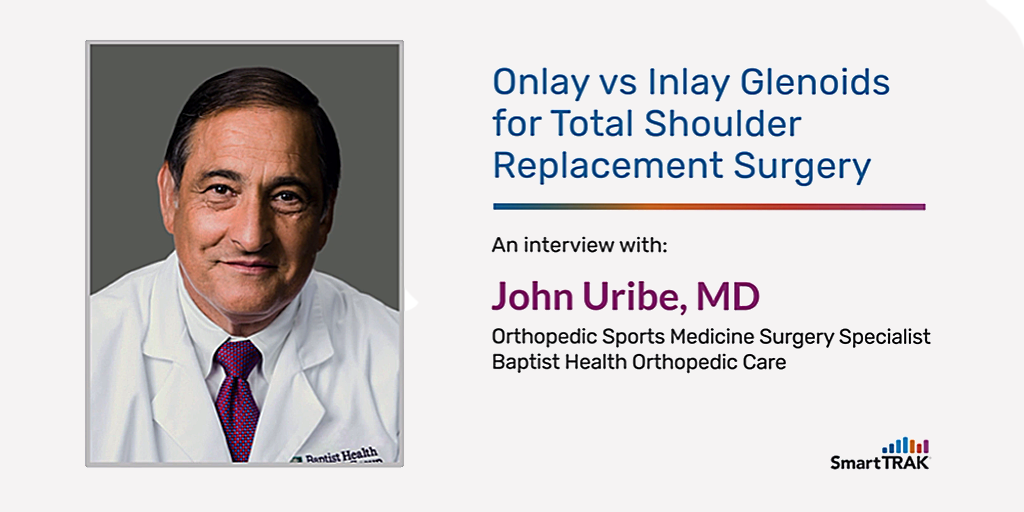 John Uribe, MD, discusses inset glenoid technology and the future of shoulder replacement
John Uribe, MD, discusses his most recent research and experience with inset glenoids and how inset glenoids could influence the practice of shoulder replacement surgery. Dr. Uribe is a dual board-certified orthopedic surgeon with Baptist Health Group South Florida specializing in sports medicine, arthroscopic surgery and minimally invasive surgical procedures for degenerative knee, shoulder and elbow conditions. He is also the Chair of the Herbert Wertheim College of Medicine, Coral Gables, FL and the team physician for the Florida Panthers hockey team and the Miami Dolphins football team.
Dr. Uribe authored a study published in JSES International reporting results from 39 patients with advanced shoulder arthritis having anatomic shoulder replacement with the OVOMotion Shoulder Arthroplasty System from Anika, a stemless shoulder with an inlay glenoid component. The study demonstrated that treatment with inlay total shoulder arthroplasty resulted in significant functional improvement, pain relief and patient satisfaction at a mean follow-up of 41 months.
To find out more, including Dr. Uribe's thoughts on the benefits of inlay glenoids vs onlay; the potential acceptance of inlay technology; trends such as the shift to reverse shoulders, site-of-care; and what's next, click on the video below to listen to the recorded interview (17:36 min). A link to download a complete transcript of the interview is also provided below.
Recently, you had research that was published on inlay glenoid technology and I'd love it if you could give us some highlights of the study and the results.
Dr. John Uribe: Sure. Because this study, actually one of the ways I got involved with the humeral head resurfacing and inlay glenoid was looking for a prosthesis that I could use in the younger athletes. And because I guess with football, particularly with football, I was the team physician for the University of Miami teams when they were the greatest, but a lot of them in those days and professional football players too, I mean, they just lift a great deal. So I was noticing a significant degeneration of the glenohumeral joint in these weight lifters and then I got more of the powerlifters and bodybuilders. And obviously the problem with a normal stem prosthesis with an onlay glenoid is a significant possible risk of glenoid loosening, particularly in an activity like weight lifting.
Anyway, I got involved with the HemiCAP [Anika's shoulder hemiarthroplasty implant] and I was trying to use that, which was a partial resurfacing of the humeral head and it was somewhat successful if they were for isolated lesions, but not when there was diffuse glenohumeral arthritis. And then when the OVO came around, which was obviously more of an anatomic humeral head resurfacing that resurfaced the entire head, I used that without the inlay glenoid, but it was more...
To download the complete transcript of the John Uribe, MD interview "Onlay vs Inlay Glenoids" just click the button below.
---
SmartTRAK
is a comprehensive, easy-to-use, business intelligence solution for the Life Sciences Industry that provides breaking updates on pertinent company news, potential treatments and guidance, international survey results, statistical analysis by country, studies, trial results, financial impact and more. All subscribers receive a Daily Updates email containing the latest need-to-know news curated by our expert analysts. It's the perfect way to start your day! If you would like to learn more about SmartTRAK, just click
here
.