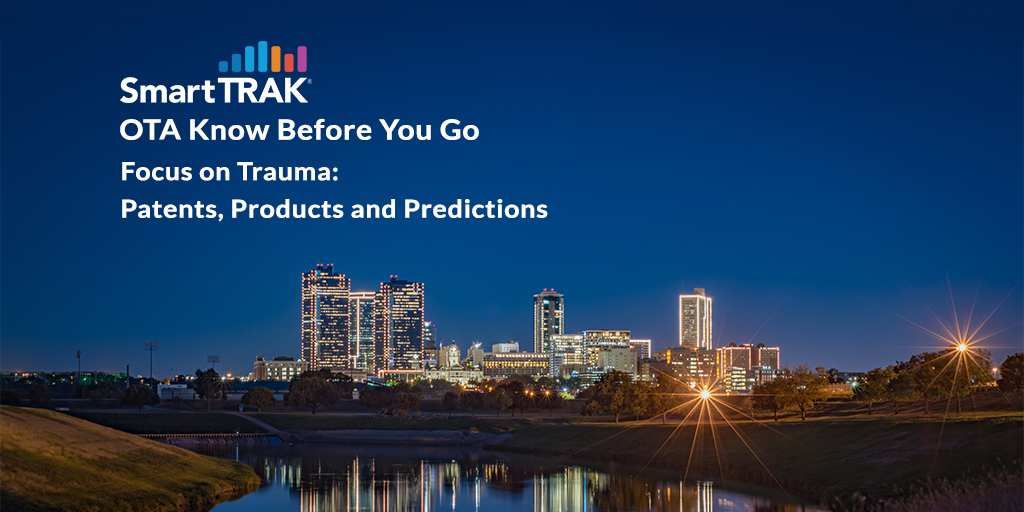 With the fresh scent of optimism in the air, it's time to get out there again and re-connect. SmartTRAK is excited to be attending OTA, the Orthopaedic Trauma Association annual meeting in Fort Worth, Texas, October 20-23. Please reach out if you would like to meet in Ft. Worth and see what SmartTRAK can do for you. We've also put together an overview of the latest trauma news to give you a head start for the meeting.
At SmartTRAK, we constantly monitor the worldwide MedTech industry, sifting through the noise to present to our subscribers the most relevant international news, patents, trends, new products, financial data and competitor developments in the global Life Sciences industry. The following is just a small sampling of recent Trauma related news and updates from around the world compiled, reviewed and posted in real time every day by our SmartTRAK expert analysts.
Patents:
JNJ/DePuy Synthes*


DePuy Synthes Products' US Patent Application "Angled Flutes in Cannulated Bone Screws" was published describing a cannulated bone anchor w/ cutting flutes extending to the distal end of the anchor. 20210307800

Adaptive Tibiotalocalcaneal Arthrodesis Nail
A US Patent Application "ADAPTIVE TIBIOTALOCALCANEAL ARTHRODESIS NAIL - NAIL ADAPTER SYSTEM," submitted by Amr Abdelgawad of Brooklyn, NY was published describing a tibiotalocalcaneal nail & system that has a plurality of effective interfaces. 20210307794

Arthrex was issued US Patent "Low profile dorsal plate" describing devices, systems & methods for direct dorsal fixation of fractures of the distal radius including a low profile dorsal plate. 11,134,996
New Products:
Fibula Nail 2 System*

-

Acumed*




Acumed announced the launch of their Fibula Nail 2 System, a minimally invasive alternative to plating fractures of the fibula. Cision PR Web

OrthoSolutions Limited*
OrthoSolutions announced the launch of its Volition Ankle Fracture Plating System in the US and UK. The fracture-specific plates were designed to Mason & Molloy classification and can be used for Type IIA, IIB and II posterior tibial and classic uni- and bi-malleolar fractures.

Silverback Ankle Fusion Plating System - Paragon 28*
Paragon 28 announced the launch of their Silverback Span Plating System as the newest addition to the Silverback Ankle Fusion Plating System. The Span Plating System includes posterior and anterior plates for use when a significant void is present at the ankle joint &/or talus.
Studies:
PFNA*

-

JNJ/DePuy Synthes*




Peri-implant fractures (PIFs) following intramedullary fixation of trochanteric femoral fxs w/ the PFNA occurred in 1.4% of pts and can be effectively treated w/ either locking plates or exchange nailing reported a study of 987 consecutive fxs. Arch Orthop Trauma Surg

PANTERA* - Toby Orthopaedics*
The use of the PANTERA plate in the fixation of proximal humeral fxs resulted in a lower complication grade and similar clinical outcomes to other methods of treatment w/ 91% of pts experiencing fx healing w/o complicationsreported a study of 83 pts.J Orthop Sci

Recovery of Pronator Quadratus Following Volar Plating
Long-term functional recovery of the pronator quadratus (PQ) was adequate following volar plating w/o repair of PQ in pts treated for distal radius fxs according to a study w/ 27 participants. Eur J Orthop Surg Traumatol
Deals/Financing:
Tyber Medical*




Tyber Medical announced an agreement to acquire CatapultMD, a manufacturing company located in Bonita Springs, FL, doubling Tyber's manufacturing footprint to 100K sq ft.

OsteoCentric Technologies*




OsteoCentric Technologies

secured

$30MM in capital to support the introduction of new products as well as expand applications of UnifiMI, a less invasive method to secure an implant to bone using proprietary interlocking geometry. UnifiMI will be showcased at AAOS 2021 this week.




Flower Orthopedics*


Conventus-Flower Orthopedics

announced

a partnership with Red One Medical, which will allow for Conventus-Flower Ortho's Ready for Surgery kits to be available in VA hospitals along w/ Department of Defense facilities in the US.
Clinical/Regulatory:
Bio-Compression Screw*

-

Arthrex*




An observational study began in Sept 2021 to evaluate the safety & effectiveness of Arthrex products including the Headless Compression Screw, TRIM-IT Pins & Bio-Compression Screw. With an est. enrollment of 50, the study is slated for completion in Dec 2024. clinicaltrials.gov

Summit Patella Plating System*

-

Endeavor Ortho*


Endeavor Orthopaedics received 510(k) clearance for its Summit Patella Plating System. This is Endeavor's first FDA-approved medical device available for distribution.

ELOS Intermedullary Nail* - Intrauma*
Intrauma received 510(k) approval for its ELOS Intramedullary Nail System. It was previously only available outside of the United States.
Markets:
Orthofix*


Orthofix provided a business update. The Company has experienced the impact of higher than expected volumes of deferred or rescheduled elective procedures resulting from hospital procedural restrictions, both in the US and OUS, assoc w/ the recent surge in Delta variant cases.

Wales Facing Increasing Treatment Waiting Times


Waiting times for Welsh patients have increased 833% since Feb w/ over 94K trauma and ortho pts awaiting treatment. Based on comments from the Royal College of Surgeons and recent gov't funding efforts, SmartTRAK believes canceling surgeries will be a last resort measure. BBC.com


Prosidyan*
Prosidyan issued a Press Release that it is targeting the Orthopaedic Trauma Market with its FIBERGRAFT BG product line. FIBERGRAFT BG products have been commercially available for > 7 yrs and have been successfully implanted in patients worldwide.
Revenues:
NuVasive*

NUVA is proof that Medtech sales are suffering from the Delta wave. NUVA was expecting sales to top $300MM for Q321, but it is predicting revenue below that of $295MM in Q2 and forecast points for sales ~ $10MM short of the analyst consensus of $303MM. Morgan Stanley 19th AGHC

OrthoPediatrics*
KIDS' Trauma & Deformity WW revenues grew 95% YoY reaching $17.9MM in Q221 driven by strong sales in PNP*, Cannulated Screws* and Orthex*.
*These links can only be viewed by SmartTRAK subscribers. For more information on SmartTRAK, including how to receive a demo and subscribe, please click here.

Are you going to OTA? If you would like to meet with us while in Ft. Worth and find out what SmartTRAK can do for you, just click the button below.
---
SmartTRAK is a comprehensive, easy-to-use, business intelligence solution for the Life Sciences Industry that provides breaking updates on pertinent company news, potential treatments and guidance, international survey results, statistical analysis by country, studies, trial results, financial impact and more. All subscribers receive a Daily Updates email containing the latest need-to-know news curated by our expert analysts. It's the perfect way to start your day! If you would like to learn more about SmartTRAK, just click here.