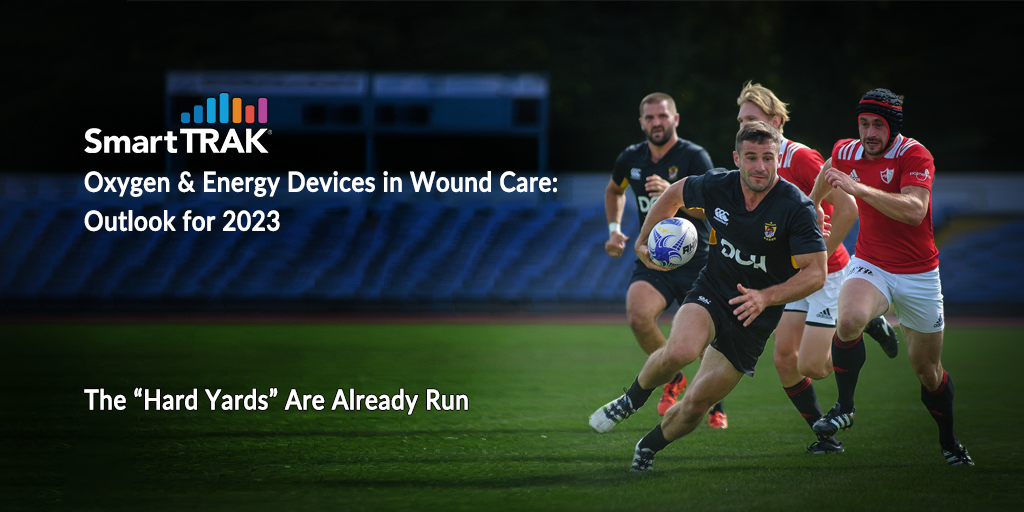 With many of the "hard yards" already run, SmartTRAK believes that 2023 could be a promising year for the Oxygen and Energy segments of the Advanced Wound Care Market.
SmartTRAK estimates the 2021 WW Oxygen and Energy Market at just over $50.0MM. While this is not an insignificant amount, it trails far behind other Advanced Wound Care markets such as Negative Pressure Wound Therapy (NPWT) and Biologics. Last year, however, showed signs that clinicians are starting to realize the potential of these technologies. Here SmartTRAK looks at how some of the existing players in the markets for oxygen and energy therapies may show increased success in 2023 and why some of the leading wound care companies may soon be taking their first steps into these markets.
Among the many topics covered in this article are:
AOTI to Drive Topical Oxygen Therapy
SANUWAVE to Achieve Profitability
Electrical Stimulation Technology to Expand Usage
Cold Plasma to Warm Up
Emerging Devices to Energize Pipelines
SmartTRAK also believes that M&A activity could be a factor within oxygen and energy in 2023. Mölnlycke aside, none of the dominant global players have previously attempted to take share within the markets. With the 3M spinoff possibly looking for new technology to enhance its portfolio ...
To download and read the complete "Oxygen & Energy Devices in Wound Care: Outlook for 2023" article by Kris Flinn, SmartTRAK's Senior Analyst and Wound Care Director of Sales, OUS, just click the button below.
---
SmartTRAK is the Medtech industry's only global Insights-as-a-Service solution for the Orthopedics, Wound Care, Regenerative Medicine and Neuro Therapy markets. SmartTRAK's propriety methodology turns disparate data from hundreds of sources into powerful insights customers can rely on as the trusted source for strategic decision-making. The SmartTRAK enterprise platform includes rich daily updates, comprehensive market coverage and simple-to-use tools and dashboards for market, product and financial analysis. Customers leveraging the SmartTRAK platform also have direct access to market experts for inquiries and advisory services. If you would like a demo of what SmartTRAK has to offer and see how we can help increase proficiency, improve productivity and reduce costs for your company, just click here.