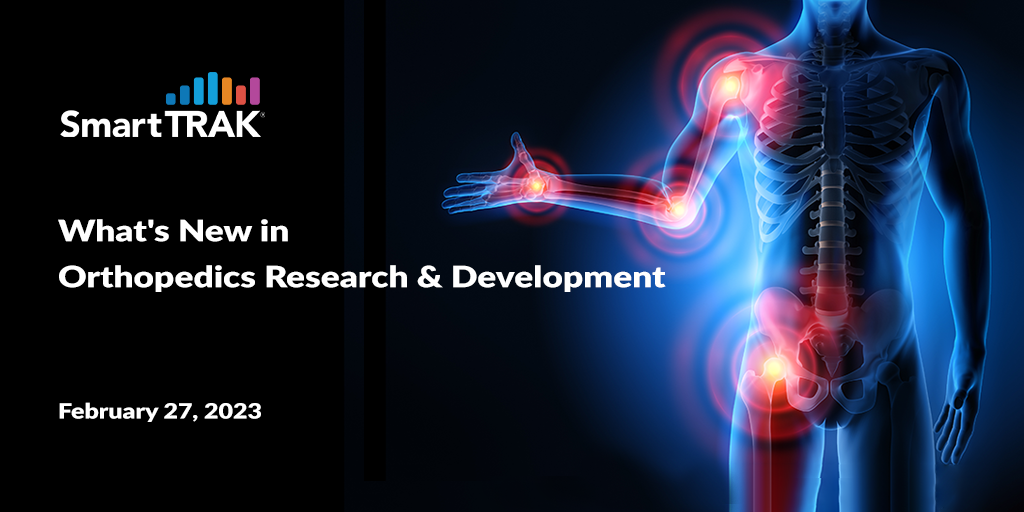 In recent years, there have been significant advances in orthopedic treatments, surgical techniques and rehabilitation methods that have transformed the way we approach musculoskeletal disorders. SmartTRAK continues to report daily, in real-time on the challenges still ahead, covering all aspects of the Orthopedic market: Extremities, OrthoBio, Spine, Computer Assisted Surgery, Total Joints, Trauma, Soft Tissue Fixation and EU Extremities and Trauma.
SmartTRAK features curated content by our team of industry experts, bringing the most relevant information and insight directly to you in real-time. Learn about the latest news, emerging technologies or start-ups to watch, conference happenings and more via articles, videos and interviews and Be The Expert.
The following is just a small sampling of recent Orthopedic updates from around the world compiled, reviewed and posted daily by our SmartTRAK analysts.
New Products:
NuVasive*




NUVA spoke about its upcoming product launches, including an expandable Lateral called MOD-EX XLIF and extended blade-fixation options for Modulus ALIF, and predicted that both will support the continued interest in NUVA. NUVA Q422 Earnings Transcript on Seeking Alpha

GMED mgmt stated the ortho robot will launch w/ a knee application first w/ other applications to follow, noting it is unlikely that gap-filling joint implant systems would be launched prior to the knee application for robotics. GMED Q422 Earnings Transcript on Seeking Alpha

CurvaFix announced a it will launch the 7.5 mm CurvaFix IM Implant, which received FDA clearance in Oct 2022, at this year's AAOS annual meeting in Las Vegas. BusinessWire
Patents:
SeaSpine*


7D Surgical was granted US Patent "Systems And Methods For Intraoperative Spinal Level Verification" disclosing the use of segmented surface data from volumetic pt image data compared w/ intra-op surface data to verify spine levels w/o x-rays. 11564752

Method for Treating Joint Pain


US Patent "Method for treating joint pain" was granted relating to treating joint pain by inserting a bone dowel and BMA into the subchondral of a bone and introducing BMA into the intra-articular space of the joint being treated. 11583402

BioSplice's US Patent Application "INDAZOLE-3-CARBOXAMIDES AND THEIR USE AS WNT/B-CATENIN SIGNALING PATHWAY INHIBITORS" was published relating to using indazole-3-carboxamide compounds in the tx of disorders characterized by the activation of Wnt pathway signaling. 20230047396
Studies:
Rod Attachment Induces Significant Strain in Lumbosacral Fixations


Given the lumbosacral junction's risk to construct failure, a cadaveric biomechanical study assessed how

in

vitro

rod bending compared w/ strains during pure-moment bending,

concluding

that rod bending prior to insertion can be > strains during

in

vitro

bending.

Clin Spine Surg



Agili-C* - Bioventus*
A L1, 251-pt study reported at 2-yr f/up that Agili-C mean KOOS was statistically superior to SOC, w/ responder rates 2x greater, 77.8% vs 33.6%. IKDC was also statistically superior. Defect fill and failure rates were 75% vs 30.9% and 7.2% vs 21.4%, respectively. AJSM

Will the Rising Number of Spinal Fusions Challenge WW Healthcare Systems?
A study using comprehensive national data for all cases performed in Germany was used to quantify fusion rates and project future demand including age- and gender-related trends, concluding that greater use of PSF, particularly in patients over 75, will challenge WW healthcare. Clin Ortho

Deals/Financing:
BioSenic*


BioSenic has received ~$1.1MM (€1MM) from Pregene re their terminated license agreement. The Company continues preliminary discussions w/ Pregene, Link Health and other potential partners for the development and commercialization of ALLOB in other geographies, including the US.

NuVasive*


After many years of underperformance, CG's take on NUVA's merger w/ GMED is positive, indicating that NUVA's lack of enabling tech and slow core/XLIF innovation cycle limited growth and that the deal positions the combined org to lead in many key segments. CG Q422 NUVA Report


Paragon 28
Paragon 28 has completed a public offering of 4,312,500 common stock shares at $17/share, w/ gross proceeds of ~$73.3MM, minus underwriters fees. Net proceeds will be used for working capital, capital expenditures and other general corporate purposes.
Clinical/Regulatory:
Risk Factors Associated With Infection After Spine Surgery




A retrospective, observational cohort trial of 3,419 pts that aimed to develop a predictive model for surgical site infection in pts who had open post T/L surgery to evaluate the risks, best treatments and prevention measures was completed in Feb 2023. Clinicaltrials.org

IA Implantation of Amniotic Tissue Allograft


The Stone Research Foundation for Sports Medicine and Arthritis completed an 88-pt study, w/ the purpose to learn more info about the impact of amniotic tissue allografts on inflammatory markers and growth factors in the knee joint. No results were posted. Clinicaltrials.gov

Virtual Incision Completes IDE Clinical Study
Virtual Incision announced the completion of its FDA IDE clinical study evaluating its MIRA Surgical System for use in bowel resection procedures. The data will be submitted to the FDA as part of the Company's De Novo request for mkt authorization.
Markets:
Enovis*


ENOV management stated it has seen positive feedback since ARVIS entered the mkt and expects to see per-procedure fee growth this year w/ single-digit millions in ARVIS-related revenue for 2023. ENOV Q422 Earnings Transcript on Seeking Alpha

Vericel*


I

Based on mkt research, VCEL mgmt noted that 90% of responding surgeons expressed interest in arthroscopic MACI, and 90% of current users indicated that they would increase MACI procedure volume.

VCEL Q422/FY22 Earnings Call Transcript on Seeking Alpha




Revenues:
Globus*


For Q422, GMED mgmt reported WW revenue of $274.5MM, up +9.8% YoY (+11.7% CC) and noted that the Company's total revenue for 2022 exceeded $1B, w/ specific revenue totaling $1022.8MM in WW for FY22. This indicates growth of +6.8% YoY (+8.2% CC). GMED Q422 Earnings Release

Amplitude*


For Q2FY22/23, Amplitude Surgical reported Hip and Knee revenue reached ~$27.3MM (€25.8MM), +11.5% (+10.3% CC). AMPLI Q2/FY22/23 Earnings Release

Integra*
For FY22, Integra reported revenue of $1.58, +1.0% (+4.2% organic) vs FY21. By segment revenue was as follows: Codman Specialty Surgical: $1.02B, -0.6%; Wound Reconstruction and Care, $406.7MM, +3.6%; Total Tissue Technologies: $538.1MM, +1.0%.
* These links can only be viewed by SmartTRAK subscribers. For more information on SmartTRAK, including how to receive a demo and subscribe, please click here.

Are you going to the big Orthopedics conference in March? You can find us at Booth #3959. Want to be seen as the expert in Ortho? We can help you make that happen...just click here.
---
SmartTRAK is the Medtech industry's only global Insights-as-a-Service solution for the Orthopedics, Wound Care, Regenerative Medicine and Neuro Therapy markets. SmartTRAK's propriety methodology turns disparate data from hundreds of sources into powerful insights customers can rely on as the trusted source for strategic decision-making. The SmartTRAK enterprise platform includes rich daily updates, comprehensive market coverage and simple-to-use tools and dashboards for market, product and financial analysis. Customers leveraging the SmartTRAK platform also have direct access to market experts for inquiries and advisory services. If you would like a demo of what SmartTRAK has to offer and see how we can help increase proficiency, improve productivity and reduce costs for your company, just click here.