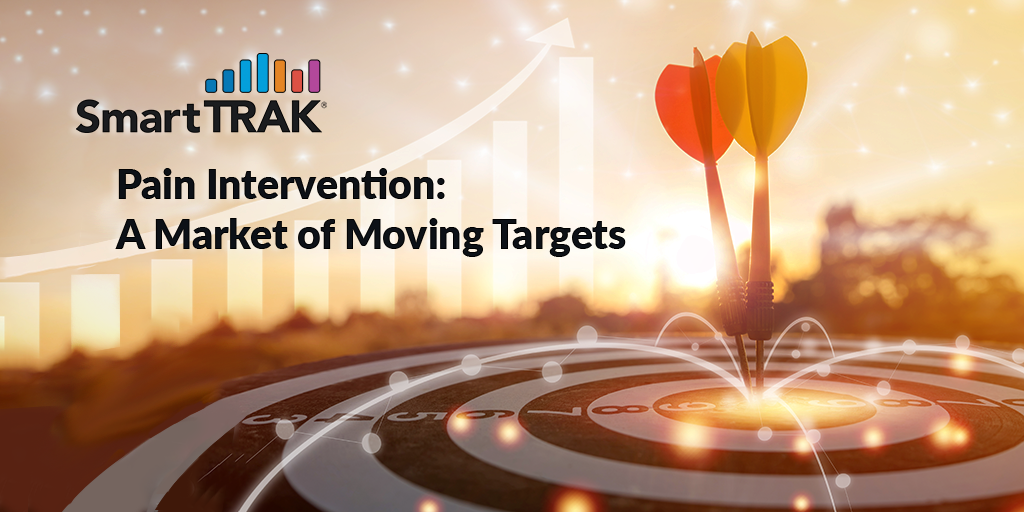 SmartTRAK highlights key movements in the quickly changing landscape of interventional pain management and identifies practice trends surrounding SCS, PNS, minimally invasive spine and SI Joint Fusion from the recent ASPN and INS meetings.
Strong demand for alternatives to narcotic pain management combined with an aging population and growing incidence of chronic pain continue to drive demand for interventional pain techniques. The approach to the treatment of chronic intractable pain is evolving, with a shift toward data-focused treatment optimization, growing use of digital monitoring and holistic evaluation of patient outcomes. Furthermore, increasing overlap among various devices and therapies as well as unclear boundaries between interventional pain, orthopedic and spine practices is spurring physicians to adopt collaborative approaches to patient care.
Among the many timely topics covered in this comprehensive Market Outlook article "Pain Intervention: A Market of Moving Targets", which can be downloaded in its entirety here, are:
Spinal Cord Stimulation




Digital Care and Data-driven Therapy
Multi-faceted Patient Outcomes
Communication Between Specialties

Peripheral Nerve Stimulation




Increasing Competition and Evidence
New Solutions for PNS Challenges
Hurdles for Coverage and Reimbursement

Minimally Invasive Spine, SI Joint Fusion & Procedural Training Concerns

MIS Spine
SI Joint Fusion–A Market to Watch
Concerns Regarding Procedural Training
Overall, the interventional pain market is a moving target presenting a unique set of difficult-to-define boundaries and plenty of opportunity. It is no secret that there is ubiquitous pressure in the medtech industry to ...
To download and read the complete SmartTRAK Market Outlook article "Pain Intervention: A Market of Moving Targets" just click the button below.
---
SmartTRAK
is a comprehensive, easy-to-use, business intelligence solution for the Life Sciences Industry that provides breaking updates on pertinent company news, potential treatments and guidance, international survey results, statistical analysis by country, studies, trial results, financial impact and more. All subscribers receive a Daily Updates email containing the latest need-to-know news curated by our expert analysts. It's the perfect way to start your day! If you would like to learn more about SmartTRAK, just click
here
.