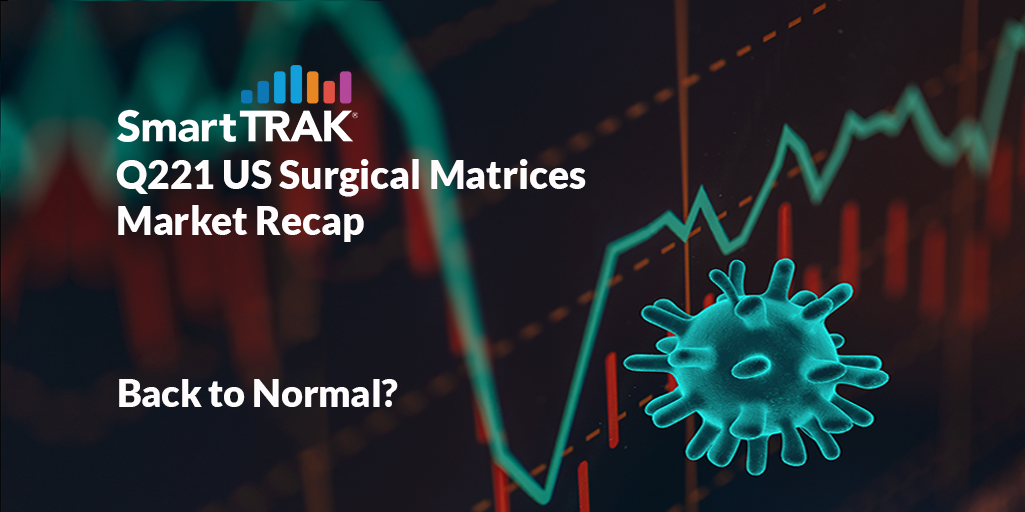 Procedures using surgical matrices rebounded to normal levels again, with broad strength in both hernia and breast matrices.
Procedures using surgical matrices returned to approximately normal levels, though the Delta variant may make that recovery short-lived, as recently observed in Texas. The US Surgical Matrices market rebounded strongly in Q221 according to BioMedGPS' SmartTRAK Financial Dashboard. AbbVie* continued to lead the US Surgical Matrices market, with Becton Dickinson* (BD) bouncing back nearly as strongly.
Among the many topics covered in detail in our comprehensive Q221 US Surgical Matrices Market Recap* are:
Complete Q221 US Surgical Matrices Market Overview
SmartTRAK's Expert Analysis and Insights
All Market News including Revenues, Data, Charts and Shares
US Surgical Matrices Market Continues Its Recovery
US Breast Matrices: Continued Progress Toward Growth
US Hernia Repair Matrices Market: Back Ahead of Q219

Important Q221 Market Events
The US Surgical Matrices market recovered to almost pre-COVID levels with a gain of +60.1% YoY. Breast and Hernia Matrices both had a strong quarter. In Q221 Breast Matrices had a revenue increase of ...
Read the entire Q221 US Surgical Matrices Market Recap, including news, data, charts, company revenues, shares and our expert analysis*
---
SmartTRAK
has recently expanded it's coverage to include five new modules.
Click
to see details of all the exciting new additions to the
SmartTRAK
platform in 2021.