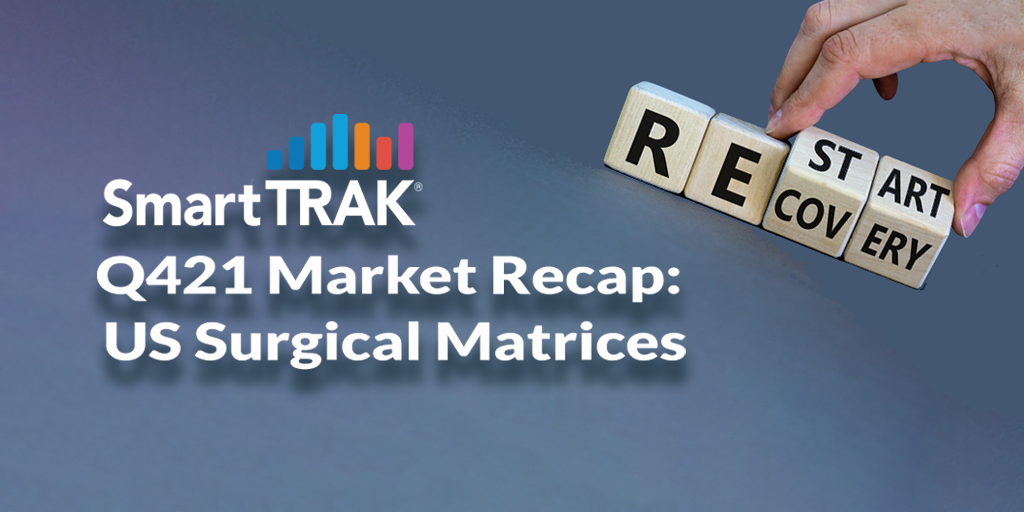 Procedures using surgical matrices continued their recovery and companies have resumed investing, with revenues surpassing their Q419 levels.
As the pandemic wanes and procedures are again being scheduled, the US Surgical Matrices market grew strongly in Q421, gaining +12.7% YoY according to the SmartTRAK Financial Dashboard. AbbVie continued to lead the Surgical Matrices market, with Becton Dickinson also growing well ...
Among the many topics covered in detail in our comprehensive Q421 US Surgical Matrices Market Recap* are:
Complete Q421 US Surgical Matrices Market Overview
SmartTRAK's Expert Analysis and Insights
All Market News including Revenues, Data, Charts and Shares
US Surgical Matrices Market Resumes Its Growth
US Breast Matrices: Advancing Beyond The Pandemic
US Hernia Repair Matrices Market: Another Good Quarter
Important Q421 US Surgical Matrices Market Events
The US Breast Matrices market, comprised of allografts, xenografts and biosynthetics, resumed its prior growth in Q421 as breast reconstruction and augmentation procedures took advantage of the subsidence of COVID-19. The segment grew ...
Read the entire Q421 US Surgical Matrices Market Recap, including news, data, charts, company revenues, shares and our expert analysis*
*The entire unedited article and these links can only be viewed by SmartTRAK subscribers to this module. For more information on SmartTRAK, including how to receive a demo and subscribe, please click the button below.
---
SmartTRAK now offers Skin Substitutes (CTP) Site of Care. This module will make you an expert in Site of Care information for the Skin Substitutes market. Receive market shares, 5-Year Growth Projections and Company & Product Performance across multiple sites of care. Download our PDF to get a preview of what's available!