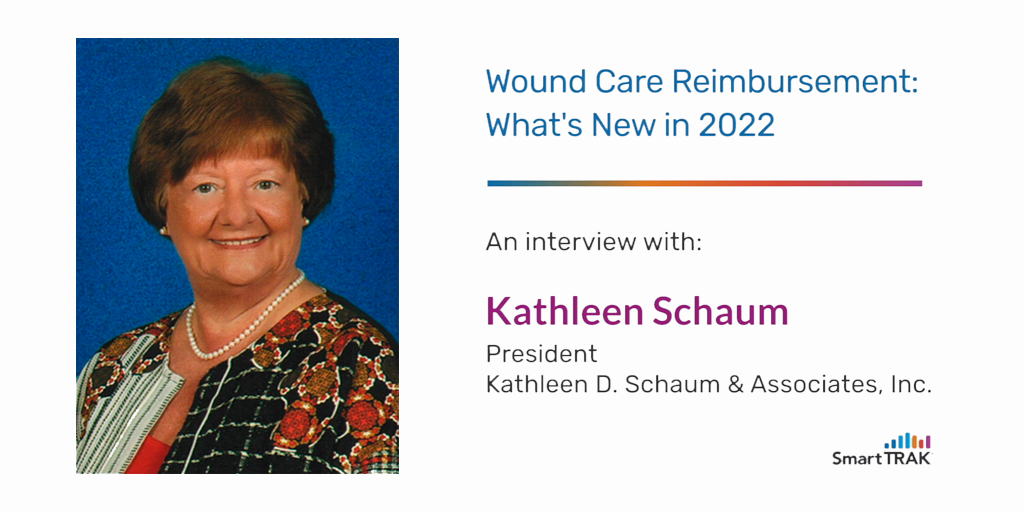 Kathleen "Kathy" Schaum, President of Kathleen D. Schaum & Associates, discusses her thoughts on the impact of COVID-19 on wound care and reimbursement.
Kathy is a "go-to" provider of wound care reimbursement information, education and strategy to manufacturers and providers. In this interview with SmartTRAK, Kathy shares her thoughts on the impact of COVID-19 on the delivery and reimbursement of wound care and the advancements in remote monitoring, diagnostics and sensors. To find out more, including Kathy's take on skin substitute/CTP trends, click on the following video recorded live via Google Meet (25:13 min). Specific interview topics by time code are outlined below. A link to the complete transcript of the interview is also provided below.
06:00 Hear Kathy's thoughts on how COVID-19 and the public health emergency changed wound care.
09:00 Learn more about the evolution of remote monitoring in wound care.
11:00 Listen to Kathy's thoughts on the importance of diagnostic devices in wound care.
12:00 Find out about skin substitute / CTP trends and reimbursement realities.
19:00 The movement of wound care to the home, increases in Medicare Advantage members and the development of sensors in wound care.
21:00 Understand the importance of having a parallel FDA and CMS strategy when developing a new product or procedure.
To download a complete transcript of the "Wound Care Reimbursement: What's New in 2022" interview with Kathleen Schaum, just click the button below.
---
SmartTRAK now offers Skin Substitutes (CTP) Site of Care. This module will make you an expert in Site of Care information for the Skin Substitutes market. Receive market shares, 5-Year Growth Projections and Company & Product Performance across multiple sites of care. Download our PDF to get a preview of what's available!