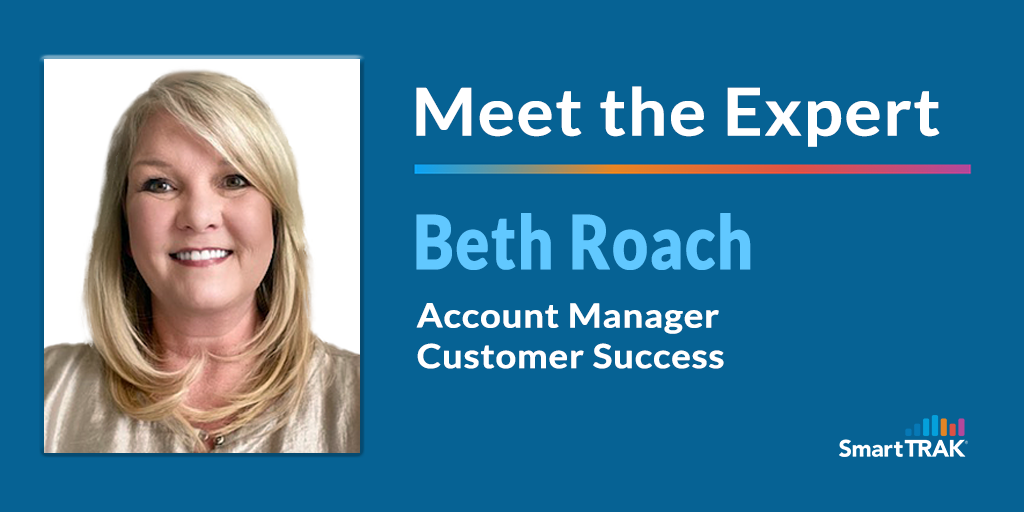 We are pleased to announce that Beth Roach has joined the team at SmartTRAK as our new Account Manager, Customer Success. The SmartTRAK Customer Success team ensures that our users are realizing the maximum benefit from the platform. The team is a central point of contact for users, in addition to the existing SmartTRAK Sales and Analyst teams, and provides complimentary training (refresher or new user) in person or via video.
If you'd like to discuss your SmartTRAK account with Beth, please reach out to her and she'll be happy to support you.
Meet Beth Roach:
What is your role with SmartTRAK? Account Manager, Customer Success

What do you like about SmartTRAK? There is just so much information all in one place. All news, company profiles, market sizing, product portfolio comparison and so much more all at your fingertips!
What is something special or unique that you bring to SmartTRAK subscribers? I have spent more than 25 years in the medical device space – measuring and monitoring the markets, competitors and working with a number of information providers. I was also a long-time customer of SmartTRAK.
How do you stay current on what's going on in the industry? My first job in the industry was an intern. I had the privilege to work with amazing mentors. I fell in love early on with being part of an industry that makes a difference.
What are your favorite online websites or resources that you check every day? I'm a little all over the place! I check various global news sites to social media sites. Not sure that Amazon would be considered a resource, but I do find myself there a lot!
How do you stay current on what's going on in the industry? LinkedIn and SmartTRAK
If you could have one superpower, what would it be? Being able to fly or travel! Not dealing with traffic, long lines and instantly being in a new location!

What is the last show you binge-watched? In From the Cold on Netflix. Starts a little slow but has lots of plot twists!

What is your life like outside of SmartTRAK? I have three grown "kids". Jon, 35 lives in Georgia, Ashton 29 lives in Mississippi and Matthew 28 is in the Marine Corps. I also have the most beautiful 5-month-old grandson. Can't leave out my classic pandemic puppy, Louie, a 1.5-year-old spoiled rotten Yorkie.
What are you the most excited about for your upcoming year at SmartTRAK? Helping customers realize all of the value that SmartTRAK has to offer to their organization.
---
SmartTRAK is the leading source of competitive intelligence used by the top ten global orthopedic & wound care companies. If you would like a demo of what SmartTRAK has to offer and see how we can help increase proficiency, improve productivity and reduce costs for your company, just click the button below.