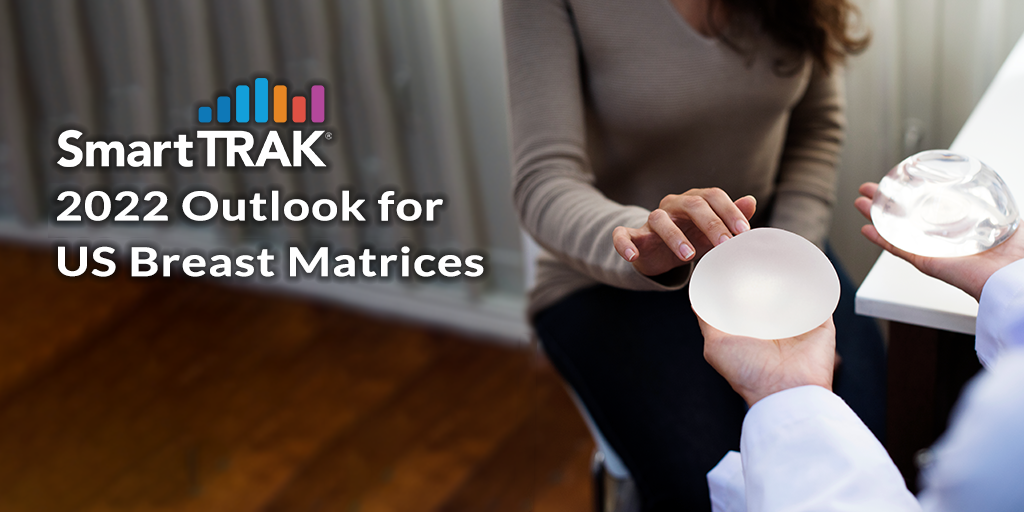 SmartTRAK examines recent trends in breast implants and discusses their future impact on breast matrices.
Breast matrices, whether acellular dermal matrices (ADMs) or biosynthetics, have enabled improved outcomes in implant-based breast reconstruction and have contributed, in large part, to the revival of the prepectoral breast reconstruction technique. As the number of breast implant procedures has grown, so has the use of breast matrices. However, SmartTRAK believes the side effects and health consequences now associated with breast implants, while rare, will negatively impact breast implant usage and thus reduce the growth rate of breast matrices in 2022 and beyond.
In this informative Outlook article by Doug Devens, SmartTRAK's Product Director and Senior Editor, Wound, Doug covers:
The Relationship between Breast Surgery and ADM Usage
Trends in Implant Usage
Recent Concerns that May Affect Breast Implant Usage
The Future Outlook for 2022 and Beyond
Breast reconstructions will continue to increase with demographic trends as will the absolute number of implant procedures, as they are still an important tool in breast reconstruction. However, the growth rate of implant procedures faces headwinds. The public appears to be taking closer note of FDA warnings associated with ...
To read the complete SmartTRAK article "2022 Outlook for Breast Matrices" by Doug Devens, please click the button below.
---
SmartTRAK now offers Skin Substitutes (CTP) Site of Care. This module will make you an expert in Site of Care information for the Skin Substitutes market and includes market shares, 5-Year Growth Projections and Company & Product Performance across multiple sites of care. Download our PDF to get a preview of what's available!