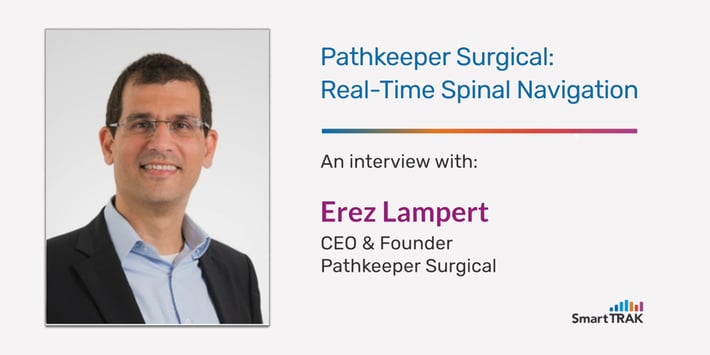 Erez Lampert, CEO and Founder of Israeli start-up Pathkeeper Surgical, discusses the Company's real-time spinal navigation system that's generating high interest from ASCs in an interview with SmartTRAK
In an interview with SmartTRAK, Pathkeeper Surgical CEO and Founder Erez Lampert discusses Pathkeeper's mobile, light-weight spinal navigation system.
To find out more, including the timeline for FDA approval and demand from surgeons, hospitals and ASCs, click on the following video to listen to the full interview (22:29 min). A link to download the complete transcript of the interview is also provided below.
SmartTRAK: Hi everyone, this is Nick with SmartTrak, I'm here with Erez Lampert, CEO and founder of PathKeeper Surgical. Can you tell me a little more about PathKeeper Surgical, and what y'all are doing in surgical navigation?

Erez Lampert: I don't know how much you know about spine surgeries, but I'm sure you know spine surgeries are a relatively common procedure. On the other hand, they're also very complex procedures, so in many cases, spine surgeries fall into problems, inaccurate implant placement, and even revision surgeries. We, as Path Keeper Surgical, have been developing for the last four years a new methodology or maybe a new technical solution that we believe can help spine surgeons do better spine surgery than what they're used to. I'm sure you know that for the last 10, 15 years, computerated surgery in general, and robotics navigation in more specific terms, have been into surgery in practically almost every type of surgery, huge companies like Intuitive Surgical on one hand, and startups that have been bought by big players like Medtronic and Stryker for billions of dollars.

Although a lot of those robots exist in spine surgery, I think everybody would agree that there's still some major issues that are not solved today by the common best of class robots. That's where we started to work four years ago. My background is electrical engineering and mathematics, and I did an MBA in Israel Institute of Technology, and I worked for six years for Alliant Technology developing 3D intraoral cameras. Combining 3D intraoral cameras and artificial intelligence, machine learning algorithms, we were able to create the best in class 3D intraoral camera, which now is sold for about $500 million a year.

When I left Alliant, I wanted do something similar for orthopedics, and I started working with senior surgeons from Israel and the United States. The idea was to bring the 3D imaging into spine surgery, and to basically change the technology that is used today in most systems, and replace CT scanning with 3D imaging. If you look at the state of their robotic systems, they have several stages in the surgery. There is the stage of planning, where the surgeons plan what they're going to do, then there is a stage which is usually called registration, and basically that's a stage where the map of the anatomy of the patient is being built, and then there's a stage of navigation, where the screws are placed in the right position ...

To download the complete transcript of the "Real-Time Spinal Navigation" interview with Pathkeeper Surgical's CEO Erez Lampert, just click the button below.
---
SmartTRAK is the leading source of competitive intelligence used by the top ten global orthopedic & wound care companies. If you would like a demo of what SmartTRAK has to offer and see how we can help increase proficiency, improve productivity and reduce costs for your company, just click the button below.