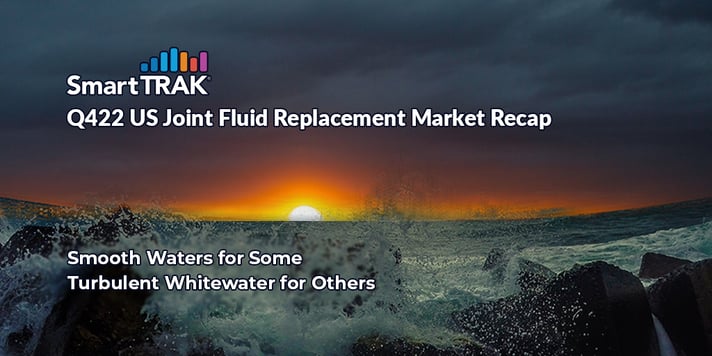 Some HA players navigate through smooth river flows, while others hit turbulent whitewater.
For Q422, CMS reimbursement changes continued to impact overall revenue for the US Joint Fluid Replacement market which represents a decline of -3.3% vs Q421 according to SmartTRAK Financial Dashboard. Despite headwinds, for the fourth quarter and FY22, it was clear that while some hyaluronic acid (HA) players were able to navigate through seemingly smooth river flows, others hit turbulent whitewater. Aggregate revenue fell in the red for the second quarter in a row primarily due to negative YoY growth in the two leading HA segments, single- and three-injection treatment options.
Among the many topics covered in detail in SmartTRAK's comprehensive Q422/FY22 US Joint Fluid Replacement Market Recap* are:
Complete Q422/FY22 Market Overview and Highlights
SmartTRAK's Expert Market Analysis and Insights
All Company News, Revenues, Data, Charts and Shares
Smooth Waters for Some, Turbulent Rapids for Others in Single-Injection Market
Which Players are Taking The Wrong Waterway in Multi-Injection Market?
Who are the Winners of the Multi-injection Kayak Race?
What Companies Were Left in the Wake in the Multi-injection Segment?

The Outlook for Joint Fluid Replacement in 2023
On the outlook for 2023 in the US Joint Fluid Replacement market, SmartTRAK expects to see a persistent competitive environment and continued pricing pressure, but the anticipation of ASP stabilization should make for a calmer playing field and enable some to regain market share in certain segments. That said, some unforeseen disruptors may lead to potential internal disruptions like the recent announcement from ...

Read the entire Q422/FY22 US Joint Fluid Replacement Market Recap, including SmartTRAK's expert analysis, news, data, charts, company revenues and shares.
*
*These links and the complete unedited article can only be viewed by SmartTRAK subscribers to this module. For more information on SmartTRAK, including how to receive a demo and subscribe, please click the button below.
---
SmartTRAK is the Medtech industry's only global Insights-as-a-Service solution for the Orthopedics, Wound Care, Regenerative Medicine and Neuro Therapy markets. SmartTRAK's propriety methodology turns disparate data from hundreds of sources into powerful insights customers can rely on as the trusted source for strategic decision-making. The SmartTRAK enterprise platform includes rich daily updates, comprehensive market coverage and simple-to-use tools and dashboards for market, product and financial analysis. Customers leveraging the SmartTRAK platform also have direct access to market experts for inquiries and advisory services. If you would like a demo of what SmartTRAK has to offer and see how we can help increase proficiency, improve productivity and reduce costs for your company, just click here

.